Omega
82m | Golden Yachts | 2004 (2018)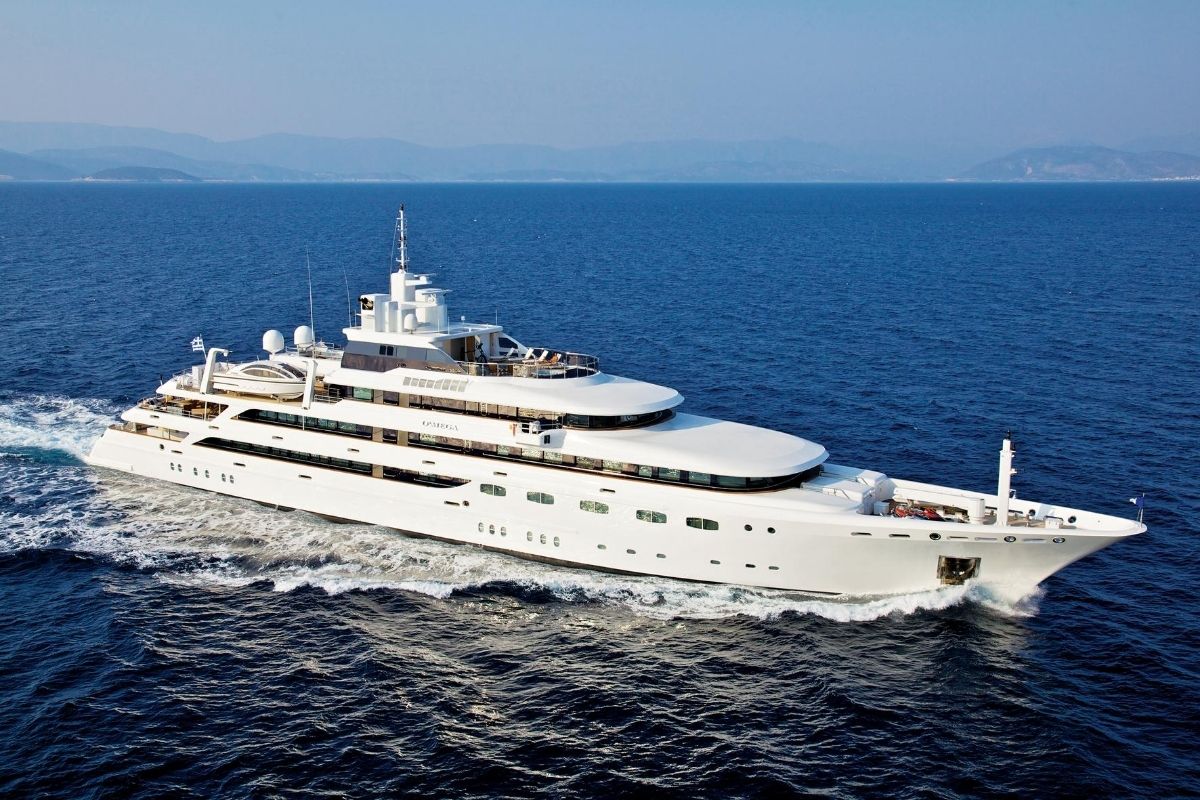 Measuring 82.5 metres, Omega is one of the most wellknown charter yachts on the market, and with a quick look at all she has to offer, it's easy to understand why. Originally constructed as a passenger ship, she was converted into a superyacht in 2004.
Delivered by Golden Yachts in 2004, Omega has undergone extensive refits in 2009, 2011, 2015, and finally in 2018, each time exceeding expectations and luxury standards.
Crafted with a steel hull and aluminium superstructure and with an interior design by Vafiadis, all can agree that Omega has a timeless style that pleases both young and old. With 14 luxurious cabins, she can carry up to 29 guests in total serenity.
The Captain
Captain Dimitris Samolis was born in Greece and has spent a decade on superyachts, joining the SSH Maritime fleet in 2018. His journey into superyachts was a natural one, as he is passionate about exploring new destinations and taking care of his guests.
When asked about his own vision for the yacht, he says it was to achieve a "meticulous conversion from a robust hull to a floating palace." And as Captain Dimitris will proudly tell you, they have certainly succeeded.
The Experience
One of Omega's signature features is that, in all her luxury, she is totally equipped to host large parties and corporate events on board. She has a formal dining area that can seat up to 32 guests and a piano bar in the upper salon for more intimate entertaining. She also boasts four guest decks, an outdoor lounge and eating areas, and one of the most popular features – a cinema that also doubles as a conference room.
There are countless ways to relax the day away, from working up a sweat in her fully equipped gym/yoga studio to getting pampered in the beauty salon and massage parlour or simply chilling in the outdoor jacuzzi.
For those looking for a bit more action, highly-certified watersports instructors are on hand to help you explore all the toys in the garage. A retractable swim platform, an inflatable trampoline and a waterslide are sure to please the little ones, while the classics including SeaDoos and jet skis are ready and waiting.
You can also improve your golf swing, aiming into the horizon off the multifunctional platform. All balls used are biodegradable and within two days they release fish food, meaning they are eco-friendly.
The Cuisine
A chef for over 15 years with lots of experience and love for what he does, Thanasis Kokkinakis is inspired by the respect of the raw ingredients he uses and seasonal produce that he likes to pick up himself in order to achieve the best results.
His aim when he cooks is to achieve luxury through simplicity. A master of his traditional cuisine – Greek pies, Mediterranean fish and risottos are among his specialties – he still loves to please and surprise his guests, and his signature dish of bouillabaisse with clams, sea asparagus and green apple foam has yet to disappoint.
For Thanasis, every palette is a challenge for him, and he listens carefully to his customers' tastes and requirements in order to create custom menus that never fail to impress. "What I really enjoy about working as a chef on a superyacht is that I cook for people from a different nutritional culture than my own, and I try to show them the cooking through my own world.