Mado
39.25m | Admiral Yachts | 2009 (2018)
Dimitris Kouroumalos
Captain Dimitris Kouroumalos knows that professional and reliable crew are the beating heart of any superyacht charter, and that's exactly what you'll get on board the 39.35m Mado, an Admiral-built vessel built for high-speed navigation.
Leading the team of seven since 2017, he describes himself as friendly and accessible, and "always searching for unique sights, new places with amazing waters, and perfect beaches." What's more, from romantic BBQ beaches under the stars to creative parties for children and teenagers a like, he's always looking to go the extra mile to create special and unique experiences for his guests.
From his admiration of Mado's trusty crew to his favourite memories from the 16 years he has spent as a superyacht captain, Dimitris gives us the low-down on what a charter under his command will look like.
Please tell us a little about your background and how long you have been a captain?
I'm a captain class A and have been working in yachting industry for the last 16 years. Yachting involves many different aspects of shipping, which is why I find it so attractive. I joined Mado in October 2017, and before that I worked on board Kintaro, Bestng, and Satori.
How would you describe the owner's vision for the yacht?
The owner is an amazing person. She constantly expects Mado to be in the best condition, ensuring she is always ready to perform to the highest level for her passengers.
How would you describe the style and personality of the yacht?
The style is definitely minimal, but at the same time she provides all the luxurious comforts you would expect, as well as a high speed of navigation.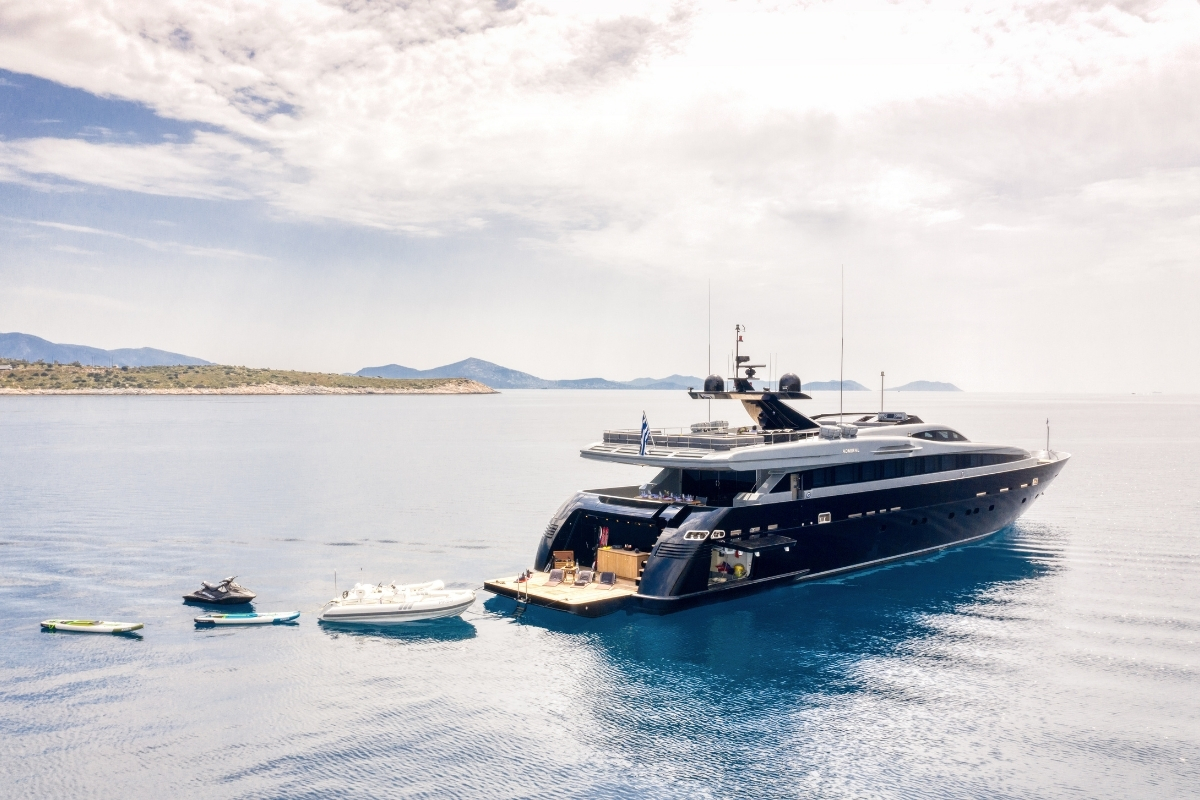 How would you describe the ambiance on board?
A professional attitude and high performance of the crew are our top priorities on board.
What's your personal style as captain?
I like to be friendly and accessible. I always treat the passengers with the utmost discretion and, alongside my team, ensure we give them the best holiday imaginable.
What's the best thing about working on Mado?
Definitely the crew. I always enjoy doing my job with the team. After many years of working, I realize that the crew is the most important part of a yacht. They are the heart of everything.
What are some of the standout features of the yacht?
Speed is definitely one of them. We can easily navigate at 30knts, and at the same time passengers enjoy a luxurious experience on board. The swim platform is really large too, and can accommodate all passengers at the same time.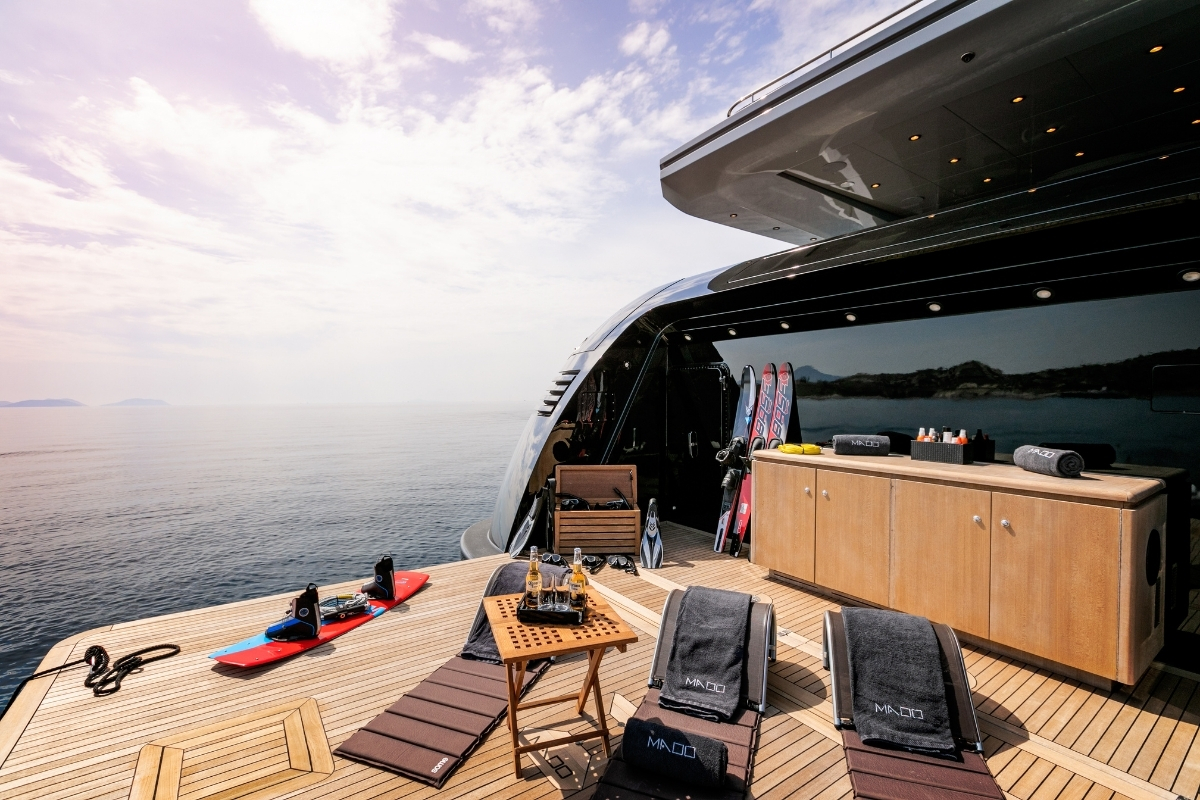 Which areas of the yacht do guests most tend to gather on board?
The swim platform, aft area with its large dining table, and definitely the huge sun deck.
Which types of client are most attracted to charter Mado?
We attract all types of clients on Mado, but most often it's families taking a charter.
What types of experience can you offer charter guests?
I always try to offer unique experiences, visit new places and find the most amazing waters and beaches. We go above and beyond to organise the most perfect moments, such as BBQ parties under the stars, to provide memories that will last forever.
How would you describe the style and approach of the crew?
I would say they have a friendly, "want-to-do" attitude, and are extremely professional.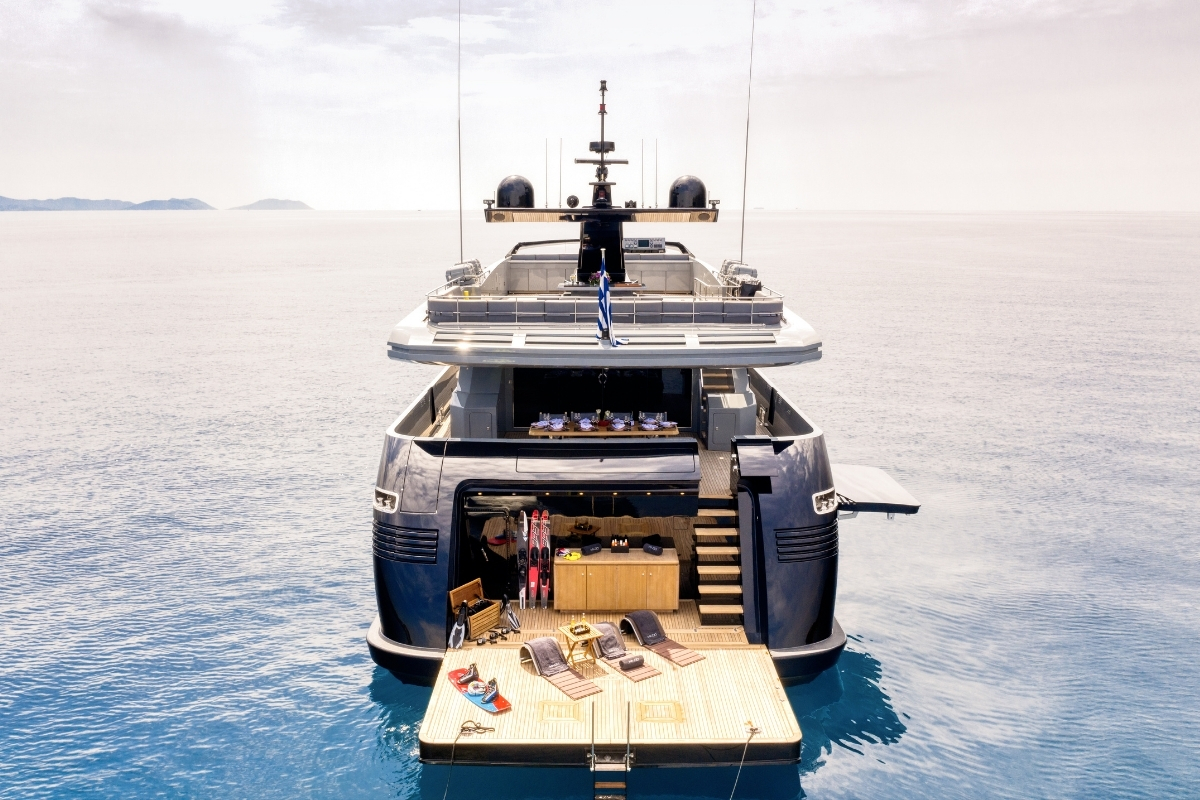 Please share some examples where you and your crew have gone above and beyond to make the guest experience as special as possible.
One that sticks out the most is when we organised an overnight stay in one of the most famous beach areas, Myrtos Beach, to celebrate a birthday. The crew gave the passengers some great gifts, and we had unique decorations, a BBQ, music, dancing…it was definitely something both the crew and the charterers won't forget in a hurry!
How are the yacht and the crew prepared to accommodate children and teenagers on charter?
We always make sure we have all the necessary equipment for all ages, and try to organise different events for them when they are on board. We throw parties, have movie nights, teach them fishing, go snorkelling etc. We have plenty of activities for children of all ages.
How would you describe the cuisine on board?
Our chef cooks up all different styles of food. Mediterranean is our signature, but at the same time, what the client wants the client gets – and to a very high level.
Tell us about the toys and tenders – which toys are the most popular with guests?
We have a 5m Castoldi tender for the guests, which we use to operate all the water toys, and a jet ski for two people. Our list of water toys is expansive and our guests are always happy with the equipment. One of the most popular toys we offer is our water slide.
What are your usual cruising grounds?
This depends on the clients' wishes – we chat, and then I make an itinerary depending on where they wish to go.
Which destinations and your personal favourites and why?
My favourite destination is the Ionian Sea. It has everything rolled into one – incredible blue waters, amazing beaches plus plenty of land activities for when the guests want to go exploring on land.
What have been some of the highlights or your favourite memories as captain of Mado?
Visiting underwater caves, teaching diving and fishing to the kids, and also playing football in a soccer stadium - crew vs quests…to name a few!