Katina
60m | Brodosplit BSO d.o.o. | 2015 (2021)
Antonio Koludrovic
Heading up Katina's all-Croatian crew, Captain Antonio Koludrovic is always on hand to ensure each and every charter runs to perfection.
With knowledge of the best and most secluded spots in Croatia, as well as an ability to provide guests with authentic experiences throughout their trip, there's no yacht better equipped for exploring the Adriatic coast.
"Our all-Croatian crew are communicative, approachable and friendly with extremely warm personalities," he says. "Guests loves our mentality and we regularly receive comments on how they love the full Croatian experience with an incredibly close crew."
"A charter experience on board Katina is all about providing entertainment and experiences our guests can't get anywhere else," says Captain Antonio, who leads Katina's experienced superyacht crew of 15. "In terms of onshore experiences, we love to offer gastronomic journeys with local chefs, where guests can learn traditional cooking skills and so much more." Here we speak to Captain Antonio about why a charter on board MY Katina will create memories to last a lifetime.
What makes Katina the perfect charter yacht?
Katina guests have always been extremely satisfied with service on board, and this is where we shine. However when it comes to the yacht herself, Katina is a robust, steel-build yacht that offers a safe and comfortable charter. All guest cabins are spacious and located on the upper deck, which ensures a peaceful night's sleep whatever the weather.
We also have two identical master staterooms plus a whiskey bar where guests can smoke cigars indoors. This rare interior set up, alongside positive crew mentality plus a wide list of water toys, makes Katina stand out from other yachts on the chartering market.
What kind of clients are most suited to a charter holiday on board Katina?
Our crew is fully Croatian and the boat was built in Croatia, making us the perfect choice for clients interested in exploring the Croatian coast. We can deliver extraordinary experiences, taking our guests to unexplored bays with peaceful and untouched nature. Guests will always have the opportunity to try the best Croatian food and visit top notch restaurants and wineries during a charter on board.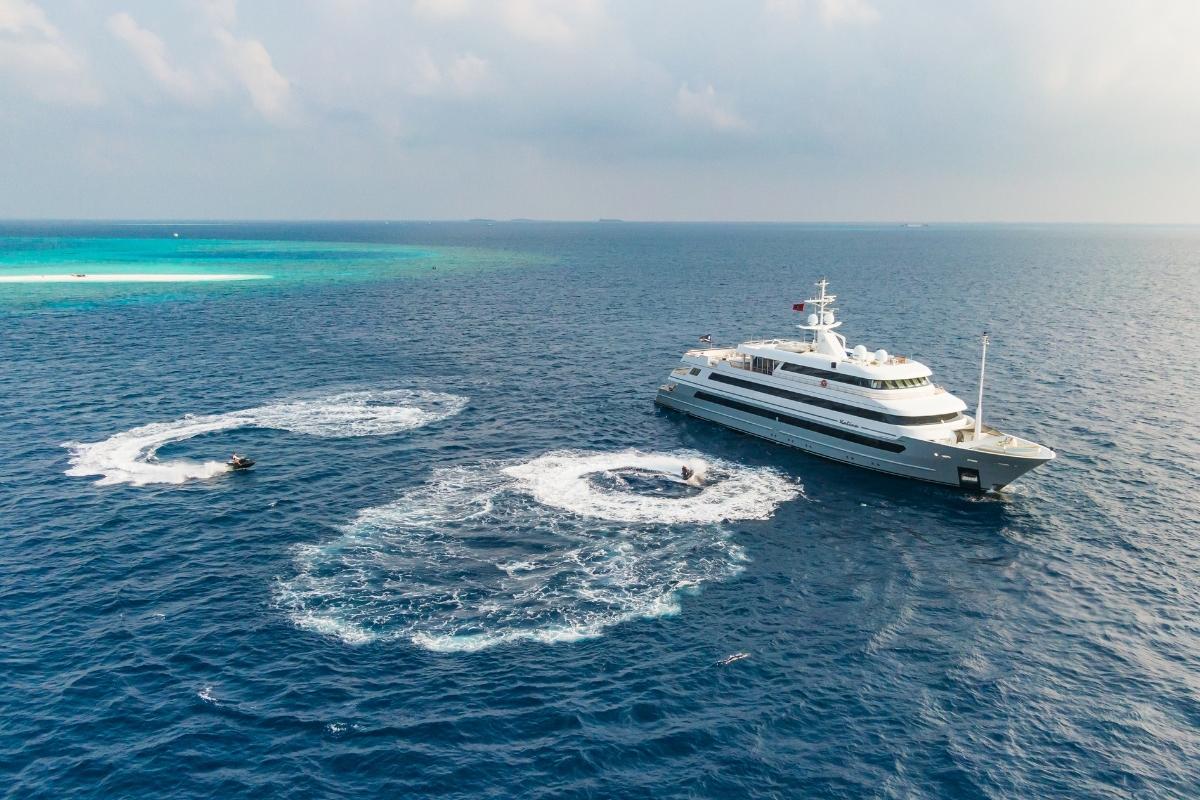 How would you describe the overall atmosphere on board?
Our all-Croatian crew are communicative, approachable and friendly with extremely warm personalities. Guests loves our mentality and we regularly receive comments on how they love the full Croatian experience with an incredibly close crew.
Can you share a couple of examples of when the captain and crew have gone above and beyond?
Of course! We regularly organise for fishermen to bring their freshest catch of the day to us, meaning guests can choose their lunch straight from their boat. The fishermen will also show guests how he cleans the fish, which is a simple experience, but they love it. We try to provide experiences that guests will not be able to get elsewhere, including taking them to villages and arranging gastronomic experiences with food prepared in the same traditional way it was made centuries ago.
What are some of your personal favourite moments on board Katina?
One of our charter programmes involved live entertainment every night which was a unique addition to the Croatian experience. One of the country's most popular a capella groups was performing on board and singing traditional Croatian songs, and although everything was sung in Croatian, the music and voices were so emotional that we had guests in tears. That was very touching for us as a team, and something I will always remember.
What are some of the crew's favourite destinations and places off the beaten track?
We are lucky to have three national parks on our coastline, and nine stunning towns listed as UNESCO World Heritage sites which are regularly on our itinerary. They do tend to get busy during the summer season though, so we also take guests to an inhabited island with lighthouses for a more off the beaten track experience. Our favorite islands are Palagruza which is part of an archipelago in the middle of the Adriatic Sea, and Susac – a small rocky island with tall cliffs, narrow hidden bays and lighthouse at the top of a hill.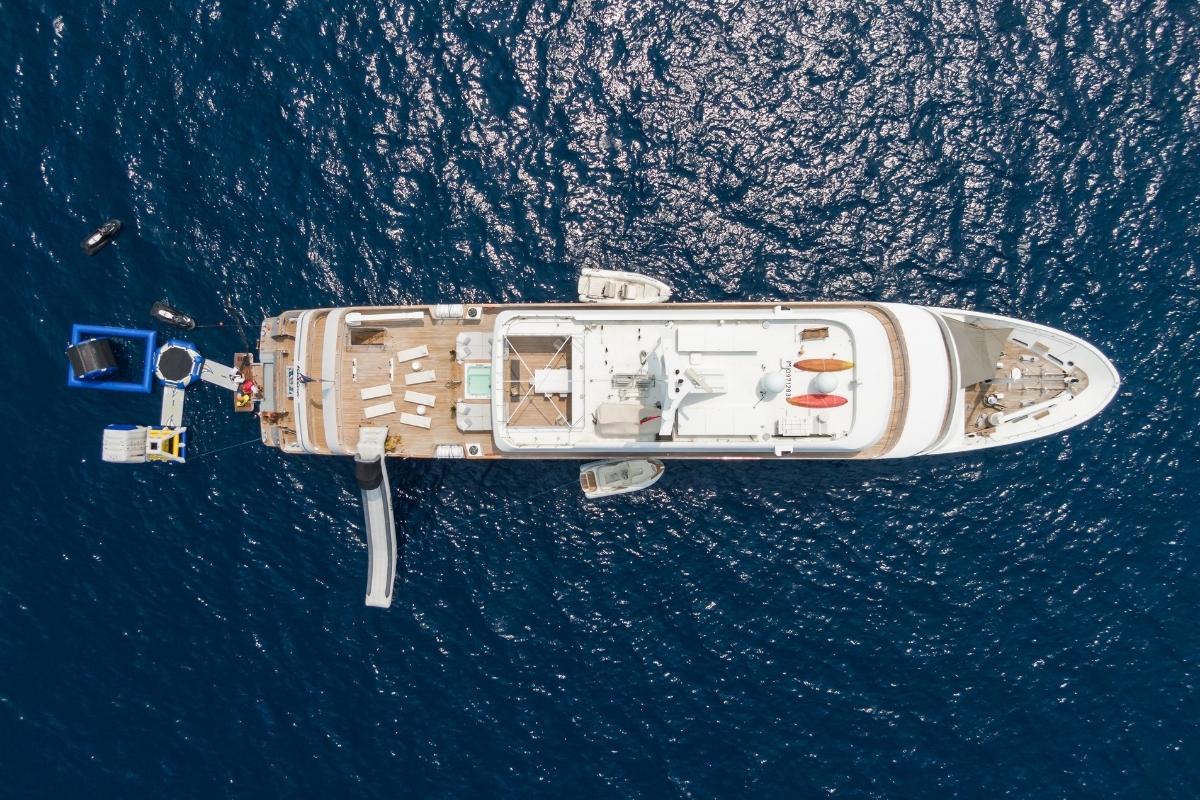 How are the boat and the crew prepared to accommodate children and teenagers?
Katina has impressive number of areas on board for entertaining as well as plenty of watersports to keep guests happy. We have tenders, wave runners, jet skis, kayaks, SeaBobs, wakeboards, a trampoline, a slide and so much more – you name it, we have it. For babies and toddlers we also have special cots, baths, linen, towels and a wide selection of toys.
Where do guests tend to gravitate on board and what facilities are most used?
Most of the guests prefer getting out on the water and fully enjoying Katina's water toys. Most guests prefer to have meals on the sundeck, which is also popular for sunbathing. The gym and sauna are also used regularly, and we have a big screen TV in the main salon which is great for movie nights. Once the sun sets, you'll find lots of guests smoking cigars or sipping cognac in the whiskey bar or having a cocktail at the bar on the sundeck.
Tell us more about the toys and tenders on board.
We have a huge list of water toys on board including: 2 x SeaDoo wave runners, Zapata racing jet pack, Zapata racing flyboard, 2 x kayaks, waterskies, a wow giant bubble and jump station, 2 x wakeboards, 2 x wind surf, jet skis, wakeboards and so much more.
What are some of the potential challenges during a charter and how do you avoid them?
The charter industry is demanding, and one single undelivered task can ruin all the efforts the crew have put in to exceed expectations of our guests. Lack of communication with brokers and guest representatives can put us in a very difficult situation when it comes to charter preparation. On many occasions we have had guest preferences not matching the information we received.
Preferences on the itinerary are easy to adjust, but food and beverage requests have to be dealt with care, and crew should ensure that common food and beverage items are always available on board, even if they were not mentioned in preference list.
Technical accuracy and reliability are also of great importance to ensure the yacht runs smoothly, and the company management must be cooperative and prompt. Luckily, Katina always runs extremely smoothly!