Katina
60m | Brodosplit BSO d.o.o. | 2015 (2021)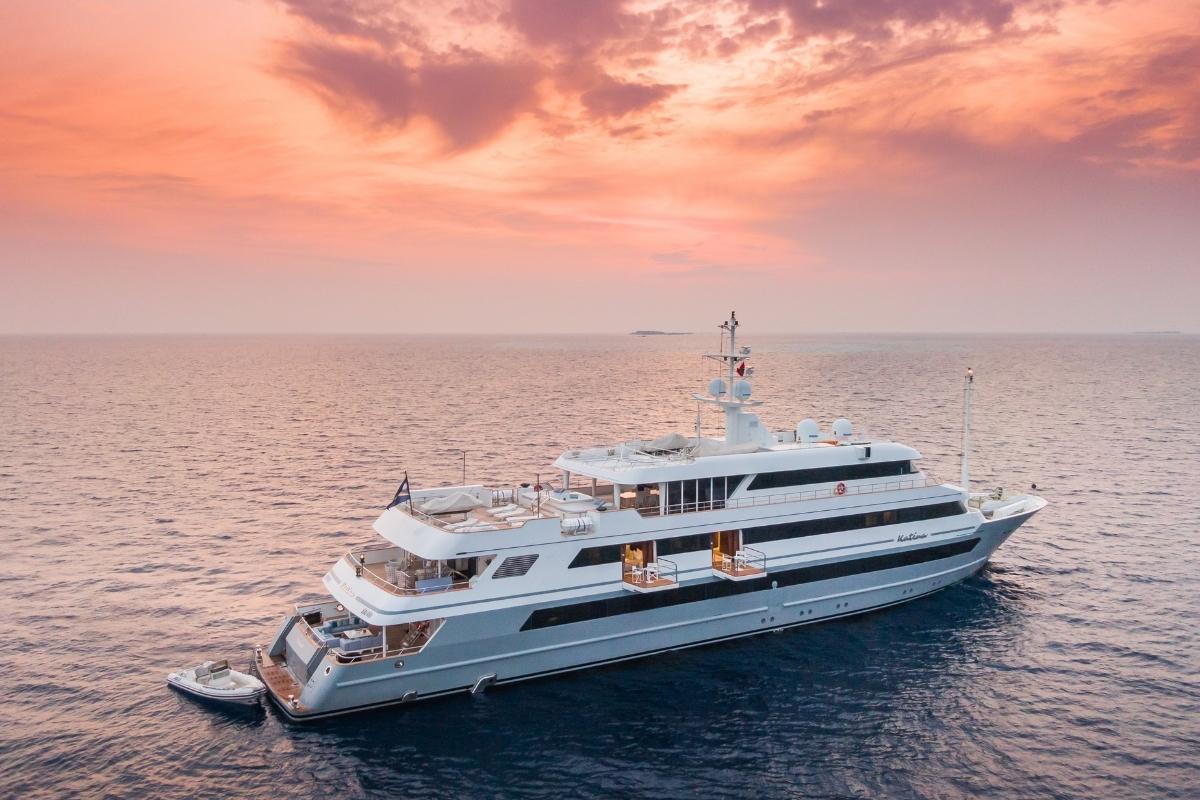 Arguably no other yacht is better equipped to help guests explore the Croatian coastline than the 60 metre charter yacht Katina; an all-star Croatian superyacht ready to discover a side of the Adriatic coastline that most charter guests have never seen before.
Looking to escape the crowds during your next Mediterranean yachting holiday? Though Croatia is no newcomer to the yacht cruising scene, its variety of cruising grounds and countless islands scattered along the rugged Dalmatian coastline make this the perfect place to come and relax on a superior charter holiday. Arguably no other yacht is better equipped to help guests do that than the 60 metre charter yacht Katina; an all-star Croatian superyacht ready to discover a side of the Adriatic coastline that most charter guests have never seen before.
The Best of Croatia
Manned by a professional and local-savvy all-Croatian crew, you can rest assured that time on board Katina will not be spent in search of the best local spots, but rather enjoying them first-hand with your loved ones. Extremely knowledgeable and attentive to the finest detail, Katina's outgoing and friendly staff are proud to offer guests unparalleled access to some of their personal favourite anchorages along their country's breathtaking hidden hotspots.
Leading the crew of 15, Captain Antonio Koludrovic explains: "Our crew is fully Croatian, the boat was built in Croatia, and we are experts in exploring the Croatian coast. Using our knowledge of the area, we always deliver an extraordinary charter experience, taking our guests to the best-unexplored bays with peaceful and untouched nature."
Not only crewed by Croatian locals, Katina herself is also a proud product of Croatia. Built and launched in 2015 by the Brodosplit shipyard and undergoing her latest refit in 2021, Katina is a motor yacht built specifically for the luxury charter market - and is in fantastic condition.
Turkish designer Ali Gez is responsible for both the interior and exterior design of the yacht, and her timeless exterior lines perfectly suit her functional nature. Her stable build quality and substantial onboard spaces make this a perfect first-timer charter yacht that offers a comfortable ride for all guests. With all the home comforts you would expect wrapped up in a stylish and contemporary package, Katina and her crew provide the ideal 'welcome home' experience for guests.
Outdoor Living
Designed for comfortable cruising, this 1,212 GT motor yacht offers the deck space and amenities that few others in her class can. The sundeck is designed for outdoor entertaining and social events with its impressive 16-guest dining table and on-deck bar setup that is ideal for hosting parties and celebrations for the entire family. During the day, this becomes the prime chill-out zone for life on board as guests relax beside Katina's jacuzzi that is set upon a raised platform to enjoy the surrounding views. A lineup of loose sun loungers and deck furniture give off some serious beach club vibes and set you up for the perfect day in the sun - Croatia style. When not in use, it is here where Katina's 170hp guest tender and fleet of water toys are stored.
Croatia is known for its ice-blue tropical waters and private coves, and Katina is ideally suited to this water lifestyle with a beach club setup that rivals even the largest of superyachts. When the crew have anchored Katina in your own private bay for the day, they then set out to prepare an impressive floating city on the water to create the ultimate watersports park. The beach club, with its large lounge pad, tender and jet ski marina and three-level slide will appeal to guests of all ages and guarantees an unforgettable day on the water for everyone on board. Stand up paddleboards, underwater scooters and kayaks round off the leisure equipment line while Katina's RYA-certified deck crew are always on hand to teach guests the ropes of all their latest toys.
Style and Versatility
Accommodating up to 12 guests on board, Katina offers the choice of six large luxury en suite cabins, with each one convertible between king double bed or twin bed arrangements for the ultimate freedom in layout options. Two 40 square metre VIP guest suites on the upper deck also come with their own fold down balconies which ensure close contact with the water at all times.
The same customisable arrangements apply to Katina's formal indoor entertainment spaces, with the upper deck outdoor dining room transformable into a sophisticated disco party area. For more family-orientated arrangements, this area can also provide an onboard cinema experience thanks to a comprehensive selection of all your favourite films streamed across a high-tech audiovisual system. For a more intimate experience, a grand cigar and whiskey room with an independent ventilation system lets you round off the evening with friends in classic style.
The contemporary Art Deco interior is also the work of the designer Getz, who implemented smart LED lighting into his designs to add a sophisticated ambience on board. The yacht's high volume and wide beam translate into open and uncluttered relaxation and social spaces on the inside, each complete with an independent entertainment system that is accessible via tablets around the yacht or with guest's smartphones.
Wellness, Gastronomy and More
For those that want to keep in shape during their stay on board, or simply seek to unwind in tranquillity, Katina's onboard wellness centre provides the ideal setting with its fully equipped gym and spa with massage room and sauna. Guests can also pair rest, relaxation and wellness with mind-blowing dining experiences from the kitchen of chef Mario Kamenar. "One of the advantages of a superyacht charter on board Katina is that we are chartered mostly in the Adriatic," says Chef Mario. "We love to catch fresh fish daily, which creates a next-level dining experiences for our guests. We often organise local fishermen to come to the boat with their fresh catch and let guests choose their lunch - or even get a lesson in preparing the fish! It's a simple experience, but it's always a special highlight."
Katina is a charter yacht that allows guests to discover a different side of the Mediterranean while enjoying a taste of a more local experience that can be missing from many superyacht charter itineraries. With a total coastline that stretches over 5,000 nm, exploring Croatia can involve some serious overnight cruising, but Katina was built to do exactly that in both comfort and style with a comfortable cruising speed of 12 knots and an ocean-crossing range of 4,000 nm. "Our guests come to Katina and Croatia to experience the Adriatic and the wonders of the Mediterranean in an authentic way," Captain Koludrovic concludes. "We're proud to deliver that experience time and time again."