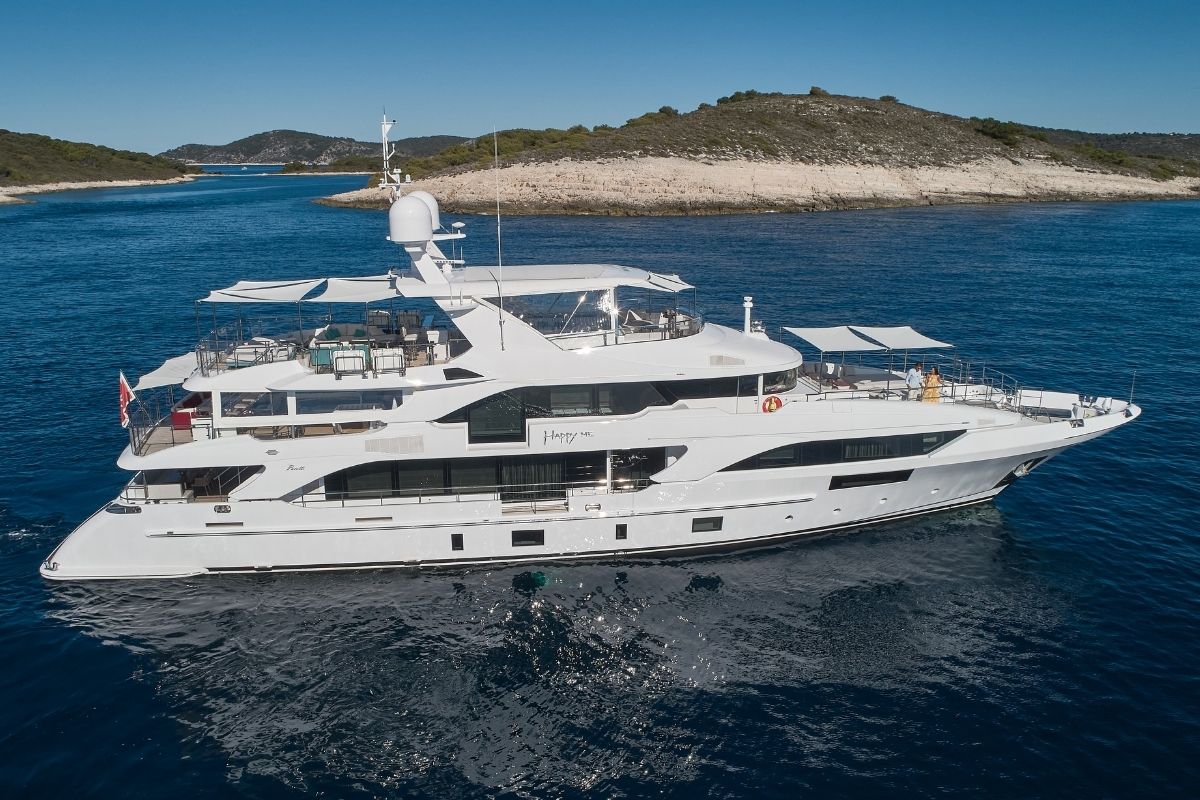 An exciting new addition to the charter market for 2020, the 40.2 metre superyacht Happy Me is the latest cutting-edge feat of engineering from Benetti's highly successful Classic Supreme 132 series, and is all set to wow the charter market.
She made her entrance in the spring of 2020 and is already proving popular thanks to her elegant exterior lines, expansive outdoor spaces and inimitable and charismatic sense of style.
The exterior design by Stefano Righini was carried out with alfresco living and relaxation at its heart, while a chic interior contemporary monochrome colour scheme was impeccably achieved by Francois Zuretti.
In short, Happy Me was conceived with the ultimate goal of luxury, comfort and accessibility combining to create the most idyllic of scenarios in which to vacation. All you have to do once you step on board is decide whether you are in the mood for a languorous soak in the jacuzzi, an indulgent pamper in the massage room or simply put your feet up and take in the extraordinary views from the upper deck.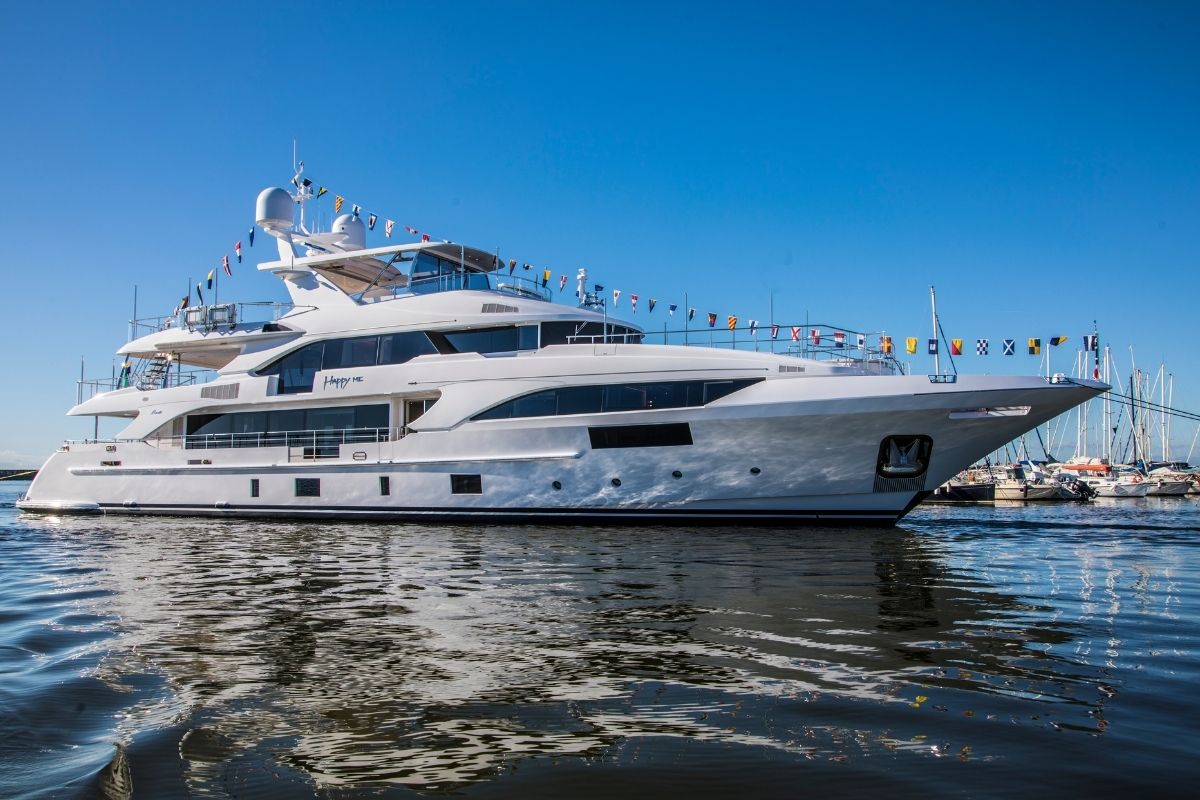 The luminous and elegant main salon is the perfect spot in which to kickback and chill out surrounded by stunning hand-stitched silk artworks following a nature theme, while those in search of more active and competitive fun can head to the upper deck where a self-stabilising pool table and table football are sure to entertain
From Day to Night
Happy Me's many highlights include a skylounge and aft deck space that can transform into a nightclub. Every last detail has been expertly and authentically crafted, from the beer taps, karaoke machine, laser lights and smoke effects through to a speakeasy inspired back-lit onyx bar, ensuring the ambiance fires up as soon as the sun starts to set on the horizon.
Accommodating up to 11 guests in five deluxe cabins, the sleeping quarters include a master suite with steam shower on the main deck. It is situated forward with a private office adding an additional degree of privacy between the bedroom and the main foyer. Further guest quarters comprise two VIP suites and two twins, all with underfloor heated marble bathrooms.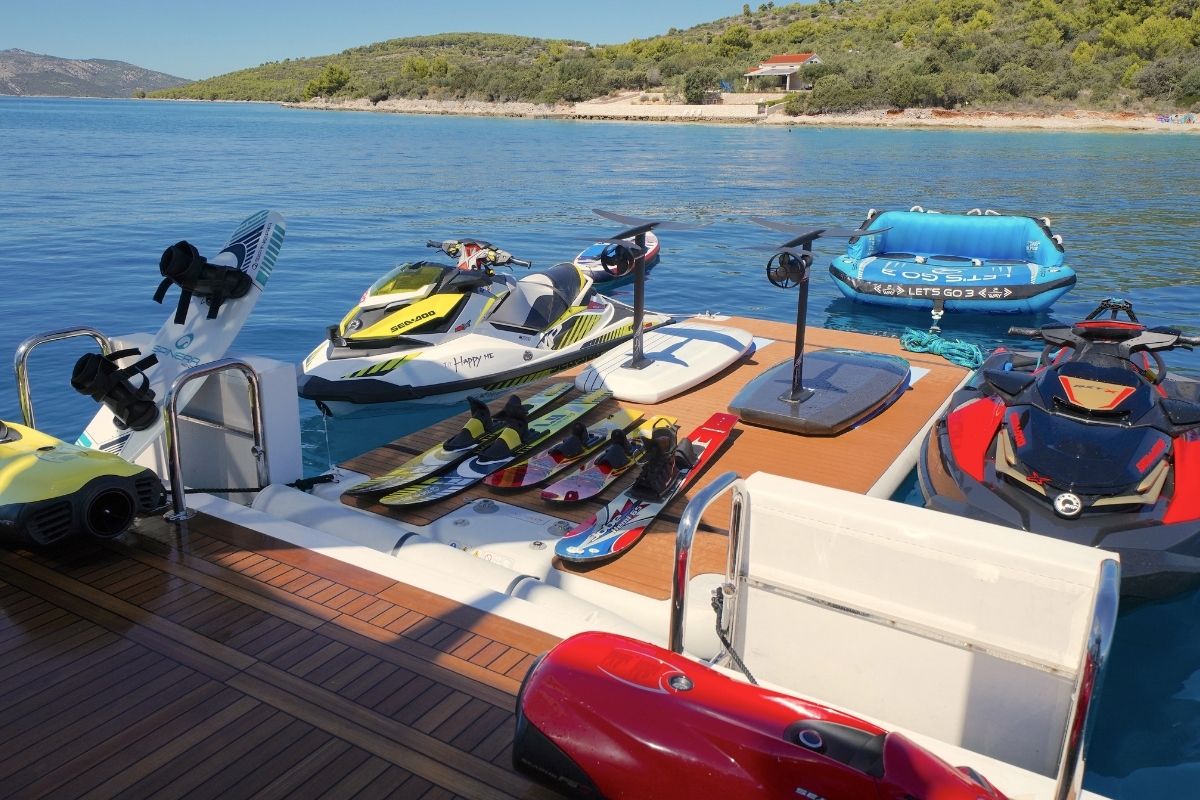 Outdoor Living and Watersports
Happy Me's sympathetic and innovative design was executed chiefly with outdoor living in mind, an area in which she excels. A partly enclosable sundeck - which is therefore usable in all weathers - boasts sweeping views as well as a 10 seater dining space, while the main deck aft also comfortably seats up to 10 for additional alfresco options day or night shaded by the upper deck overhang.
She also caters to the the most ardent watersports fans, offering an extensive array of thrill seeking toys below deck.
Happy Me's lower deck has a fold-down swim platform, providing easy access to the tender and indeed, it's the perfect location in which to soak up the rays on a lounger or lose yourself in a book under a parasol.
Side walkways leading around the main salon and up to the foredeck take you to a C-shaped sofa and drinks table, perfect for an apéro and snack while enjoying sweeping views of your surroundings. Double sunbeds and a six-person jacuzzi on the bow mean you are never more than a few steps away from a prime spot in which to kickback or cool off.
The sundeck makes for an excellent outdoor entertainment space, with a shaded mid-section able to be opened up at the mere touch of a button. Treadmills and exercise bikes are accessible here too, as well as a bar for refreshments throughout the day. A BBQ and pop-up widescreen TV also feature. With glass sliding doors and heaters in the ceiling, the sundeck has been designed for use in all weather conditions year round, meaning there is no reason to miss a single spectacular view as you cruise along.
The galley is situated behind the central staircase and connects through to the aft social area while the formal dining area is placed forward, providing an elegant setting for dinner parties where natural light floods in through expansive floor-to-ceiling windows on both sides of the room.
A stately lounge with a corner sofa and two armchairs sit around a padded coffee table that also doubles as a footstool. Glass sliding doors to the aft allow a breeze to flow through the interior and temperature-controlled wine fridges near the aft sliding doors efficiently cater to guests dining inside or alfresco.
Catering for Every Wish
A permanent crew of seven ensures that your every whim is catered to, not least when it comes to feasting options on board Happy Me. Marko Rajilić boasts 10 years' experience working as a professional chef in restaurants and hotels before moving into the yachting industry, and his desire to experiment with new techniques is sure to be a constant source of joy for guests sampling his cutting edge cuisine.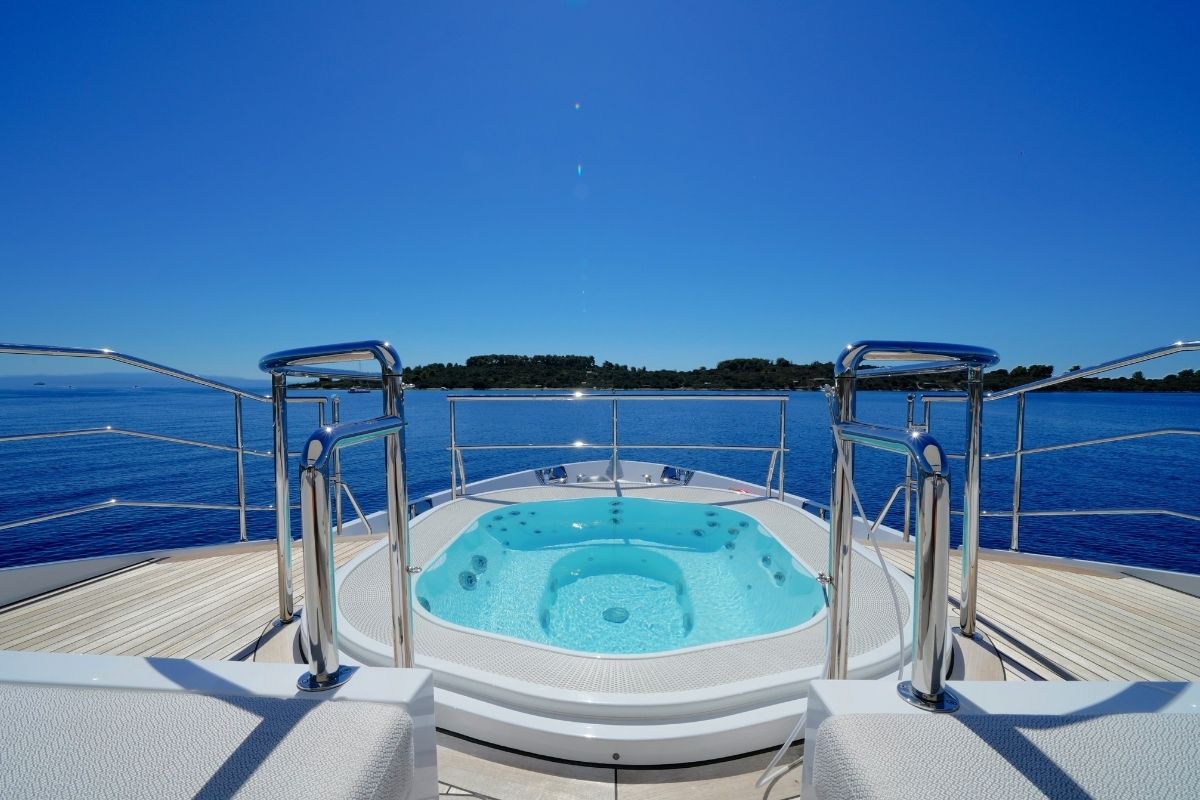 A master of mixing eastern and western Mediterranean flavours while also staying true to his eastern European roots, he effortlessly modernises many classic dishes found in Croatian and Bosnian home cooking. His signature dish of slow cooked beef tongue and fast marinated oysters emanates from his culture while also possessing a light and refined touch which will satisfy the tastebuds of the most discerning clients.
"My favourite style of cooking is a fusion of east and west Mediterranean as well as French cuisine," says Marko. "Of course, I also like to make dishes that are popular in Croatia and Bosnia, and I love getting fresh ingredients from Croatia. I enjoy experimenting in the kitchen, getting inspiration from cookbooks and TV cooking shows and my driving force is fresh, tasty and seasonal produce. When guests are satisfied and when I get back empty plates after meal, I'm very happy."
The Best of the Med and the Adriatic
The crew is led by Captain Boris Slatina, who joined Happy Me in her infancy. His unique background as captain of a Croatian Police and Rescue vessel for 20 years gives him unparalleled experience on the ocean and his extensive knowledge of the coastline is a huge bonus for guests who want to discover off the beaten track destinations in the yacht's usual cruising grounds of Croatia, the Mediterranean and the Adriatic.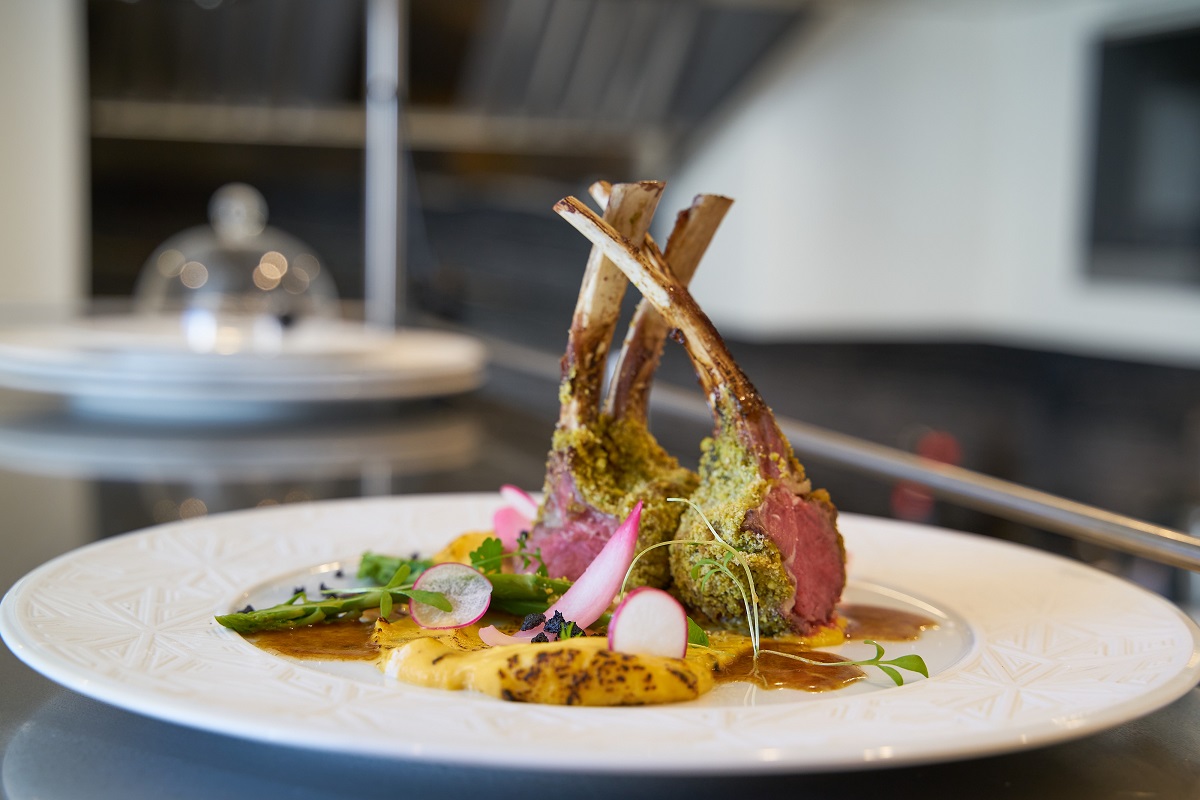 "The owner's vision was to create a comfortable, modern and fun yacht with a relaxed ambience in which all of the crew give their best so that guests can feel relaxed and safe while enjoying every inch of this yacht," says Captain Slatina. "We are a very active and sporty boat, with lot of toys, a fun zone on the second deck and many other facilities. This yacht will appeal to clients who like and respect the sea, enjoy watersports and love anchoring in quiet bays. Above all, our goal is to make sure our guests have fun."
"We pride ourselves on making every wish small or big happen, from birthday surprises on board to securing the most sought-after restaurant reservations or sourcing rare wines on islands where you don't have a shop."
And as far as children are concerned, Captain Slatina's mantra is simple: "Their wish is our command!" Surely music to every parent's ears!