Hanse Explorer
47.76m | Fassmer Werft | 2006 (2021)
With Chef Marcus Gan on hand to curate delectable fine-dining menus, there's more to a charter on board the Hanse Explorer than adrenaline-fuelled adventure.
Since studying the tricks of the trade in his home country of Austria, he has worked all over the world, mastering a range of international cuisine.
"My culinary style is influenced by the many different countries I have travelled to but in the end, you must evolve your own style." he says.
Here, Chef Marcus tells Superyacht Stories what charter guests can expect from the dining experience on board Hanse Explorer, from sustainably-sourced ingredients to sample menus sure to fire up the tastebuds.
Tell us a little about your background…
Growing up in Vienna, I discovered my interest in cooking when I was a young boy. One day, my mum asked me if I want to attend the hotel and catering school near our home, which has a great reputation both locally and internationally. Even though she was a single mother with no support from my father, and not very wealthy, she managed to pay the school fees for me. It was not a small amount, and I will always be thankful to her for that and much more.
Who are your chef heroes – who has influenced your style of cooking?
I don't really have any chef heroes. Every chef doing good work has my respect - it doesn't matter if they have a Michelin star or are cooking for students. What is important is skill and a deep passion for cooking. So while I don't have a hero as such, there are some chefs who I admire for the way they cook and the person they are.
All the people I have worked with and all the places I have been have influenced me and my way of cooking. I've already worked with a lot of people, and some of them I'll never forget.
How did you come to work as a superyacht chef?
My old friend Manfred brought me on the Hanse. We had already worked together many times before in a number of different countries, and when he asked me if I want to work with him on the Hanse, it was a no-brainer.
What is your favourite type of cuisine?
This is a difficult one for me to answer, as I don't have just one. I like most international cuisines and I don't like to define or reduce myself to just one – I always like to keep my mind open.
Growing up in Europe, French cuisine has always had a big influence on my cooking style. Plus, the European kitchen gives you the basics to work with other culinary styles. My culinary style is also influenced by the many countries I have travelled to which is a good thing, as in the end you must evolve your own style.
What's your signature dish – what has really wowed your guests?
I don't have a signature dish. There are some dishes I like and tend to repeat for a while, but then I find something new.
Where do you get inspiration and ideas for creating your own menus?
Sometimes from books, sometimes from colleagues, or sometimes I just invent my own. When you get influenced by somebody or something, it's important that you don't just copy them, but you put your own unique spin on it. For me, I love creating new dishes with colleagues. Everybody brings their ideas and styles to the table and we come up with something new.
What's your favourite restaurant and why?
Again, I don't have one! I like everywhere that serves good, proper food. That means any restaurant could be a memorable place for me.
What's the secret to cooking high-quality food on board compared to ashore?
Firstly skills, and secondly good products. Without good skills and experience, the best products won't help you. It's more difficult on board than on land due to limited resources, materials and difficult working conditions making everything more complicated. It's important is that you can deal effectively when working in these conditions.
What are your favourite destinations in terms of local produce?
Most of the time we operate in areas where getting supplies is not as easy as it may seem. Either you bring them with you, or you have to deal with what you get. So I do. But of course, if we are in places where good products are available it makes me very happy. Don't send me shopping, because I will come back with full bags!
What's the most unusual ingredient you've come across on your travels?
One of them is stinky tofu in Taiwan. It was a smelly experience but I had to try.
How do you manage special dietary requirements such as vegetarian, vegan and gluten-free?
As we work on a yacht we have to make sure all our clients' wishes are fulfilled to its fullest. It doesn't matter if it's vegan, gluten-free or anything else, the only thing it makes it difficult sometimes is when we don't get any information in advance. Even then, we always do our best to make sure they get everything they want.
Are you seeing any trends at the moment – what's on the horizon?
Trends are always coming and going, but what I can say for sure is that people are definitely starting to eat healthier. Vegetables are getting more and more attention and not only as a side dish, but as a complex full meal. People are eating less meat too, and when they do it has to be good quality. In general I think people will grow even more more conscious about what they eat.
As well as creating beautiful dishes, do you get involved in table decoration?
I leave the table decoration entirely to the discretion of our girls; they have a better eye for it. I am totally captivated with decorating my dishes.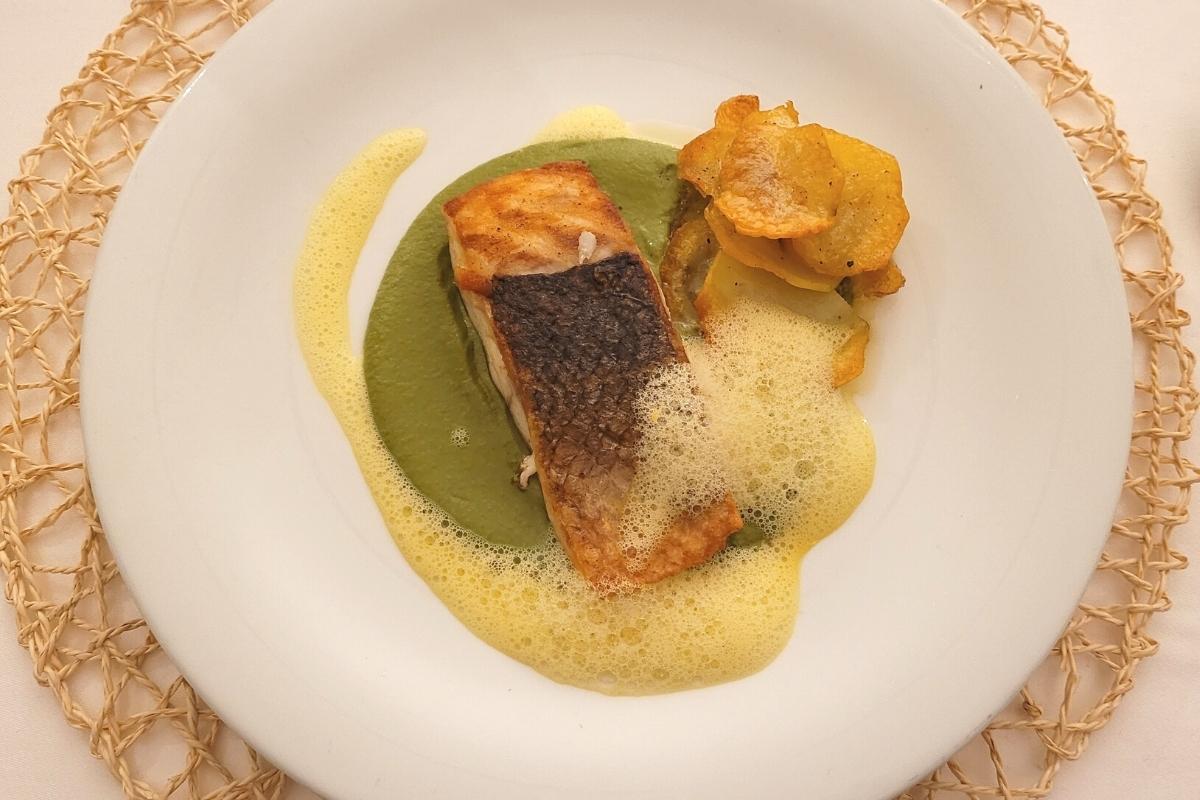 Who chooses which wines to stock on board?
Wine stock is in hands of the chief stewardess. I only help out if somebody needs any advice, or very seldomly I recommend a wine when I think it would fit perfectly with one of my dishes.
What's your view on sustainable sourcing and buying local wherever possible?
I am totally for it. Yes,yes,yes! I think it is getting more and more important too. We don't have unlimited resources, so every little thing can help. I always shop locally and sustainably when I can.
What do you most enjoy about working as a superyacht chef?
Working on a superyacht gives me the opportunity to create my own menus and dishes. Not like, for example, on bigger cruise ships where fixed menus are routine. As long as I fulfill our clients' wishes and make them happy, I can cook whatever I want.
On a yacht you have a smaller group of clients and no mass production. You meet interesting and well-known people, and you also get to visit places that not everybody has the chance to go to. All of these reasons, and many more, are the advantages working on a superyacht.
What have been some of the highlights and best moments while working on board?
Lots! Beautiful scenery, interesting people, good talks, unforgettable sunsets…the list goes on.
What is your future ambition – what would you like to do when you eventually move ashore?
As a passionate chef, you always dream about owning your own restaurant. Who knows, maybe one day…
Sample Tasting Menu
Burrata, porcini and Serrano ham
Duck consommé with wonton
Green asparagus on miso cream
Rack of lamb with sweetcorn, olive, chorizo and potato gnocchi
Milk & honey