Hanse Explorer
47.76m | Fassmer Werft | 2006 (2021)
Andriy Bratash
Hailing from a small port town near Odessa in South Ukraine, it would perhaps seem almost implausible to a young Andriy Bratash that when he grew up, he would spend his days navigating the depths of the polar regions on board one of the best expedition yachts in the industry.
Yet as captain of the recently refurbished 47.8m Hanse Explorer, that's exactly what he does.
Leading the exceptionally capable crew of 14, Captain Andriy is able to take guests on some of the world's most adrenaline-fuelled adventures, from diving in the remote reefs of Melanesia, exploring Antarctica or cruising through the Norwegian fjords, and to him, each and every day is a new adventure.
Here, he talks us through some of his most memorable experiences on board, what guests can expect from a charter, and why Hanse Explorer has repeatedly proven herself for those seeking an immersive, intimate adventure in the planet's most remote regions.
Please tell us a little about your background and how you got into yachting?
I grew up in South Ukraine in small port town near Odessa on the coast of the Black Sea, and almost my entire family worked in the port, shipyard or on ships. Being a captain on commercial ships, my father was a great example of what it was like to work in the industry, and I was always fascinated by the amount of knowledge he had – he knew the answer to pretty much every question I asked!
If felt natural for me to apply for Odessa Maritime Academy after high school, but I started out working on commercial cargo ships and tugs, so yachting itself was pure luck. One day I got call from a crewing manager and he offered me a position on a yacht, and though I knew nothing about the industry I remember thinking "why not – I'll try anything once." I'm still here almost 13 years later.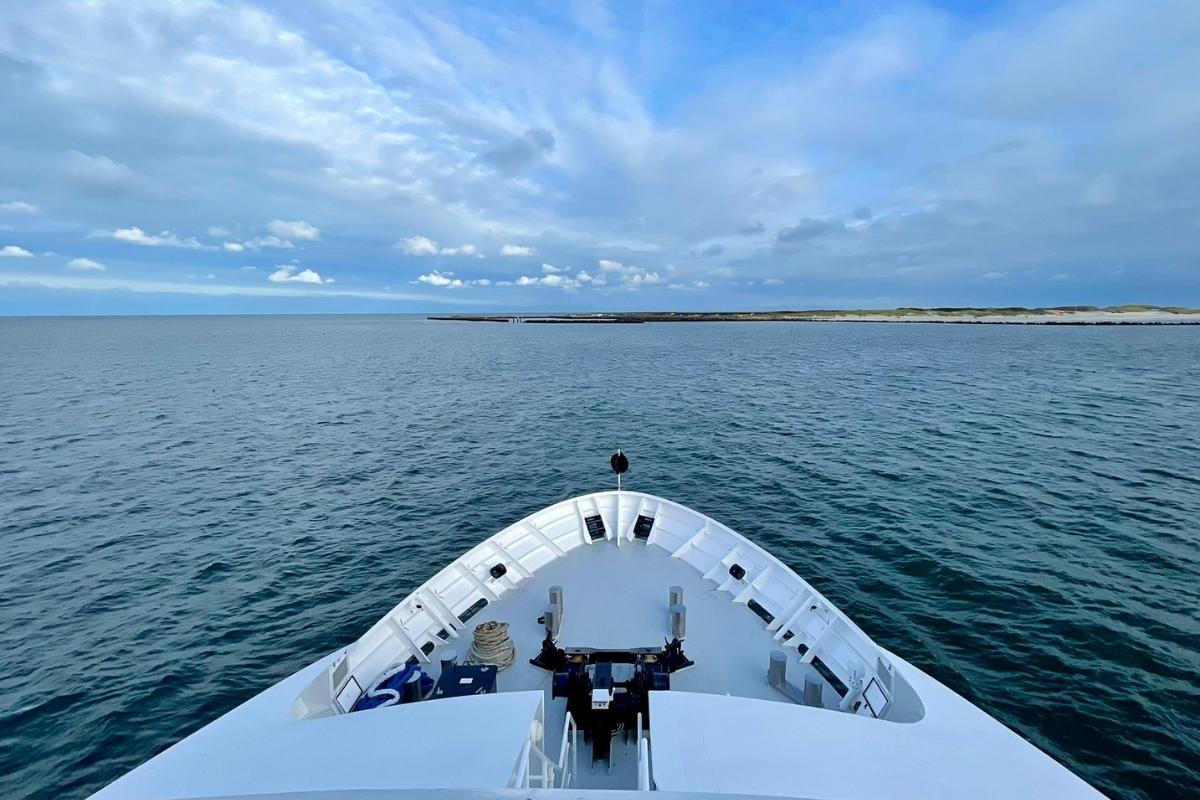 How long have you been a captain and what are some of the yachts you've worked on?
I've been a captain for five years now, since the end of 2016. I have worked on other yachts but in the position of ice navigator. Just to name few, these include Legend, Cloudbreak, Pioneer, and Gayle Force.
When did you join Hanse Explorer?
I originally joined Hanse Explorer in 2009 and made my way up to chief officer, but I left to pursue a career in the oil industry, working on offshore support vessels, tugs, and jack up barges. Working on those vessels was a huge eye opener – there's such a difference between working on a tug and on an expedition ship. Luckily, after some time spent on a few offshore vessels, I still had a good relationship with the captain on Hanse Explorer and the chief officer position became available again - I took it without a second thought.
How would you describe the style and personality of Hanse Explorer?
The Hanse Explorer is a true expedition yacht with ice class, and we're not afraid to scratch some paint while going through the ice. She is a universal platform for exploration. We have had expeditions with some of the wealthiest people in the world, as well as non-profit trips with scientists, and we are able to deliver the support and right experience to both parties in equal measures.
How would you describe the ambiance on board?
We have open ship policy on board, meaning that as a guest you can go anywhere you like by yourself with exception of engine room, which is better to visit with the chief engineer. I like to keep a relaxed atmosphere on board which makes guests forget the daily routine and truly submerge themselves into the place, enjoying it to fullest with the people they bring along. Two out of three clients come back for another trip, and for me it is a best reward is if, by end of the trip, they ask: "Which other dates you have open this year?"
What is your personal style as captain?
That's a difficult question! First of all I absolutely hate shouting. I believe a captain must be calm in every situation as this gives the people around you a certain level of confidence in your actions. I try to encourage crew to be motivated and take an interest in everything they do. I'm open to ideas and suggestions from every crew member too, we deliver the experience as a team.
What's the best thing about working on Hanse Explorer?
We specialise in trips to polar regions and that attracts a certain type of guest - the best thing about working on Hanse Explorer is places you visit and people who come to visit those places.
What are some of the standout features of the yacht?
I am very proud that we have ice class on the ship, which is very capable and has a good reputation in the industry. Another cool feature that we have is a shaft generator which can be turned into an electric motor, powered by our diesel generators, in case of ME fails. We call this 'please take me home" mode.
Which areas of the yacht do guests most tend to gather on board?
In the morning the most popular place is the bridge for coffee and an almost all-round view. In the afternoon or evening it's the lounge for drinks and that view again – we have some very large windows in there so it's really quite spectacular.
Which types of client are most attracted to a charter on board?
I really like this subject. As I mentioned before, the destinations we visit attract a certain type of client. They are usually between 40 and 70 years old, self-made successful people who are willing to go off beaten path, and live an active lifestyle. They usually come with families, friends or business partners to educate themselves on and experience the beauty and nature of the polar regions. So naturally I consider myself lucky to be able to enjoy the company of such extraordinary people.
What types of experience can you offer charter guests?

It depends on the request and the destination we are going to, but normally we can offer activities such as diving, kayaking and hiking. We have a fleet of four Zodiac MK-4s on board which gives us the opportunity to support four separate activities if needed. Also we have small gym, sauna and jacuzzi.
How would you describe the style and approach of the crew?
Nothing is impossible. We always look for a solution regardless the problem.
Please share some examples where you and your crew have gone above and beyond to make the guest experience as special as possible.
Every client is different and we try to accommodate all their requests and wishes. Once a guest wanted to have drink served on an ice floe, on which he was sitting on a chair. We searched for an ice floe that was big and strong enough, set up the chair and fulfilled his wishes with the Hanse Explorer on the background.
Are there any interesting personalities or talents among the crew?
Absolutely! We have a deckhand from Georgia who can play guitar and is also very good at playing Georgian traditional music. We have chief engineer who is a very talented photographer, and we have a steward who is talented dancer. Every crew member has unique set of extra skills.
How are the yacht and the crew prepared to accommodate children and teenagers on charter?
We don't get such requests often but we're definitely ready for that. We have a safety net which we rig around the vessel railings to give extra safety for children, and also have baby cribs on board. We can prepare any other extra equipment on request, too.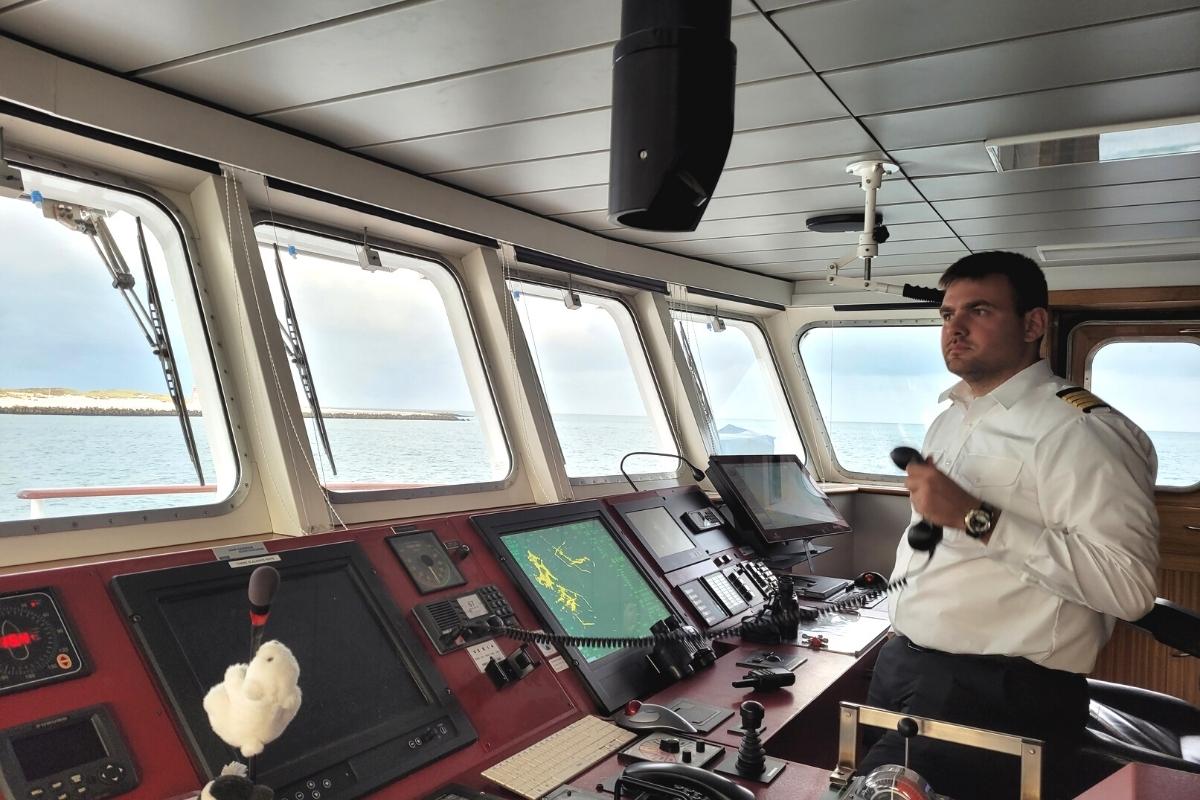 How would you describe the cuisine on board?
Excellent! We have a team of three working in the galley who can accommodate any requests. Breakfast consists of freshly baked bread and pastry, and I often hear from guests that they have gained an extra kilo or so during the trip. I think this is best way to describe how good the cuisine is on board.
Tell us about the toys and tenders – which toys are the most popular with guests?
Due to the nature of our trade, we don't have the toys and tenders which you usually find on superyachts. Instead we use four Zodiacs as tenders and as landing craft, and we also have three inflatable double kayaks on board. These are quite popular during whale watching as they don't emit any noise and make some of the animals curious so they come close to you.
What are your usual cruising grounds?
We specialise in polar regions. Antarctica and the High Arctic is our playground - this is where we shine and can use the potential of the vessel to her fullest. Due to her range and capability to be autonomous for 30 days, we've also done expeditions to remote places in the Pacific, both Southern and Northern line islands. We were able to support a group of 12 divers for 30 days without calling at port. I believe after our refit we can offer even more to our clients when it comes to warm destinations.
Which destinations are your personal favourites and why?
Professionally, without doubt, is Antarctica. It's super interesting to navigate there, with the ice just one of a number of challenges we face. Privately I prefer to travel by car, spending time in the mountains with family in both the summer and winter.
What have been some of the highlights or your favourite memories as captain?
In the places we go, it's hard to distinguish highlights and routine. Every trip is different and unique, and each time we go out I think it can't get any better, and yet it always does. Whales breaching just a few metres away from our Zodiac; getting up close to polar bears and seeing them hunting and eating their prey; the sunsets and sunrises in Antarctica deserve their own paragraph too – no two are ever the same.