Coral Ocean
73m | Lurssen | 1994 (2022)
William Kaye
Captain Will Kaye entered the industry from a slightly different route to most. "I was a dinghy sailor from a very young age - I did my sailing instructor's course when I was 16 and then I studied engineering at university," he says. It was during a summer engineering placement that Will decided to join his friends on a sailing holiday in Greece, and he fell in love with the country and its active outdoor lifestyle.
After Will graduated he fell in love again – this time with a girl, and the pair embarked on a sailing trip across the Atlantic."Before I knew it I was chartering catamarans in the Caribbean, and then I moved onto motor yachts, running an 80 footer," he adds. What followed was the job of chief officer on the build of the 50m expedition yacht where he became captain and stayed for ten years, before moving on to a spectrum of other superyachts. Captain Will joined Coral Ocean four years ago, and hasn't looked back since.
Hot in the footsteps of Coral Ocean's €35 million refit, Captain Will talks Superyacht Stories through the no-expense-spared makeover which Australian businessman and owner Ian Malouf entrusted to Kaye, his most memorable superyacht experiences, and how he plans to top this incredible project in the future.
Let's start with the thing everyone wants to hear more about – Coral Ocean's refit!
Of course! As everyone knows, Ian bought the boat at the Monaco Yacht Show in 2019. At the time he had an idea of what he wanted to do with her but, as with most projects like this, it grew extensively over time. Initially we just wanted to get the boat out for the next season, touch up the interiors and do some bathroom changes, then we planned some more works the following winter, which also included some layout changes.
Our first thought process was to book the boat into STP. That's our preferred shipyard, and we enjoy its open setup in which we can run our own project. That's how we have both enjoyed working in the past. However as the scope got bigger, we started to realise that the twin winter work wasn't feasible and that we actually just needed to do a full period. So that's what we did, with STP. One of the beauties is you can pick your own contractors and manage your own projects – you're not bound like with a full-service shipyard – but that also comes with its challenges, too.
The first major challenge was finding someone to do all the structural metal works as the project was huge by then. For example, we needed to move the gym from the sun deck to the skylounge which meant adjusting the existing metal structure up there. At that point we took another step to completely remove the sundeck structure and start again with full new-build composite hard tops and carbon masts. Getting management to understand that we needed a project team to actually manage that was quite a big undertaking - the amount of work ultimately ended up costing around €35 million and initially was probably estimated at €20 million.
We picked our contractors and over time we built a large project team including myself, a project manager and technical manager as the core team. Then we had up to 10 others as part of the project team - three interior project managers, an electrical project manager, numerous extra ETOs…the electrics alone cost around €3 million, so that was a huge aspect.
How did you find all the various contractors?
You take advice from other people, and rely on the experiences of the team and their experiences of contractors. We pulled a lot of contractors in from Northern Europe, we have Four Seasons do the spa, Teak Decking Systems for the deck - we knew who the top guys were. Nonetheless, there's still a lot of challenges with having over 100 different contractors and companies on board. Pulling it all together into a project was a huge challenge. Ultimately, I think we were all quite amazed that we made it to the Monaco Grand Prix. I sat with the top three guys the month before the end and got told we weren't going to make it - I turned around and said: "no, we are" and we did. It's a credit to everyone involved.
Did you have any supply issues with the pandemic?
Absolutely. Electronics-wise it was just a nightmare, and occasionally we had to change direction or work on another plan. Lead times were challenging too for both electricals and raw materials. Even metal became a problem. However while Covid obviously produced its challenges, we only lost a week of work time in the whole two years. We had an outbreak early on which forced us to shut down for about four days, plus we had other issues with contractors not being able to travel etc.
So it was an extremely quick turnaround all things considered…
Definitely, considering the scope of the work. We did have to take some risks - we were building glass before we had the surrounds done - but luckily the risks mostly paid off.
How much has the weight increased?
Not as much as you'd think - we actually reduced weight up top because we switched from a metal structure to composite carbon. We added a lot of glass, so that was the biggest increase. We did a 3D of the hull though and found that we actually improved the overall stability which was a great end result, as I think stability caused me the most sleepless nights.
Why did Ian take on such a big project?
I think he likes projects. When he bought the boat he never envisioned how big the changes would get, but he has a very active mind and a great vision. That vision just keeps getting bigger and bigger. Ultimately I think he liked it but would he do it again? I'm not sure.
He didn't actually see the entire project until the end. We share a huge amount of information on teams, photos, video calls so Ian is heavily involved in every single aspect. That fitting over there, he'll know, and we discuss every aspect of the refit with him, so he's heavily involved, but he never came to the bone the whole time. I mean, COVID was a big one. But then even towards the end, he knew if he came at that point that he wouldn't make Monaco, so it's a good thing he didn't come. Even a few months from the end when they wanted to change the layout of the master bathroom, I literally had to say you will not make Monaco if you make this change, so we didn't.
Did you see his face when he walked on board for the first time?
I did. While he was highly involved in every single aspect, he didn't actually see the entire project until the end, and we'd made so many decisions that it's always a worry he might not like it. But thankfully it was great – he was super happy.
Was the rebuild for Ocean Coral a family effort?
Yes definitely. Ian is the layout guy and handles the logistics. He's very visual, very hands on, and wants everything to function and flow well. Larissa, his wife, is all about the look and she's heavily involved with the interiors. She handles the finishing, the style and the colours. Interior designer Blainey North was also involved in the design of the dining room.
What we love most about the boat is that it has such a calm atmosphere and flows so well…
Thank you. H2 Design did an unbelievable job. Ian spends so much time with the team - they'd spend all day and night discussing ideas - and he always looks at it from a charter and crew perspective. On the owners' deck, for example, he reduced the guest area to increase the size of the pantry while turning the shower into another pantry. There's also a teppanyaki burner and pizza oven – I don't think there's another owner who dedicates so much room to service. He also wants the boat to operate with extra day guests for parties, so he took that into consideration with the design too. He gave up a lot of guest spaces to create more efficient service spaces. Ian is meticulous with his plans and what they have created is superb.
Did you consider changing the name?
We did, but ultimately we felt there was a bit too much history there so we decided to keep it.
Was the rebuild well received at the recent boat shows?
We couldn't have been happier with the response from everyone across the board. From a captain's perspective going forward, chartering is fantastic, but also recognition of the refit is amazing.
And what about Coral Ocean's new video - were you involved in the making?
Oh yes! We got the boat ready, left Palma, brought it to Cannes and then onto the photoshoot in Monaco. We had everything on the dock, we had carpenters still finishing the boat, the linen arriving in hundreds of boxes – it was mad! We chucked everything on the boat and then went out for the photoshoot. There were a lot of people on board too – the family, the photographers, the models, our team and about 25 crew.
We had no time for any crew training either - we just had to throw everything on board and hope for the best. We got lucky with the weather and we managed to find locations without too many boats, and it turned out great. We are lucky we've got an amazing charter team who want to run a successful charter boat, so that passion is there from the crew. They know it's important to get it out there. It was a fun process.
What is the biggest thing you learnt from the project?
To never underestimate the time it takes to design, or the amount of resources and time you need to dedicate to it all beforehand. Once you've got the big picture in place you also need to think about the finer details – it becomes such a huge part of the timeline, and if it goes over, everything starts slipping.
And then I guess the usual things - just making sure that every job goes across the board, make sure you spec every quote the best you can, make sure the quotes are inclusive, that every detail is in there, and that you're keeping the contractors on their toes to avoid disputes. Everything is a challenge so you need to constantly analyse what you can do better to avoid problems next time. In some cases they are issues you couldn't have foreseen, but other times you look back and think: "yeah, we could have designed that better, or we could have spent more time and designed it further." Each job needs to be really well scoped out and really well quoted to avoid problems later.
What about your background as a captain? Have you worked on projects on this scale before?
I did one that was not far off it - I've done a number of refits so I've got a lot of experience in that area. The biggest was a new build expedition yacht that I ran for 10 years, so I spent a lot of time in shipyards. And then I was on a 60m Abeking where I did a full interior extension and full paint, so that was another major project.
How long have you been the captain on Coral Ocean?
I've been with the boss for four years. I joined at the Cannes show on Mischief and spent about a year on her, and I was managing the two boats for a while. Eventually managing fleets across oceans proved to have a lot of challenges, so I moved across to be Captain of Coral Ocean just before we did the refit.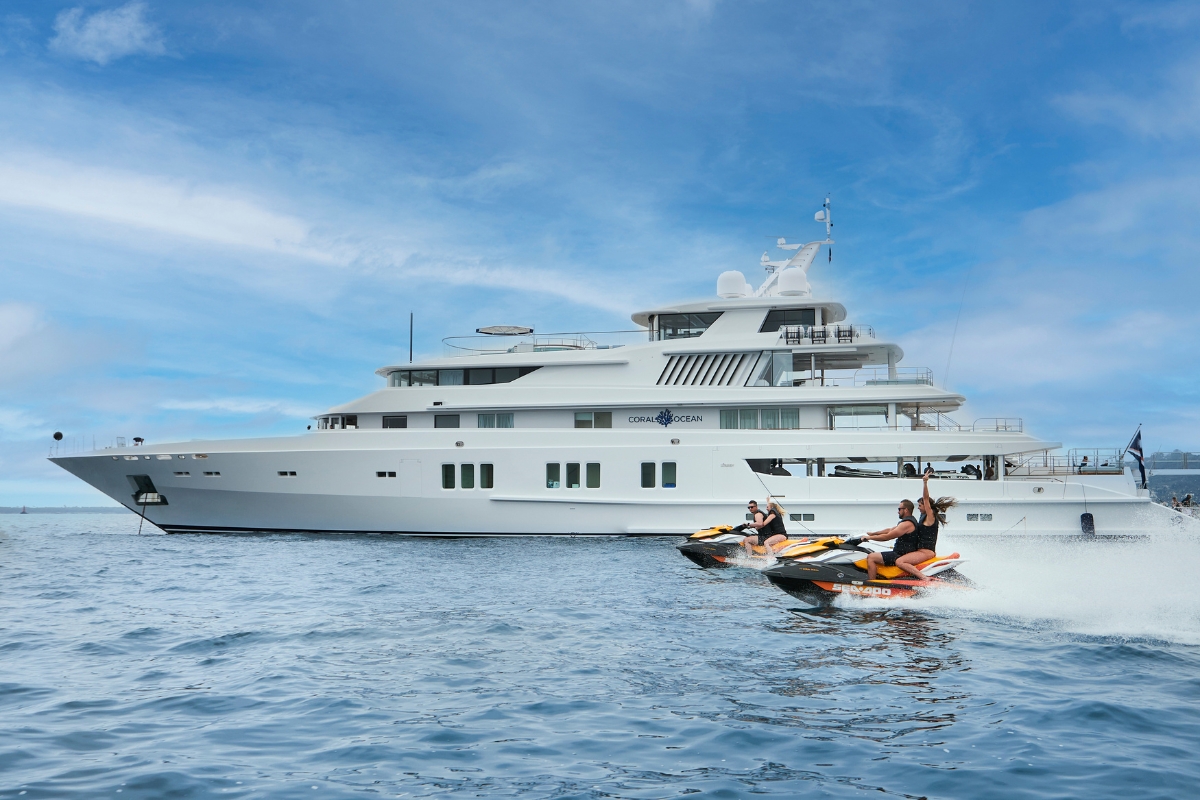 Let's discuss the itinerary - where are you planning to visit?
After FLIBS we'll spend three weeks in the shipyard and then head down to the Antigua Boat Show and then the Caribbean for the winter. Then it's back over to the Mediterranean for next summer.
What has been your best experience on superyachts so far?
I'd say diving in French Polynesia. We did a few dive charters out there and I had the opportunity to dive with the clients because they wanted a high level of service. We had a dive guide and instructor on board, and then me, a divemaster, diving with the guests.
Have you been to the Arctic and Antarctic?
Not yet! I spent 13 years on two different expedition yachts but I've never been to the polar regions. I really wanted to, and the yacht did a lot of that before I joined, but sadly the owner decided not to visit anymore. We did do Wales, Ireland and Scotland which for me was superb because it's my old stomping ground. I went to visit my uncle and aunt on the Isle of Man. I grew up in Yorkshire but mostly I was sailing on lakes in the Lake District or Anglesey.
Do you think Ian has any ambitions for expedition yachting?
I'm not sure – I've not seen any interest but I'd love there to be some. The family likes the hotspots. You tend to find people who get into yachting love the hotspots and then later they drift away and go cruising around new grounds, but we're not quite at that stage yet. It works for me though as I'm at a different stage of my career now - I need that balance between being fully involved in work and then being at home. My rotation is two months on and two months off. The focus is different nowadays.
The word on the ground is that superyachting in Australia is really coming up – what are your thoughts?
Well obviously they've relaxed the rules for charter there, but what people didn't realise is that you could always charter there as a foreign boat. I did it in 2007. It's just that nobody could be bothered to go through the process. Sure it wasn't easy and it cost around $40,000 AUS, but what's that in terms of a charter rate for a big boat? However now they've opened it up, I hear there are a lot of big boats there. Mischief is based there and she is always busy, and Ian's got Chaos and Rascal which are chartering like crazy.
So what's next? How are you going to top this?
I'm sure Ian will have something up his sleeve soon! He loves boats and he's always buying them. I'm sure something will happen to make things interesting!