Apogee
62.5m | Codecasa | 2003 (2019)
John Fleckenstein
With a guest-to-crew ratio of 12 to 17, it's not hard to imagine why Apogee's guests keep returning to captain John Fleckenstein and his team year after year. Captain John has been with Apogee since the beginning, and is no stranger to delivering superior experiences around the world.
"Our crew is what really sets us apart," explains Captain John. "I have been with the boat since she was built in Italy at Codecasa in 2003, and I truly believe our team is the best. Our crew retention rate is impeccable, and something of a rarity in the world of luxury yachting."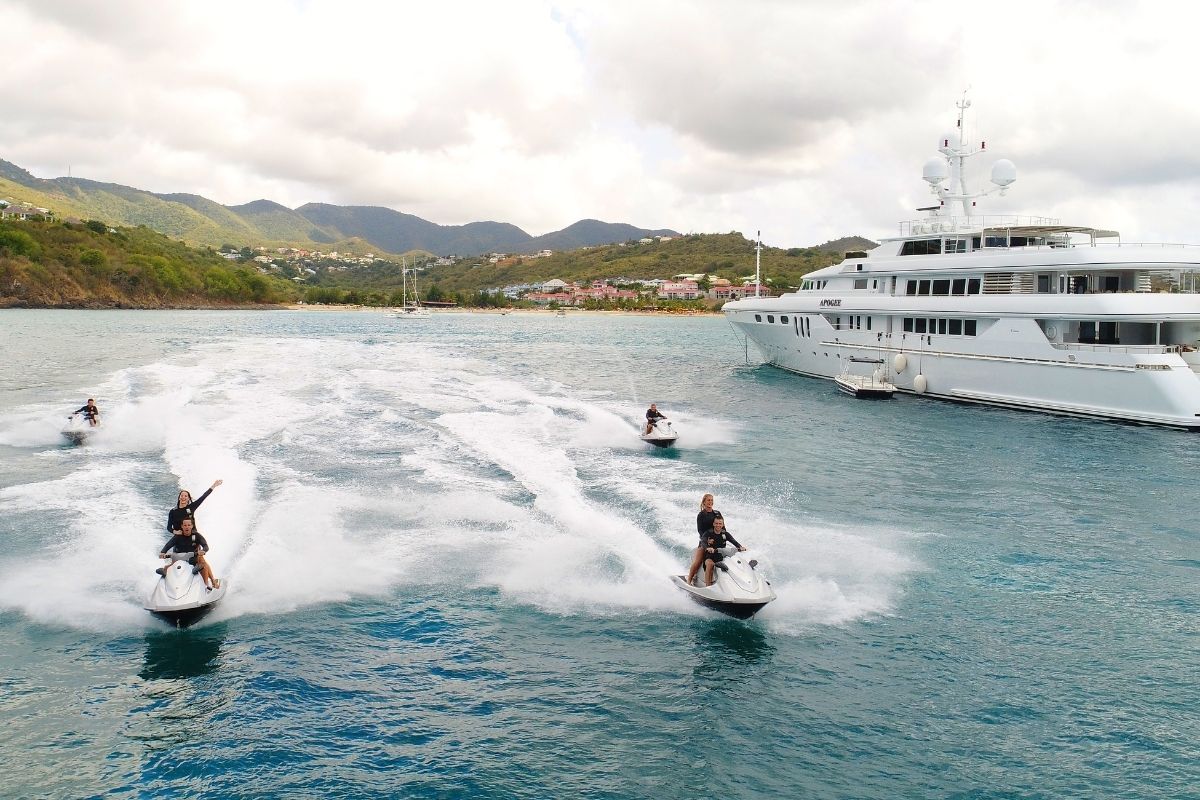 "Apogee is a charter yacht with personality," says Captain John Fleckenstein. "That personality is built on experience, openness and maturity." Delivered in 2003, charter superstar Apogee has been a favourite in the luxury charter yacht market for almost two decades. Led by Captain John since the very beginning, along with his dedicated crew of 16, Apogee delivers superior superyacht experiences around the world for groups of friends and family looking for the very best.
The perfect yacht for the ultimate family getaway, her long list of facilities includes a fully equipped gym, an elevator, private night club, limo tender and a huge array of water toys, all complemented by the impeccable service of an experienced crew. "Our two stewards have families; I have a family. We understand what it takes to create a fantastic family experience," says Captain John. Here we delve into exactly makes a charter experience on board Apogee stand out from the crowd.
What makes Apogee a unique charter yacht?
Our crew is what really sets us apart. I have been with the boat since she was built in Italy at Codecasa in 2003, and every charter has been unique which requires experienced and energetic crew. With Apogee we have a great platform to work with, including plenty of toys and more social areas than most yachts which gives guests so many options for their time on board and shows off the teamwork and expertise of our crew to the full.
Together we're a team of 17, and we're professionals at what we do. At any one time we will have three or four junior interior crew working underneath an experienced team member. It's a valuable asset to have a well-oiled machine. More than that though, each of our crew members brings with them a flair to what they're doing. Being greeted by the vibrant personalities of our breakfast stewardesses is the loveliest way to start your day.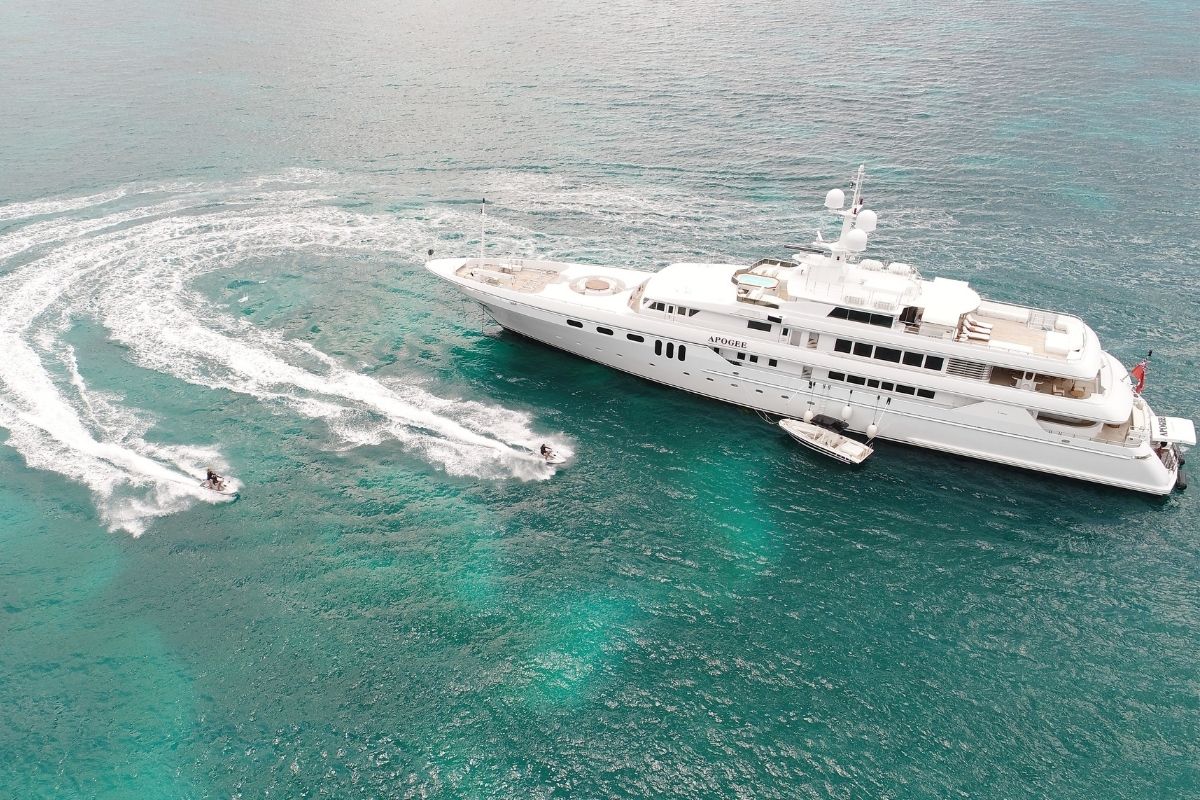 What kind of charter experience can guests expect?
A fun charter on a quality boat with a professional crew! Apogee welcomes guests to a conventional American layout and styling, and throughout the boat there is a big focus on space and entertainment. The bridge deck bar lounge is a great area: we have done poker nights, casino nights, choreography dancing with kids for their parents. It's a really fun area that we use a lot for these purposes. Equally it can be used in the evening as the lounge that everybody gathers in for an aperitif before moving to the bridge deck aft for alfresco dining.
There are no tenders on deck, so the available deck space to guests is pretty much unmatched in these sections of the charter yacht market, and there's massive volume for guests.
How do the crew go above and beyond for each guest?
One of the best things that we offer is a fantastic, full package. Our deck hand Willy has been with us for 17 years, and he's been by my side since the launch party. His value is with his contribution of AV, whether that be computers, photography or making video content. He plays a part with all of our charter trips, and we produce a short movie for the guests. The film is a compilation of still photos, underwater photography, drone footage, GoPro shots from the Waverunners and footage of the vessel underway. We'll take a crew member on excursions to capture that special experience, and in the end, guests have this fantastic video of their entire holiday. It's something special on-board Apogee.
How do you maintain excellent levels of service on a boat this size?
We have a big emphasis on service overall - the housekeeper has been with us for ten years. The owner and captain involvement has assured a high retention rate. The owner is involved, he's interested in the experience of the charter guests, and therefore keeping crew is a significant interest to him personally. It's great to work in an environment where everyone understands how the team stays together and performs.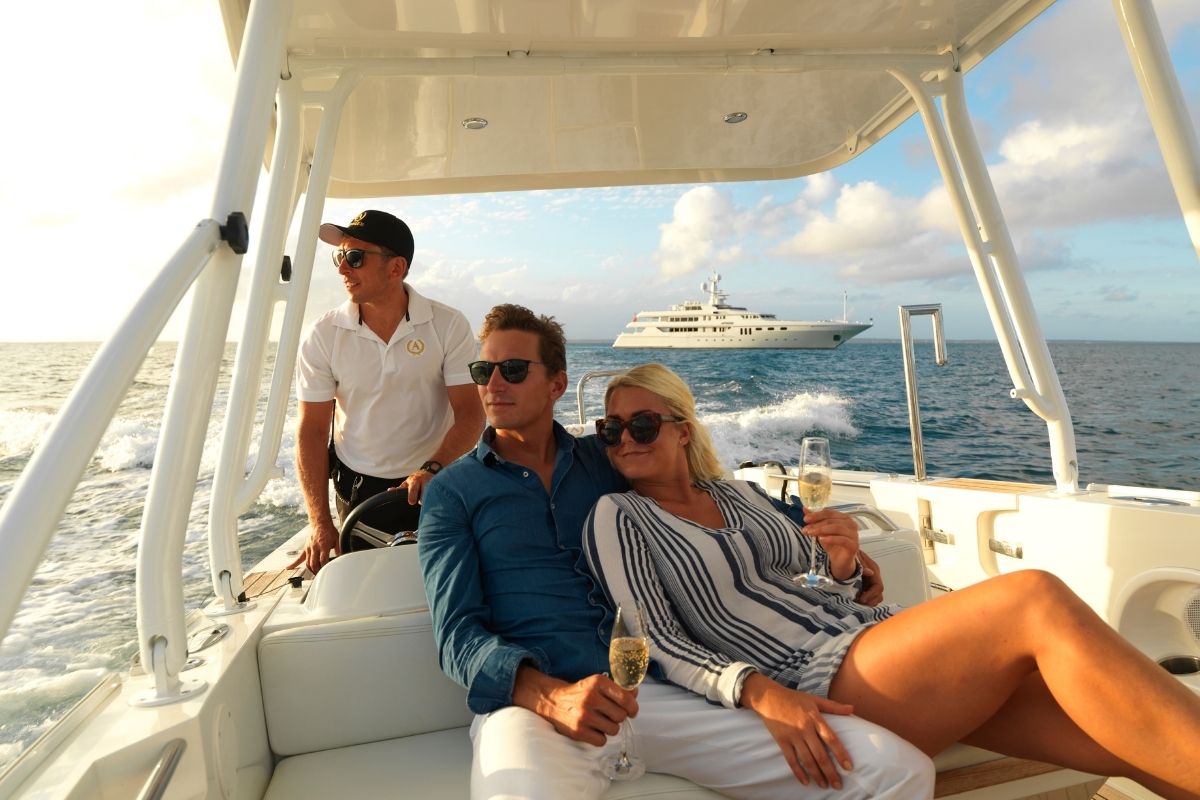 What's the best thing about chartering Apogee?
The beauty of chartering a 62.5 metre yacht like Apogee is that we have the numbers to support a completely seamless superyacht operation. We manage the vessel day and night, including overnight passages which allows guests to travel by night and enjoy a new destination every day.
What destinations are your personal favourites?
The Caribbean and the Bahamas in the winter, and the whole of the Mediterranean throughout the summer. In the Caribbean, the crew's favourite spot is Meads Bay, Anguilla. The beach is really spectacular. The Balearic Islands are also favourites - we're all about the beach! We organise a lot of beach excursions for guests around the Amalfi coastline, Turkey and Greece. It's all about getting out with all the comforts you need with no traffic and making your way as you please. Everything is delivered to you right from the yacht - you can't beat it! It's just magic.
How are the boat and the crew prepared to accommodate children and teenagers?
The variety of water recreation on board Apogee is superb, but that's standard with most yachts of this size. Where we differ is that we have a lot of dedicated entertainment centres for the whole family. Back to having 17 crew, this is where we're afforded a lot of people who will be instrumental in activities around the boat, from games and karaoke to helping out with the SeaBobs in the water. Elevators on all levels is also a considerable advantage for families, and possibly even a requirement for some of our clients. Our staff is such that we have a great deal of versatility between the steward and the professional bartenders; our lovely ladies are great at nurturing the children on board. It's always great to see a mother content and relaxed with everybody happy, safe and having fun.
What is your advice to guests who are concerned about safety on board?
I think the antithesis here is personal attention. We're quick to understand the needs of the clients, and as far as the benefits today of technology, yachting is much safer, pleasurable and comfortable than it ever has been. Small accidents happen, things like wave runners and falling down steps, but we emphasise protocol and experience. We have video productions and animations, and in our briefing at the beginning of each charter, the guests all gather in the bridge deck bar and we discuss matters of importance relevant to their safety and experience to ensure a safe and fantastic charter.