Amaryllis
78.4m | Abeking & Rasmussen | 2011 (2019)
Johan Harris
Captain Johan Harris has been with Amaryllis since 2019, but his passion for the sea started when he was a young boy growing up in Mossel Bay, South Africa.
Having worked on board a number of superyachts since the start of his career, Captain Johan believes in leading his crew by example, and strives to hire only the best talent that the industry has to offer.
As one of the more family-friendly yachts on the market, Amaryllis is the ideal charter for groups with young children, with Captain Johan and his team ensuring guests are kept entertained every step of the way.
Here Captain Johan tells Superyacht Stories exactly what it is that guests love about their time on board Amaryllis, from the excellent cuisine to the incredible display of water toys on offer.
Can you tell us a little about your background and how you got into yachting?
I am from a small coastal town and pretty much grew up on the water - I started sailing as a young boy. I've held a master's license since 2002 and have worked on numerous vessels including Blue Moon, Bella Vita, Freedom, Lady in Blue and Jagare. I then joined Amaryllis in 2019.
How would you describe the owner's vision for Amaryllis?
The owner really enjoys family time while on board, so I believe the vision is for the vessel to have everything it needs to make for a great family charter.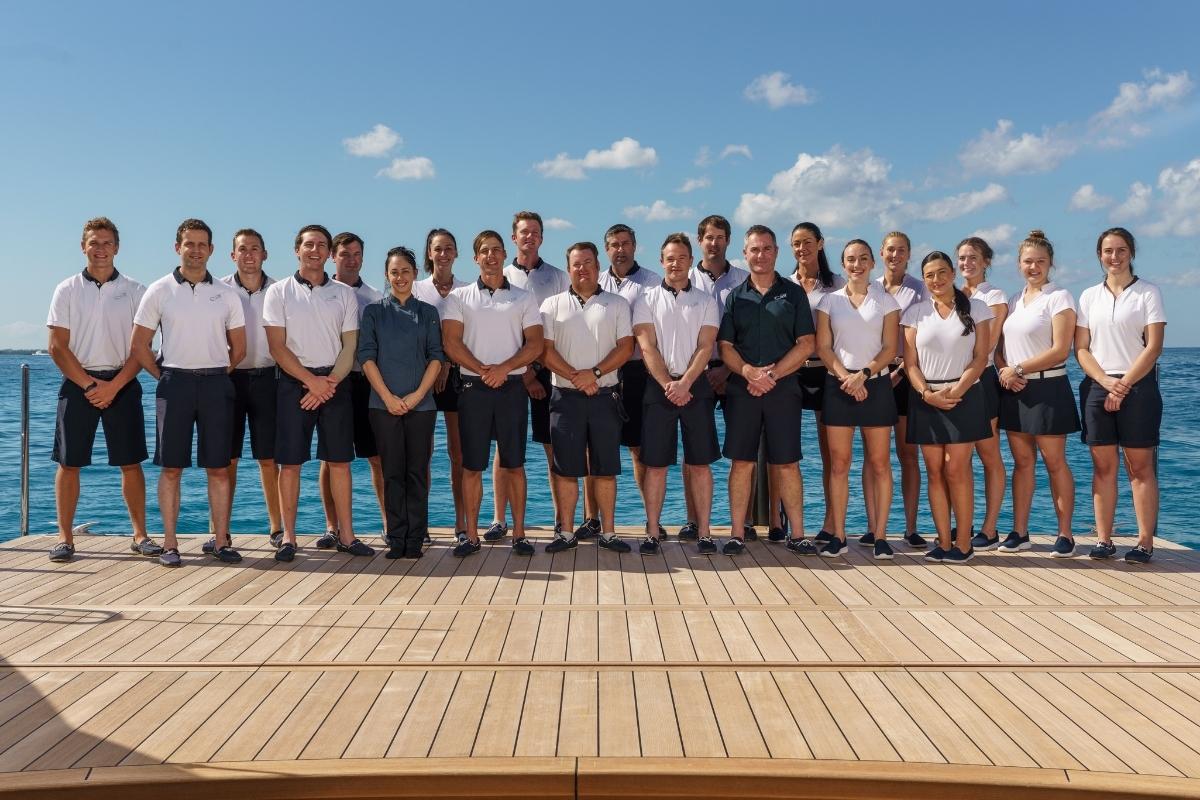 How would you describe the style and personality of the yacht?
She is quite formal in design and service, while providing plenty of privacy to the owner and guests.
How would you describe the ambiance on board?
The ambiance is quite warm and relaxed during family trips with the owner's young children - we even have a dedicated playroom for them.
What's your personal style as captain?
I try to lead by example, hire the best people I can find, and I have a strong focus on teamwork.
What's the best thing about working on board Amaryllis?
She is a high-quality vessel with good accommodation for guests and crew. She is also very well looked after and has a strong and dedicated management team. .
What are some of the standout features of the yacht?
She has a beautiful profile and a fantastic gym/spa area. We are also well suited for families with young children, and are able to provide everything they could need during their time with us
Which areas of the yacht do guests most tend to gather on board?
The gym/spa area, sun deck, sky lounge and piano lounge are among guest favourites.
What types of experience can you offer charter guests?
With our UK itinerary we certainly offer destinations not often found on the normal charter routes. The amazing scenery through the Scottish lochs combined with golf and whisky tastings, for instance.
How would you describe the style and approach of the crew?
We are very flexible and adept in everything from formal dinners and silver service to casual beach set-ups. We always provide a very high level of service and tailor our guest interactions to their needs.
Please share some examples where you and your crew have gone above and beyond to make the guest experience as special as possible.
We continuously strive to exceed the expectations of our guests. We once sent multiple crew members into the city to scour all the nearby pharmacies during a guest dinner service for a specific mouthguard a guest needed to sleep with. By the time the guests retired to their cabins, we had a choice of mouthguards ready in the cabin. The guest could not believe we were able to accommodate the request at such short notice and time of night.
Are there some interesting personalities or talents among the crew?
We are a varied and multi-national crew hailing from all over the world, and this makes for a delightful mixture of customs, habits and personalities. We provide a lot of laughs and entertainment!
How are the yacht and the crew prepared to accommodate children and teenagers on charter?
We are very comfortable with children on board – we have a dedicated play area with theme nights and parties for the kids as routine.
How would you describe the cuisine on board?
The cuisine on board is probably more classic French and Mediterranean fare, but our chefs can easily cater to most tastes.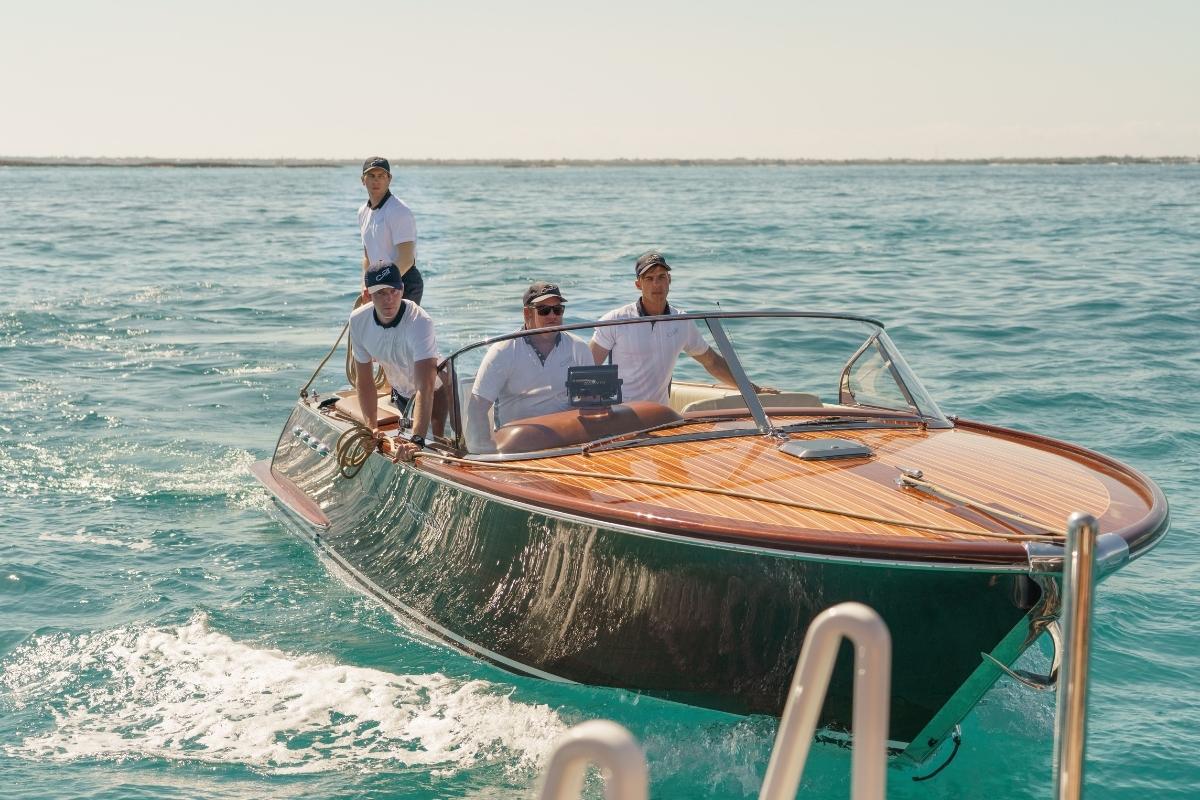 Tell us about the toys and tenders – which toys are the most popular with guests?
We carry a range of tenders and toys on board. The wooden Graff Ipanema tender is guest favourite, so is our Pascoe tender with a forward ramp for easy walk-on and off beach access. We also a carry Malibu ski/wakeboard boat for serious water sports and wave runners, jet ski, SeaBobs, kayaks, SUPs, a giant inflatable slide and numerous other inflatable toys for the water and beach.
What are your usual cruising grounds?
We usually cruise around Florida, Bahamas and the United Kingdom.
Which destinations and your personal favourites and why?
I really enjoy the blue waters of the Exumas with its many beaches for that perfect sunset or beach dinner. St. Barth is another favourite thanks to its European flair and sophistication nestled in the heart of the Caribbean.
What have been some of the highlights or your favourite memories as captain of Amaryllis?
As a captain, I am extremely fortunate to travel to and experience not only my dream locations, but also the voyage between all our ports of call.