How Yachts for Science Became the 'Tinder of the Seas'
Whether we like to admit it or not, many of us have found ourselves swiping on apps to find a suitable match. While such platforms revolve mostly around dating, Yachts for Science takes the concept of matchmaking and brings it to the yachting industry.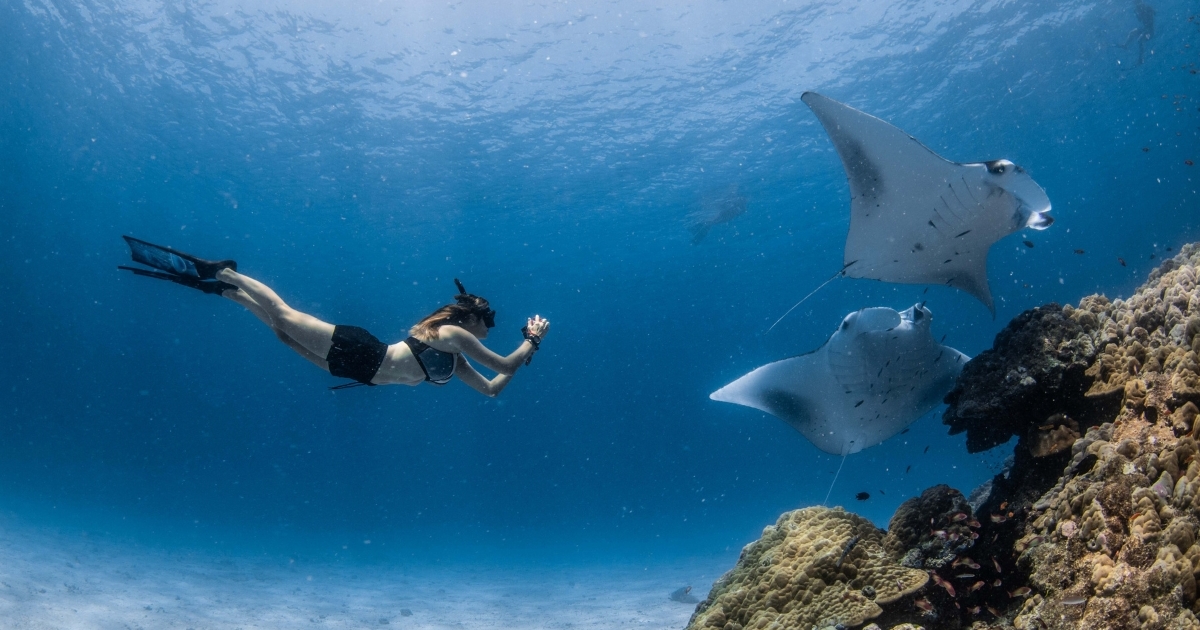 Its aim is to pair researchers with yacht owners for scientific expeditions.
"We have been called 'the Tinder of the Seas' and in many ways that is true; we look for a good match between a vessel owner and a lead scientist, a science project and a cruising destination, and then we let the magic happen," says project lead Rosie O'Donnell.
Instead of organising dates, the platform facilitates research projects utilising the owner's vessel. Success stories include a mission to Indonesia during which scientist Erika Gress and businessman Mark Robba, owner of 51m Indonesian phinisi Dunia Baru, studied black corals in Raja Ampat's reef, while another saw a team sail to the Indian Ocean for a study of manta rays led by Simon Hilbourne from the Manta Trust.
Pictured above: Erika Gress and Mark Robba of Dunia Baru. Photo credit: Tommaso Riva


How does Yachts for Science work?
Yachts for Science was founded by a group of like-minded partners from the worlds of yachting and science, including BOAT International, NEKTON Foundation, EYOS, ARKSEN and the Ocean Family Foundation.
"We identified an opportunity to match-make yachts and scientists; two groups who have a deeply shared interest in the ocean," O'Donnell says. "The science community struggles to get vessel time: the ability to simply get to sea in order to undertake their research. The yachting community has a well-resourced (and well-intentioned) community, often looking for an opportunity to support science; so there is a natural link between the two."
The matchmaking process starts with the scientists. After finding researchers whose projects need access to the sea, Yachts for Science scours its database of yachts around the world for the right fit in the right destination.
In some situations, the project is determined by geographical location, for example if a scientist wishes to explore a certain reef. With others, it can be inspired by a certain species, for instance if a research team wishes to track a migratory route or take an expedition to a breeding ground.
"When a yacht is headed to a suitable location, we connect them to a scientist that has a project there," O'Donnell adds. "When a scientist has a project but cannot access a research vessel to go there, we advertise the opportunity within the yachting industry media."
Interested owners can then either choose to lend their boat to a scientist while they're not on board, or they can choose to host a scientist and even assist with this research. This hands-on approach is often a popular choice with around half of the owners, O'Donnell reveals.
Photo credits: Simon Hilbourne Manta Trust; EYOS Justin Hofman

One such person is Mario Hammett, a retired Malta-based businessman and the owner of Great Whale Princess, a 23.5m flybridge Princess motor yacht. This coming May, he plans to lend his vessel to Dr Francesco, a professor of fisheries management and conservation, for a two-week mission to tag great white sharks off the coast of Tunisia.
Dr Ferretti and his team will use eNDA water sampling to locate these nearly extinct sharks in the Mediterranean, then attract them with chum and tag them for monitoring. Hammett will join the mission to support the scientists alongside guests include James Glancy, a filmmaker and conservationist who is known for his work as a host on the Discovery Channel.
Another upcoming project, dubbed Forest of the Sea, has its sights set on Patagonia. The collaboration between Yachts for Science and Parley will see a team of marine biologists and filmmakers take a two-week oceanic journey from Puerto Montt to Cape Horn. During the trip, they'll undertake science and research to understand the conservation value of Patagonia's kelp forests and marine ecosystems, with the content creators capturing every step of the discoveries.
The research team will be led by Dr Loyido Dunga from Parley, while filmmakers including Faine Loubser and Ross Frylinch will capture the content, with support from personalities such as Sylvia Earle from Mission Blue. The vessel, however, has yet to be sourced.
Yachts for Science is currently on the lookout for a suitable yacht that plans to travel to Antarctica and/or Patagonia in 2023 or 2024. O'Donnell asks anyone interested in supporting this once in a lifetime mission to reach out.
Pictured above: Seagrass Ocean Rescue


An inclusive vision
While expeditions such as this require a large vessel, Yachts for Science doesn't only work with superyachts, and owners of boats of all shapes and sizes can get involved.
The organisation's most recent mission, known as Seagrass Ocean Rescue, involved the use of a modest Ring Powercraft rib. It took place in March in the Solent strait in the UK where teams from Project Seagrass, Swansea University and the WWF used the rib to plant seagrass in three different locations: Priory Bay, Thorness and Beaulieu. The aim was to kickstart restoration of the UK's dwindling seagrass population.
Projects such as this are contributing to the marine industry's growing conservation efforts. Last year, the yachting community donated over $100m to ocean science research through vessel time or through direct funding, O'Donnell reveals, but this is only the beginning.
"Our vision is that everyone with a yacht is able to contribute directly to scientific research – and that the science community will become more nimble, able to deploy on all manner of vessels," she says. "Both communities will continue to look for opportunities to combine resources and capabilities in order to better understand our collective Mother; the ocean."
Main image credit: Simon Hilbourne Manta Trust


Read Next: