Touch
36.58m | Louisbourg | 2004 (2021)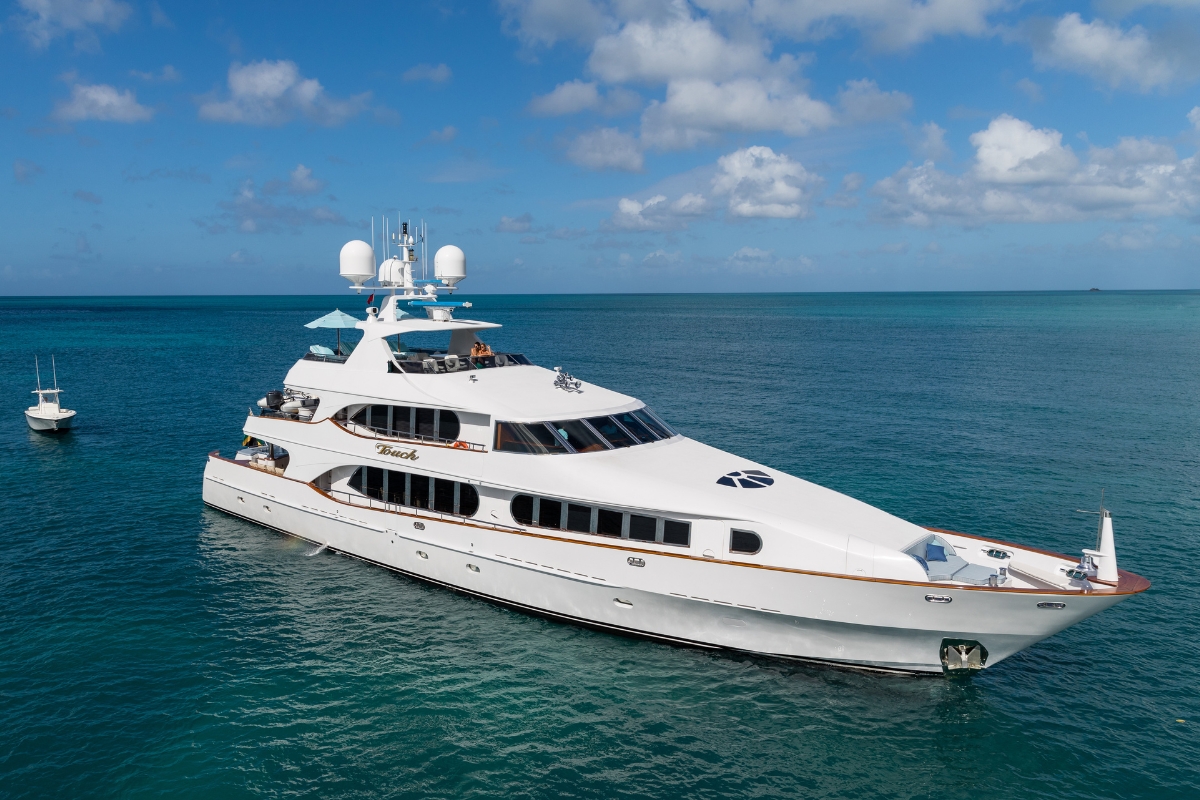 This perfectly constructed mid-size superyacht is an impeccable choice for a discerning mixed small group who are looking for comfort, beauty and good old fashioned hospitality.

Built in 2004 by Louisbourg with interiors by leading interior design guru Danielle Vigneaul - who sourced a vast array of unique and luxe fixtures and fittings including opulent marble flooring, mahogany trim detailing and hand-blown glass to create a truly astonishing finish which is rarely seen on a boat of this size - the 120' (36.58m) Touch was refitted last year to the highest specifications. This included major mechanical and electrical service and overhaul, all new exterior paint from top to bottom, new CCTV cameras, all new Smart TVs and enhanced VPN for streaming.
The main salon places comfort and style above all else, with a relaxed furniture layout enhanced by warm wood accents, elegant armchairs and plenty of space to enjoy each other's company. It's also a great spot in which to indulge in some downtime, perhaps by catching a movie or throwing yourself into an impromptu karaoke session!
Pre-dinner cocktails at the sophisticated bar can be followed by lavish, intimate and romantic dinners at the convivial round polished table with stunningly chic black upholstered dining chairs, hosting up to eight guests and providing a blissful setting for each and every occasion.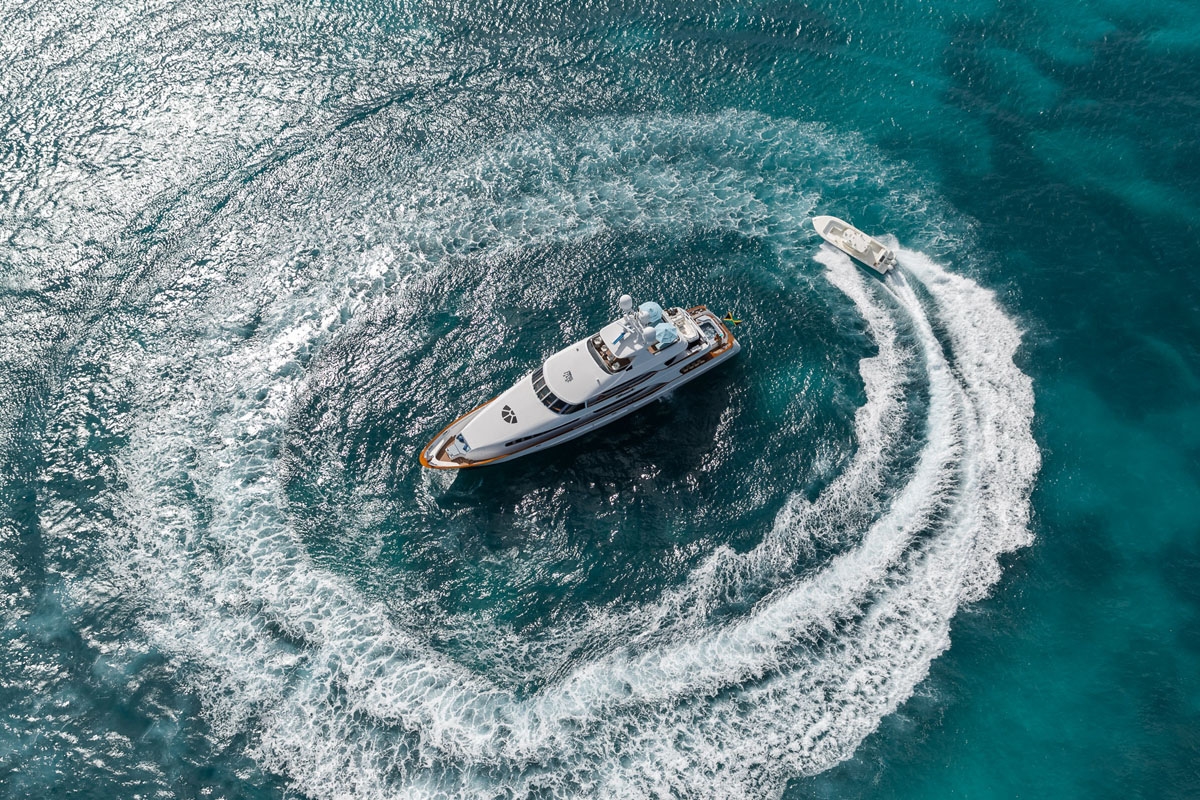 With four exquisite staterooms sleeping eight guests, Touch boasts a separate owner's deck which is dominated by a breath-taking Lalique statement wall. This deluxe master suite features imposing pillars, private spiral staircase and aforementioned private deck as well as an ornate marble ensuite with full size bath and elaborate decorative mural above it.
Three further guest cabins are situated around an impressive lower deck foyer which is characterised by a stunningly intricate mosaic tiled floor and an artisan created glass-lit wall. Kingsize beds and ensuite bathrooms are lifted by accents of Swarovski crystals which create a glittering, starry effect that can only add to your buoyant mood.
Outside, Touch's three roomy decks continue this illustrious and decadent theme, with a huge jacuzzi built for up to eight people providing the obvious focus point on the main deck. Sun pads surround this spot, making it a wonderful place for laidback relaxation.
Up on the sun deck, you'll find a vast lounging area, a covered retro style bar with comfy oversized white leather bar stools, sunbeds for maximum tanning and a stereo sound system to listen to music wherever you happen to settle.
Cool deck integral sofa seating in navy blue and a colonial style outdoor dining set offer further alternatives for enjoying the outdoor lifestyle that guests come in search of.
Touch's capable captain and crew of seven will not hesitate to curate your vacation to the highest degree of satisfaction; you can go sport fishing, explore hidden coves off the beaten track, partake in fabulous beach BBQ lunches and snorkel off some of the Caribbean's most colourful and vibrant coral reefs under their expert guidance. Diving enthusiasts are also able to accompany the PADI certified professionals on board for guided scuba dives.
Water sport activities include SeaBobs, paddleboards, kayaks, water skis, a new Fun Air 5m x 4m netted sea pool and a 34' tender. Touch also offers a beach club set up situated at the water's edge and gym equipment for those looking to maintain their fitness levels.
And when not enjoying the many activities available, you will be dazzled by Touch's amazing chef, whose mastery of Spanish, Italian, Caribbean, and Mexican cuisine, along with fresh baking and more, knows no limits.
Built with an aluminium hull and superstructure, she benefits from a semi-displacement hull for maximised seakeeping, speed and comfort. With a top speed of 13 knots and a regular cruising speed of 11 knots, Touch runs off two MTU 805 HP engines, consuming an average of 550 litres of fuel per hour at cruising speed.
For a totally one-off, unique superyacht experience, Touch is the ultimate choice.