Sun
35m | Arcadia Yachts | 2012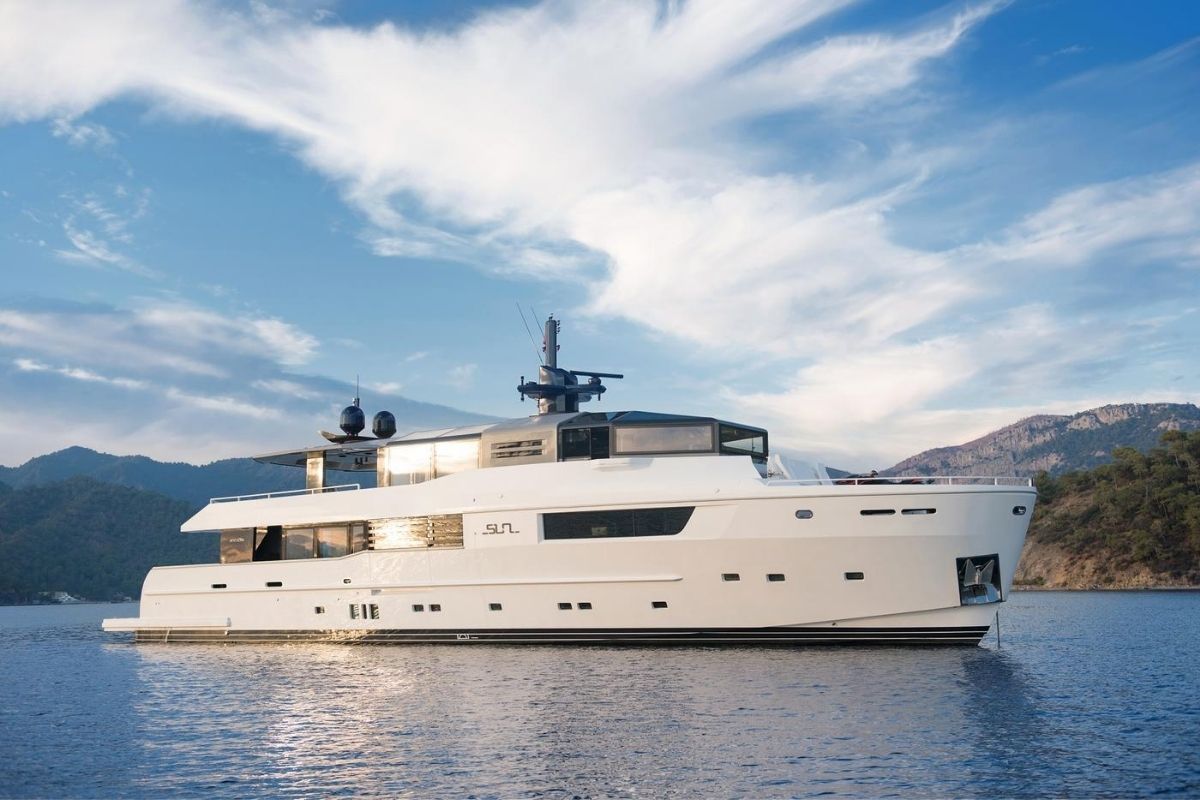 Sun, first named MY M'Ocean, has turned heads ever since her conception, with an overall idea was to create a yacht with smaller engines and therefore lower consumption, while finding a formula to maximise volume for comfort.
Arcadia, a Greek word synonymous with poetic Utopia and harmony with nature, is also the very fitting name of the boundary-breaking boat builder launched in 2007 by Ugo Pellegrino and designer Francesco Guida. Since its debut, the company has undoubtedly taken the notion of 'green boating' farther than any other company has dared to imagine, and when MY Sun, the first child of the 115 series, debuted at the Monaco Yacht Show, she was no exception.
When searching for his ideal design formula for Sun, Guida originally took inspiration from naval architecture of the 1960s – that's to say a slightly different beam-to-length ratio than is traditionally found in superyachts today. The result, while surprising, is in fact extremely economical and comfortable for guests due to the wider spaces both on deck and on the interior.
While she is obviously extremely modern, comfort is king. With a cruising speed of nearly 10 knots and a maximum speed of 16.5, she is not the fastest out there but perhaps one of the most versatile. She strikes an intriguing balance between performance and luxury.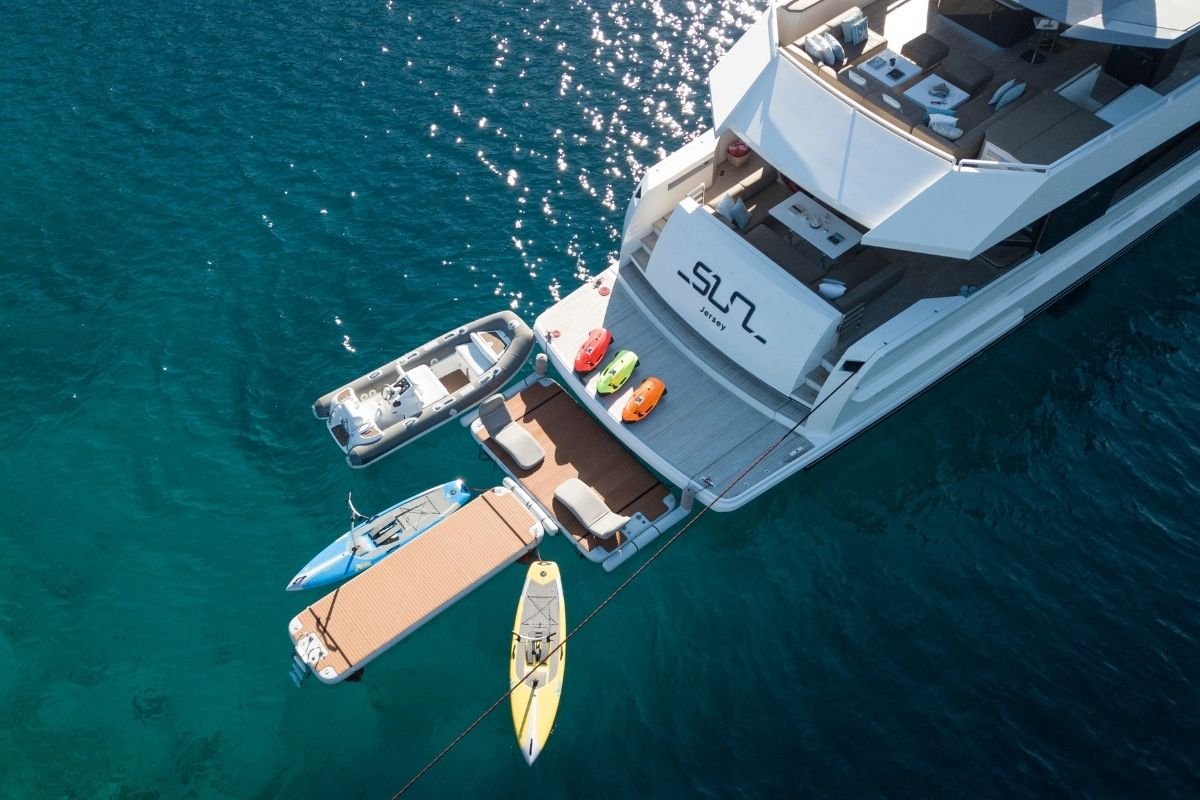 Deck Spaces and Versatility
Sun, like her Arcadia sisters, has a fiberglass semi-planing hull specifically designed in house to optimise consumption and speed. She boasts a deck space of over 140 square metres which provides a whole new element to outdoor entertainment, with families raving about this adding an additional safety element for children as the walkways are less narrow and the decks provide a real space to play for little ones. Windows disappear and convertible terraces create even more volume, blending outside with inside and creating an all-round impression of fluidity throughout. The salon even has extendable balconies which are much appreciated by guests as yet another way to feel at one with the sea.
As you walk from the aft deck into the main salon, Guida's vision is ever apparent, and contrary to the outer lines, is ready to be enjoyed every day. Thanks once again to the 8 metre beam, the main salon is vast, with panoramic views on all sides. 40 square metres of solar panels on the ceiling create striking shadows and light, while the insulation (thanks to an inner layer of krypton that is equivalent to a 20cm brick wall) means there is virtually no noise. The result is a light-flooded, peaceful haven of stunning views that bring the guest closer to nature and the water, which is another of Arcadia's integral philosophies.
These infamous solar panels function both as a tool and a design medium. The visual effect is remarkable and impossible to ignore, but both captain and owner will quickly tell you that the 4+kw of energy generated by the panels is far from negligible. This stored energy means reduced generator time and therefore even more savings and even less noise. When underway, all appliances are also generally able to run on stored energy, which is not only a luxury but an added peace of mind.
Luxe Living
Sun boasts six staterooms which can accommodate up to 12 guests. There are three double cabins and two twins (both of which are convertible to doubles) in addition to the master suite which is nearly double the size of those found on a more traditional yacht. Guida's design also provides for crew quarters nearly twice as large as typically expected, thus her six crew can live in harmony, just like their guests.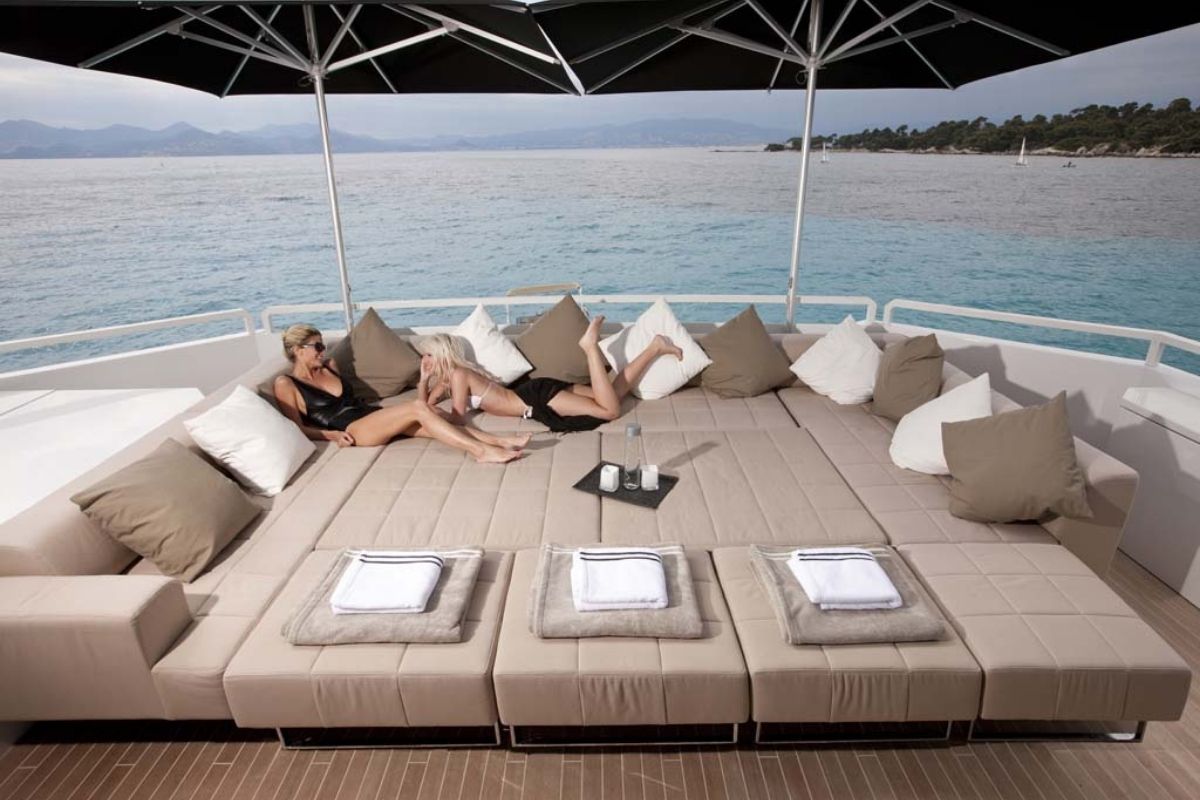 On a typical charter, guests, whether families or friends, can usually be found relaxing on the spacious top deck or taking in the scenery from the bow jacuzzi at sunset. During the day, it is always tempting to explore the toys hiding out in the garage. Jet skis, SeaBobs, water bikes, and paddleboards are always ready to go, and the crew is well qualified whether you are an expert or a beginner.
Captain Hakan has been working on VIP charters and luxury yachts for nearly 21 years, and it will come as no surprise that he is confident in his ability to please any charter guest. Not only that, but he is very proud of the boat, as are the crew, and this pride shines in their service. The owner thinks of the yacht as his home, so therefore takes no shortcuts in ensuring that his guests are well taken care of.
Smooth Sailing
Sun is most at home cruising the Mediterranean and Aegean coastlines, and the captain, throughout his many years of experience, has obviously tallied up some favourite anchorages along the Greek and Turkish coast. From the mysterious rock tombs of Dalyan to sunset cocktails on the tiny island of Macronisos, he knows all the hotspots.
Sun's chef has also been working on private yachts and luxury charters for nearly 16 years and has his own stash of secrets up his sleeve. Influenced by his Turkish mother and the famous Turkish chef Musa Dagdeviren, his cuisine is modern while also well rooted in his heritage. For those open to surprises, he will make sure that meals are memorable, but he will happily cater to every personal whim as well.
When you put it all together - a captain's expertise, a chef's passion and a crew's complicity, professionalism, and qualifications, something very special starts to emerge. Add to that an ultra-modern, ground-breaking, ecological yacht that is the result of years of research, dedication and design, and it becomes clear that a charter experience on Sun is not like any other. This is the magic behind Arcadia's fleet and the crew who bring it to life.