Silver Wind
43.63m | ISA | 2014 (2018)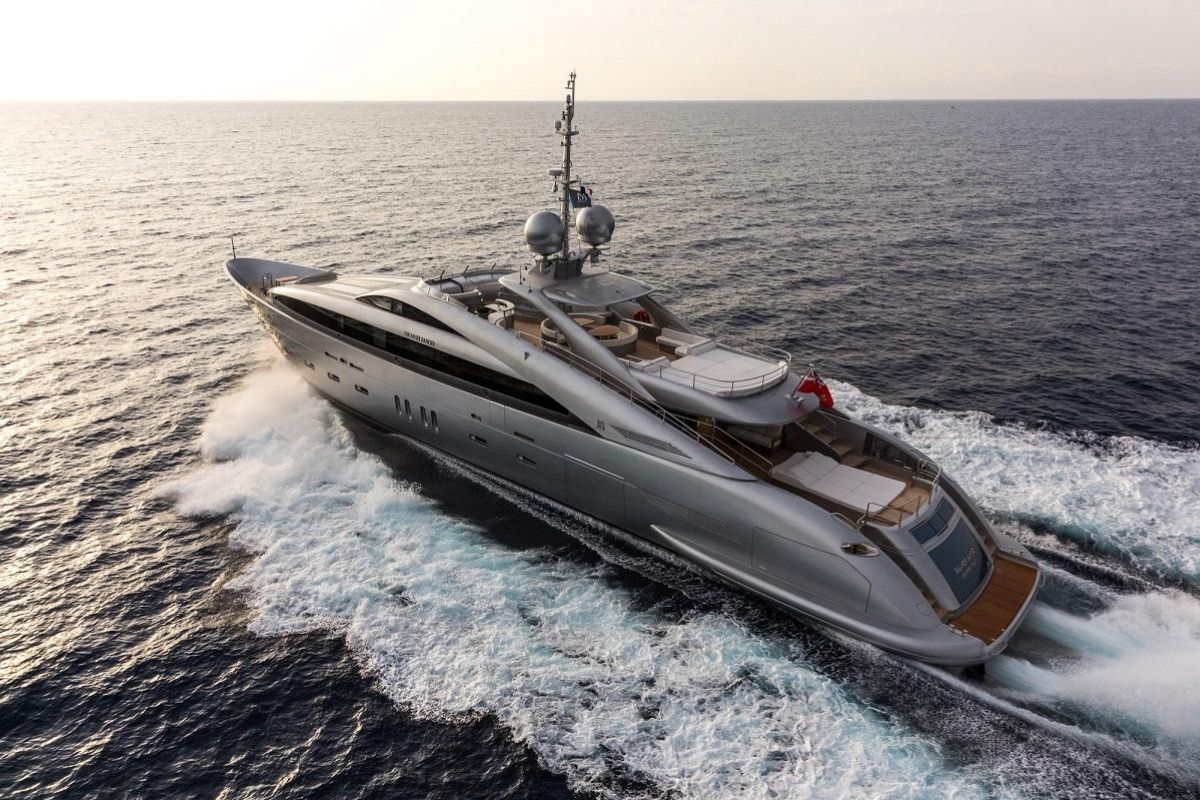 Ready for the thrill of speed this holiday? If any yacht can deliver, it's got to be the 43.6 metre Silver Wind. Created by an all-Italian team at the ISA shipyard, this silver bullet is a one-of-a-kind superyacht with so much more under the hood than meets the eye.
However, life is not all about the fast-paced life on board, as you'll discover - this yacht has become a holiday favourite for young and old alike. With a tight-knit professional crew and charter-savvy captain, Silver Wind is ready to show you more of the Mediterranean than you ever thought possible.
From Saint Tropez to Monaco: The Best of the Med
One of Silver Wind's most popular drawcards is the pace at which she moves from one exciting hotspot to another, taking her guests between their favourite hideouts in absolute style. Champagne breakfasts in Saint Tropez and crêpes for lunch in Monaco are in the order of the day, and the fact that this pleasure comes at no cost to comfort on board is indescribable and will change the way you yacht forever.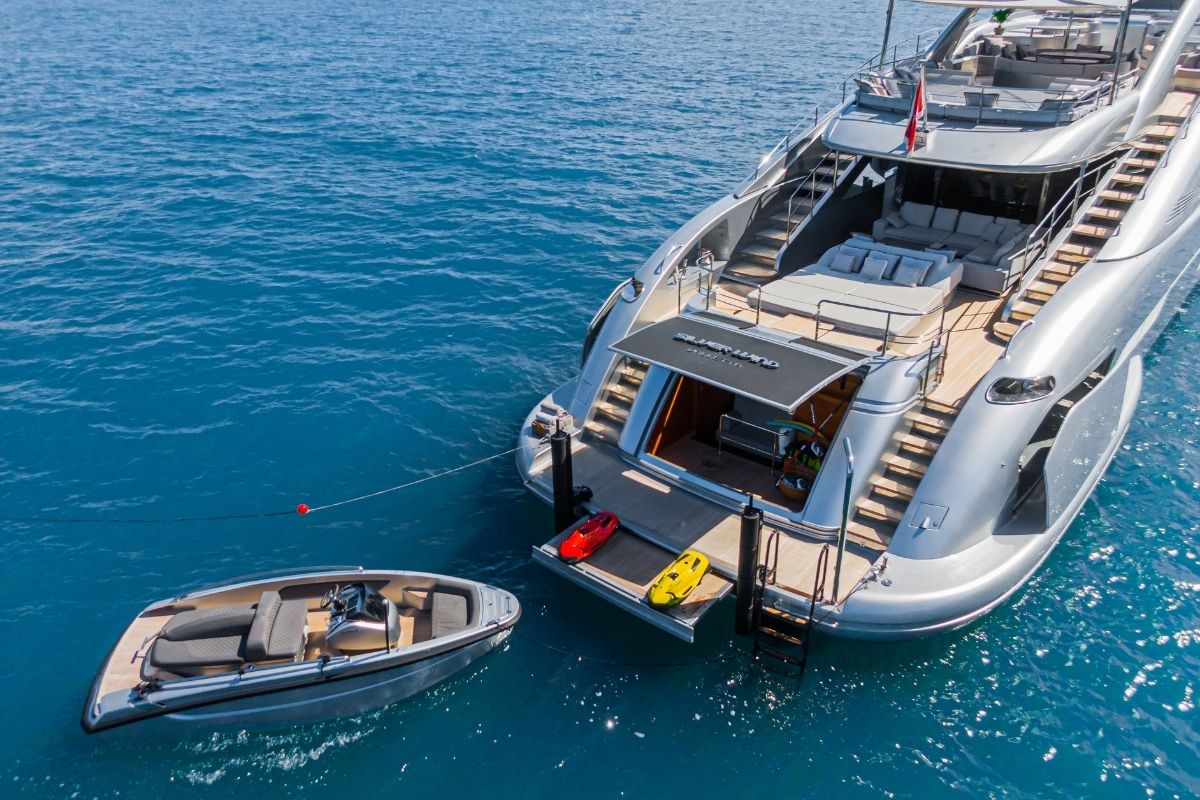 Now combine a shallow draft for private bay and intimate marina access, comfortable deck spaces designed for relaxing, your own five-star chef and a crew that makes you feel at home from the moment you board, and Silver Wind is starting to look like the ideal yachting holiday partner. With her upgraded electric zero-speed stabilisers, you are assured of a smooth experience on board no matter the weather, and are always able to enjoy the comfy oversized sun pads and outdoor dining area non-stop.
On Board Silver Wind
After starting your day with a healthy breakfast, take the elevator to the sundeck, which has become one of the most popular spots on board. As Captain Tora Ehrlich says: "The big sun pad on the aft area of the flybridge is perfect for social tanning or ending the day and watching the sunset from. The large oval seating area is great for relaxed summer lunching and adds to the relaxed atmosphere on board which so many of our guests return for."
The main deck aft offers a more secluded social area for rainy days or simply for taking a break from the sun. Elsewhere, a private seating area on the foredeck can be set up by the crew as a personal escape or intimate lunch setting with your partner as you settle into the relaxed life on board.
Ready for some watersports fun as the sun heats up? As expected, Silver Wind has got this covered too and packs a powerful punch when it comes to her toy collections. With fun activities for all ages, the watersports centre houses two nimble and easy-to-handle SeaDoo jet skis as well as SeaBobs, kayaks, paddleboards. "We have a five-metre Castoldi Jet Tender, perfect for tender runs and towing our inflatable four-seater water sofa, waterskiers or wakeboarders," adds her trained deck crew who are experienced wakeboard instructors themselves, standing by to make a visit to Silver Wind an active and memorable holiday for everyone.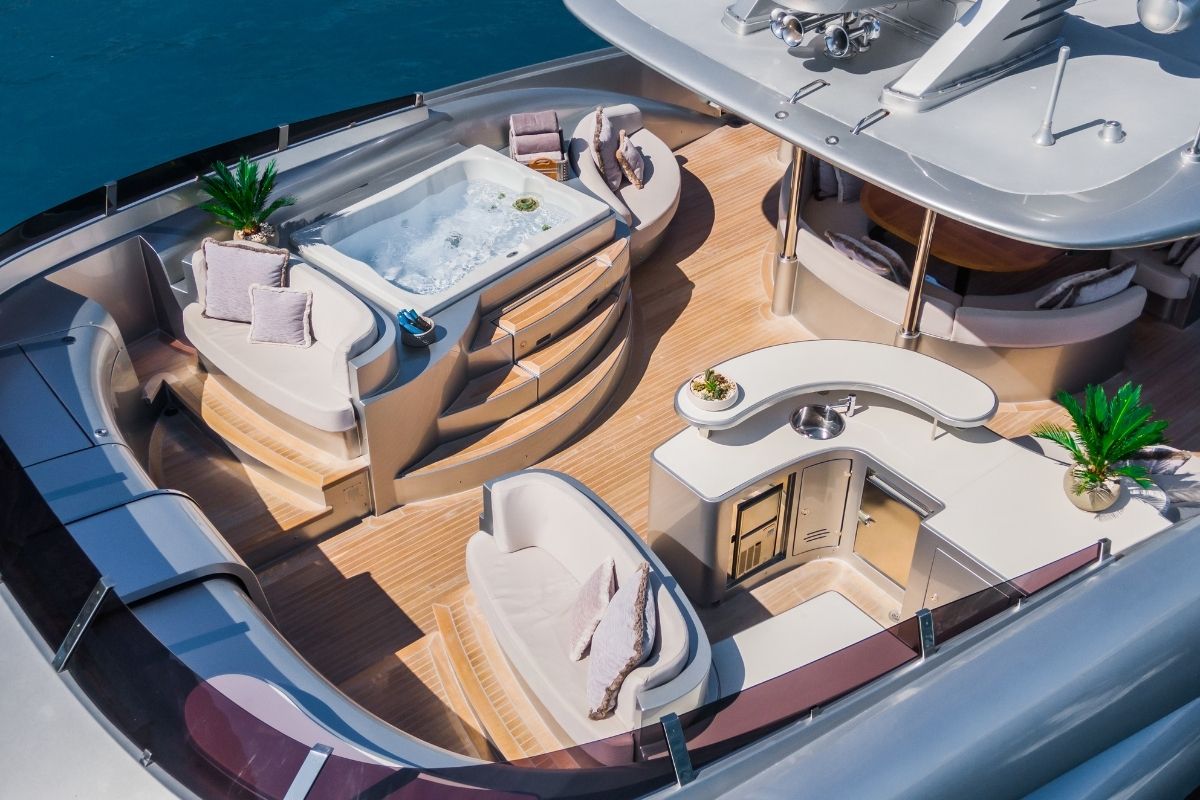 Elegant, Italian Design
Inside, the superyacht surprises with a tasteful and sophisticated Nuvolari Lenard interior that comes as a welcome break from the fast-paced fun during the day. With a newly added fifth guest cabin, you and nine up to 10 of your closest friends and family can now call Silver Wind home on your next yacht holiday as you settle into the grand master suite, VIP stateroom, two double and one twin / double convertible stateroom with additional pullman berth. Look out for the detailed touches of chrome and fine woods around the interior that act as a subtle reminder of the underlying sports car identity that sets Silver Wind apart from competitors. In addition to intimate family holidays at sea, she is the perfect platform to host a cocktail evening while in port in the South of France as the ultimate entertainment venue for business or pleasure.
The VIP cabin is a zen-like oasis with hints of Oriental touches in the form of grand golden wall art and silk fabrics. Smart storage solutions around the cabin truly allow you to unpack and get comfortable, with all your home comforts at your fingertips. A unique sunken his-and-hers en suite adds an elegant solution to space management on board and is just one of many examples of how Silver Wind's layout has been optimised for daily-living use.
World-class Superyacht Crew
But as all guests realise soon enough, behind the glistening accents and sparkling decorations, it is the friendly and attentive crew who are the real stars of this show. "We are a very happy, passionate crew who take pride in our jobs," they explain. "With fabulous food and flawless service, we create a relaxed atmosphere on board tailored to each client's preferences." Enjoy a personal sunset lookout tour with the captain as you learn more about your beautiful surroundings followed by a romantic sundowner picnic setup and fine champagne.
Just like any charter operation, it's the personal touches that transform the experience into a lifelong memory, and the team onboard has perfected the art of catering to guests from all walks of life. From tailored turndowns every evening with unexpected notes and elaborate towel folds to filling personalised jars with guests' favourite treats that they have enjoyed on board, Silver Wind is all about creating lasting moments that you and your family will cherish.
As the day comes to an end, the captain makes use of this Italian stallion's 26 knot top speed one last time to get you to your favourite dinner spot in time to watch the sun set. Get ready to do it all over again tomorrow and the next day, and the next day, and the next day.