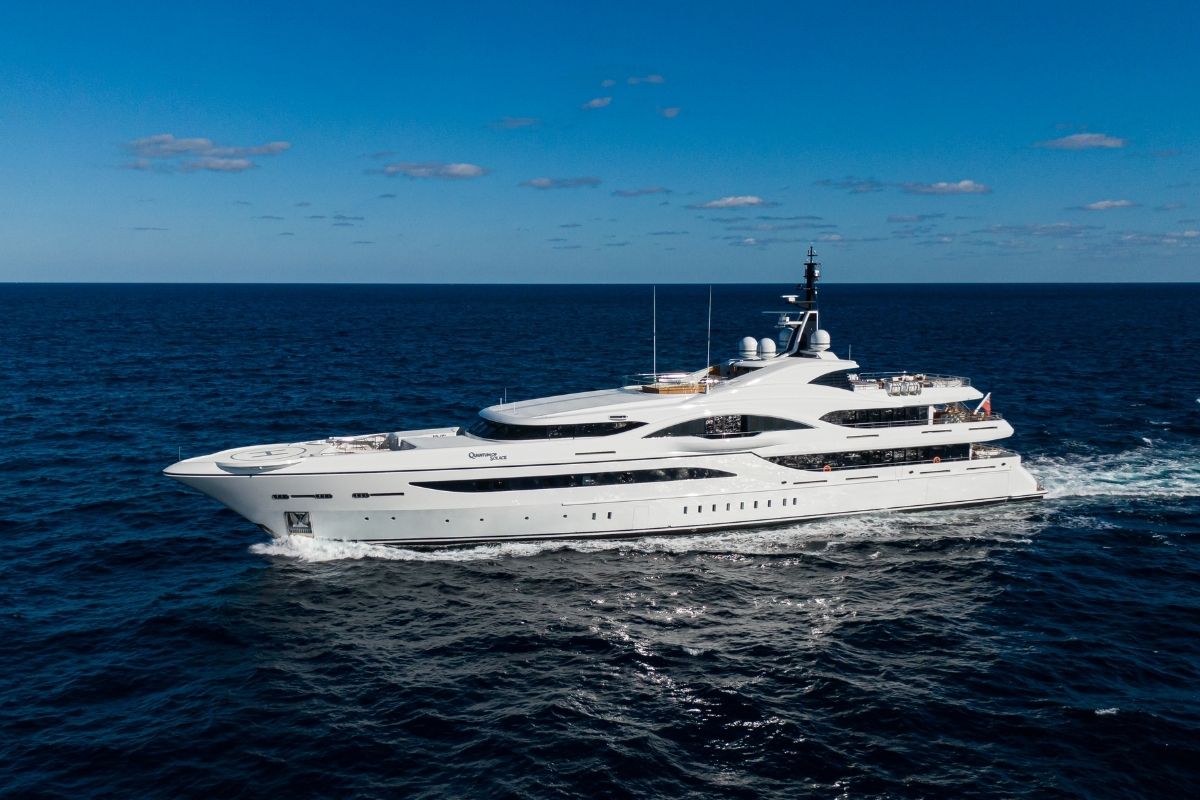 A stellar member of the exclusive club of James Bond-themed superyachts established by New York power couple John and Jeanette Staluppi, Quantum of Solace fulfills every desire for a relaxing yet action-packed vacation on board a comfortable, sleek, state-of-the-art designer craft.
Measuring an impressive 72.6 metres, Quantum of Solace was delivered in 2012 by Turquoise, becoming the largest Turkish-built yacht ever launched at the time. A sister ship to MY Talisman C, she was commissioned with some key differences in mind - chiefly, a redesigned steel and aluminium superstructure which results in smoother lines thanks to the expertise of H2 Yacht Design.
Boasting a unique shape and fine lines, she is quite simply an iconic feat of engineering, with an innate ability to stand out in a rarified crowd of similarly high-quality superyachts in the charter arena.
MCA compliant, with zero speed stabilisers and a maximum speed of 17 knots (her comfortable cruising speed is 13.5 knots), Quantum's usual sailing grounds cover the Bahamas, the western and central Mediterranean as far east as Greece as well as the unspoilt waters of Montenegro and Croatia, which offer fantastic anchorages, relatively few yachts and a veritable paradise for partaking in water sports.
A Classic yet Modern Superyacht
The talented team at H2 Yacht Design thought through every aspect of her beautiful interior and exterior to execute longevity and style coupled with timeless elegance. The classic yet modern accommodation sleeps 14 guests across seven cabins, six of which are on the main deck, plus a full beam master suite on the upper deck which features a spectacular bathroom, two dressing rooms and a balcony on either side. If and when work calls, there is also an independent office.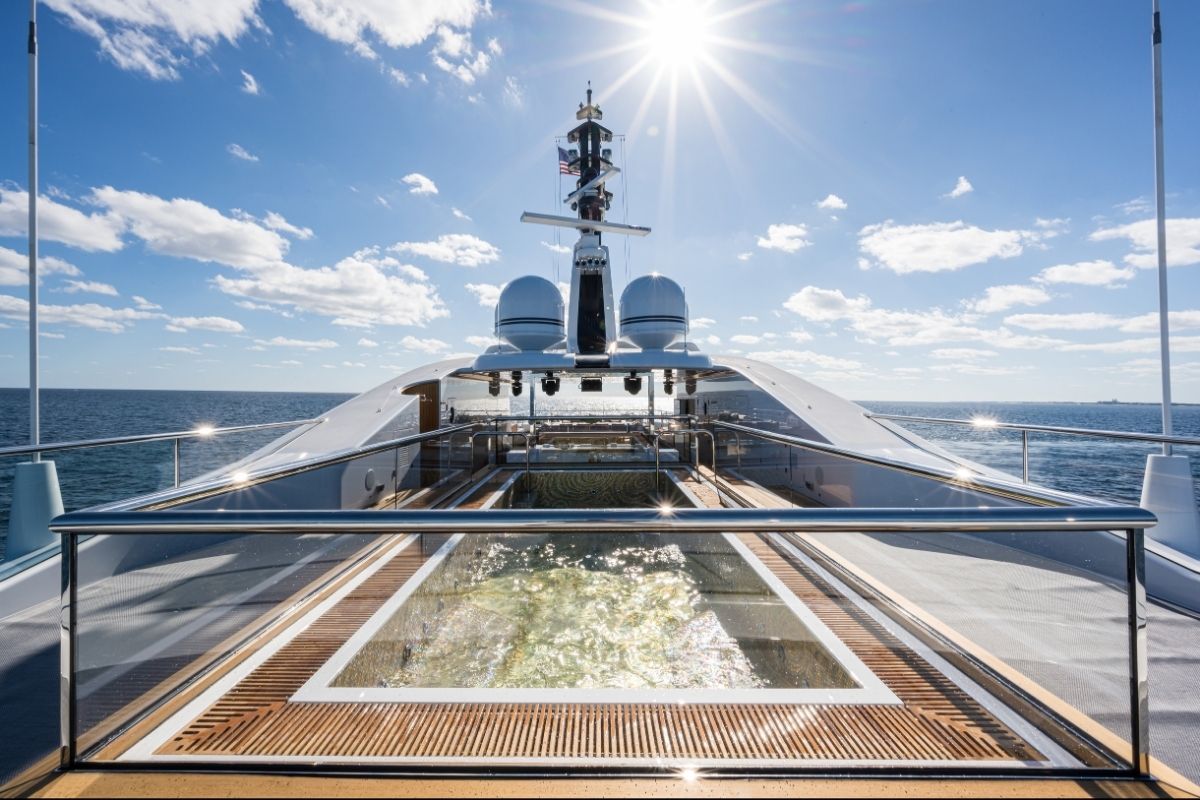 Characterised by generous living spaces inside and out - not least the impressive mezzanine level in the main salon - the owners have achieved their vision of building a comfortable yet practical cruising yacht with a homely and welcoming ambience that appeals in a highly competitive charter market.
Wow factors include a double-height atrium in the main salon, a hydraulic swim platform, an elevator to transport guests from the lower level all the way to the bridge and a fabulous sky lounge featuring a cosy and informal cinema for evenings when kicking back in front of a great movie is all you desire.
The five metre swimming pool – complete with contra-flow swimming system - and beach club are situated on an open sun deck, perfect for catching some rays. There is a shaded dining area and bar which comes into its own at night when the advanced DJ sound system and smoke machine will make you feel like you are partying in the coolest club for miles around.
And if you're looking for a lower key tempo, what could be more enjoyable than a full moon party on deck as serenading guitar music drifts in the air while you're at anchor in a secluded bay?
Wellness on the Water
With wellness an equally important aspect for today's discerning yacht crowd, Quantum of Solace offers a high spec gymnasium and a huge, all-encompassing full beam spa area on the lowest level comprising a steam room, sauna, therapy room, jacuzzi and a jaw-droppingly large fold-down shell door that opens up to water level, adding to the panache of this craft. As you might expect, a qualified team of therapists is also on hand to pamper and soothe, offering a wide selection of massage and beauty treatments.
Water-based pursuits are also more than amply catered for with an exciting and extensive collection of toys and tenders including the latest hover boards, inflatable waterpark, SeaBobs, jet skis, jet packs, wakeboards, paddleboards, doughnuts and snorkelling gear.
A multi-national and highly experienced crew of 18, headed up by rotational Captains Edward Child and Derek Payne, will ensure that your every need is catered for, with their individual efforts and talents helping to create a memorable and unique holiday experience.
"When at anchor, the guests tend to congregate in the spa area with the shell door open and the swim ladder deployed," says Captain Payne. "However, when in port, the partying crowds are definitely on the sun deck making the most of the pool and music."
"We're a fun but very professional crew," adds Captain Child. "Our collective experience as yachties means we're well-positioned to go above and beyond, not only providing impeccable service but sharing our insider knowledge of the best secret coves to explore, the best restaurants to visit and the most exciting way to spend each day."
Exceptional Cuisine
An enormous factor in the enjoyment on board any yacht is to be found in the cuisine, and Quantum of Solace entrusts this in the capable and passionate hands of Dieter Curth. A veteran in the kitchens of several world-renowned hotels in Munich as well as the cruise liners MS Vistafjord and MS Sea Goddess II, he threw himself into picking up local techniques while cruising Asia, China and Vietnam. Dieter learnt the art of pastry making and studied at LA's prestigious Californian Sushi Academy before joining his first superyacht in 1994.
Enjoying over 20 years of experience within the yachting industry, Dieter is aware of the importance of catering for any individual request, from vegan and dairy-free options through to hearty fried breakfasts, delicately flavoured curries and ocean-fresh sushi.
Typical menus include lobster tempura and squid ink pasta with roasted baby fennel, port-glazed beef tenderloin with carrot and ginger puree on butter poached asparagus and baked peaches with Grand Marnier and strawberry gelato.
"The food on board Quantum of Solace is a mix of classic and modern menus as well as light buffets with fresh ingredients," says Dieter. "In the Mediterranean, the fish, seafood and herbs are the best, and in the Caribbean, I prefer using bright, exotic fruits like star fruit and passion fruit and freshly caught seafood like conch or lobster."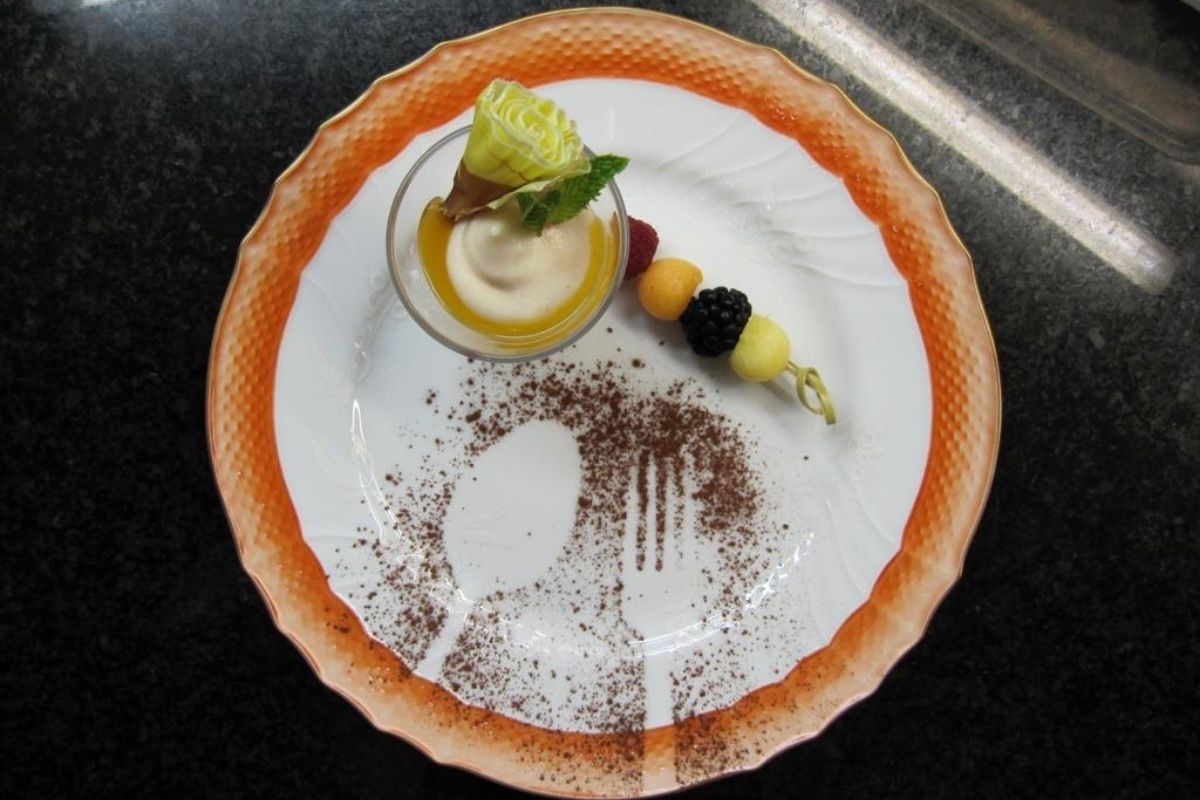 A holiday is not a holiday if the kids aren't happy and naturally, younger guests are an important focus, a factor that was not ignored when Quantum of Solace was first being conceived on the drawing board.
With her spaciously and thoughtfully designed interior and outdoor deck areas, this yacht can effortlessly accommodate children and teenagers on charter with a wide array of activities for all ages. The crew pride themselves on treating children and teenagers with the same respect and attention to detail as the adult guests to ensure that they have a wonderful experience on board the yacht.
Fun highlights include flying in musicians and bands for late night soirées and planning surprise children's birthday parties featuring top level magicians. For the adventurous, the crew can charter helicopters for breathtaking flights over volcanoes and arrange intimate and romantic beach suppers for two in stupendous locations that sometimes defy belief.
Quite simply, no request is impossible to deliver and it's for this very reason that Quantum of Solace excels at what she does.
Other Yachts You Might Like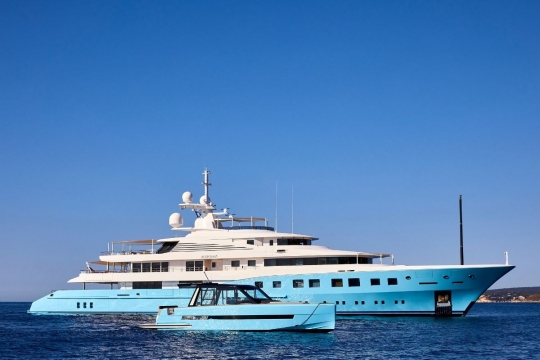 Currently not for charter
Axioma
72m | Dunya | 2013
from €450,000 per week
VIEW MORE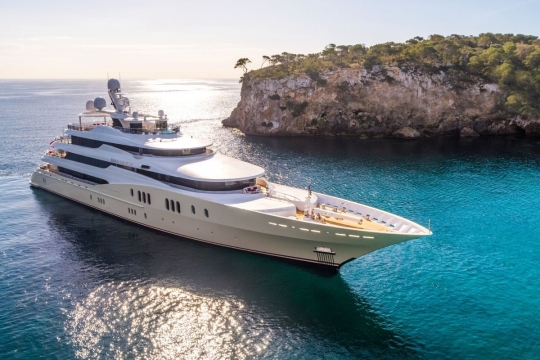 Currently not for charter
Eminence
78.43m | Abeking & Rasmussen | 2008 (2018)
from $800,000 per week
VIEW MORE