O'Pari
95m | Golden Yachts | 2020
The talented Chef Takis Papayiannis brings the best of Mediterranean cooking to every dish he creates.
Born and raised in Greece, he trained in Athens at the Culinary Academy of Greece where his mentor inspired him with his love of culinary art and introduced him to the works of greats like Guy Savoy, Marco Pierre White and Alain Ducasse.
A key feature in his menus is fresh seafood. "Mediterranean cuisine combined with Asian ingredients is very interesting, playful and well-rounded," says Chef Papayiannis. "I always try to provide our guests with my best. I enjoy cooking chic dishes with a touch of luxury, the kind of flavours that remind someone of tastes they enjoyed when they were younger or beloved recipes prepared with a mother's tenderness."
Thinking about a charter on board O'Pari? Then you're in for a culinary treat.
Popular dishes might include freshly caught lobster baked with hollandaise sauce served with sweet potatoes and green apple, or healthy salads packed with flavour, such as scallop, tuna, tomato and fresh herbs finished with a zingy lime dressing.
Whatever the mood, Chef Papayiannis always rises to the occasion whether he's catering laid-back brunches with classic favourites or formal dining and celebratory feasts
Tell us a little about your background?
I was born in Kastoria, a lakeside town in northern Greece. Μy family moved to Athens when I was ten years old, and when I was a teenager I spent two years living in Düsseldorf, Germany, where my father owned a fur company. This all gave me the opportunity to travel around Europe and start thinking about my future.
What motivated you to become a chef and where did you train?
My mother has always been, and remains, a great cook. Creating French and Italian dishes in 1980s Greece was something special. My grandparents also had a farm when I was a kid, and I was always curious to learn how to make cheese, yogurt, wine and all of these artisanal local delicacies. I was always tasting everything - from fruit and vegetables, to meat and fish.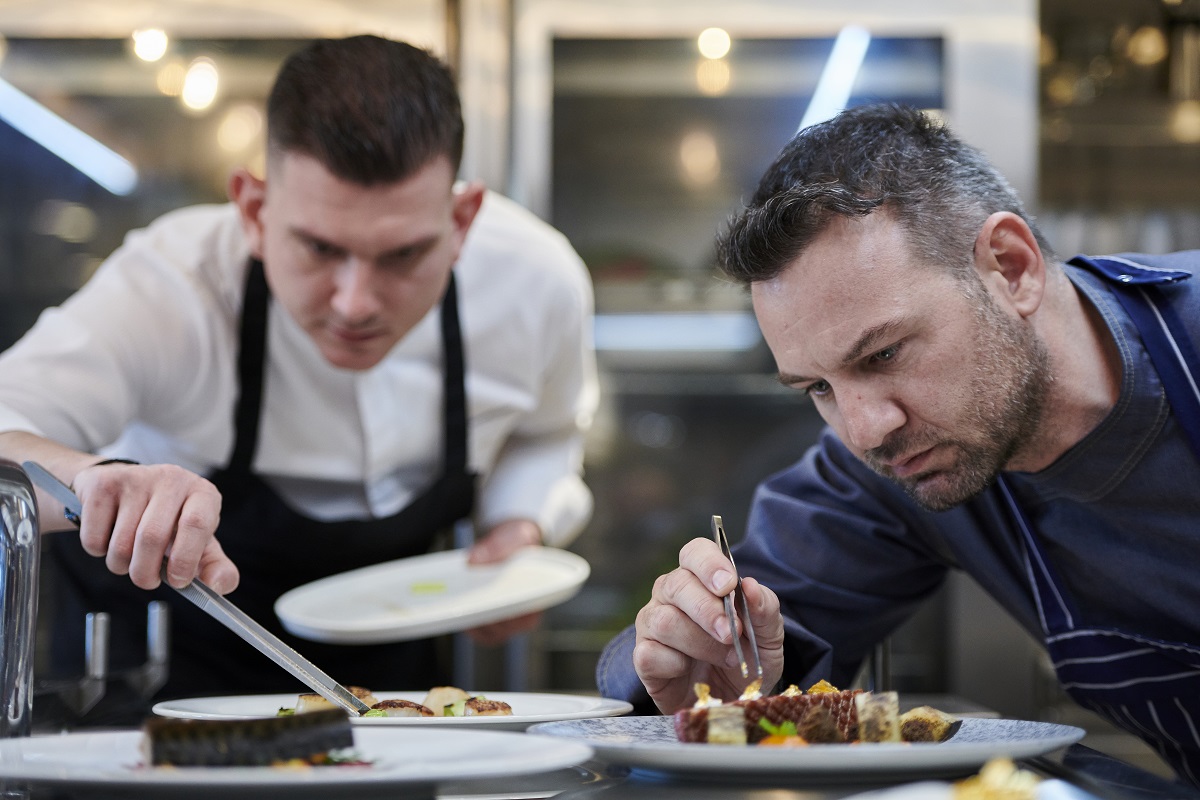 I started cooking when I was 12. I remember preparing breakfast for my entire family just for fun, and I also loved grilling on the barbecue with my dad in the countryside. This continued as I grew older, cooking for my friends and experiencing great satisfaction at seeing their faces light up with happiness from what I had prepared.
I loved cooking, traveling and making people happy, so becoming a chef was a one-way street for me, combining all of my passions. I was trained in the Culinary Academy of Greece and in my quest to obtain greater culinary knowledge and experience I have attended various seminars on different kinds of ethnic cuisines.
Who are your chef heroes – who has influenced your style of cooking?
First and foremost, it was my teacher whom I admired for his ethos and love of the culinary arts. He was the one to introduce me to Nouvelle Cuisine, and after him are Guy Savoy, Marco Pierre White and the great Alain Ducasse. All of the above have been great influences. Also, the fact that I loved reading cookbooks before the age of the internet greatly contributed to my cooking style and still does to this day.
How did you come to work as a superyacht chef?
It actually happened very smoothly - I had already been working as a private chef for several years for royalty and very prestigious personalities around the world.
What is your favourite type of cuisine?
I love fresh flavours and light dishes. Fish and seafood, however, are my absolute favourites. In my opinion, Mediterranean cuisine combined with Asian ingredients is very interesting, playful and well-rounded.
How would you describe your culinary style?
I always try to provide our guests with my best, so this can vary depending on their individual preferences. Generally, I would say that I enjoy cooking comfort chic dishes with a touch of luxury, the kind of flavours that remind someone of the tastes they enjoyed when they were younger, or beloved recipes prepared with a mother's tenderness.
What's your signature dish that has really wowed your guests?
Wild sea-bass fillet rolls stuffed with wild herbs, with a citrus saffron and fennel sauce. I first made this dish when I was working as a chef in a restaurant on Santorini and I still love it to this day. I remember a day when I decided to make two different kinds of fresh fish we had caught with the guests, a tuna and a snapper. I cooked them on cider wood boards on the barbecue. Everybody loved the unique taste of light smokiness combined with the freshness of the fish. It was amazing, and most importantly, all of it took place on the beach, close to the guests' table, so it was a very interactive experience!
Where do you get inspiration and ideas for creating your own menus?
It's the most fun part of the job. Reading, travelling and tasting new things, all contribute to creating a tasty and healthy menu. As a yacht chef you always have to respect your guests' preferences, and the most important element is winning their trust. When this happens, the sky is the limit. I always like to discuss the menus with our guests, propose new dishes and styles according to location, products, season and definitely take their mood into consideration.
What's your favourite restaurant and why?
It's the Guy Savoy in Paris, a legendary restaurant representing the past, present and future of French culinary art, in a great location and with a beautiful atmosphere.
What's the secret to cooking high-quality food on board compared to ashore?
Α yacht, or even a superyacht, usually features a smaller kitchen and less cooks compared to the kitchens of a hotel or a restaurant. If you need an ingredient, you do not have the luxury of heading to the nearest grocery store anytime to get it. So better organization, planning, experience and improvisation are the necessary factors for cooking high-quality food on board.
What are your favourite destinations in terms of local produce?
Italy, and especially the south. I love Sicilian open-air food markets. I try to go every morning to get fresh fish, seafood and vegetables. I also like southern France, where I can find top quality gourmet ingredients. Last but not least, the Aegean islands, where local small scale producers and fishermen provide me with anything from organic eggs and seasonal fruit and vegetables, to fresh lobster and tuna.
What's the most unusual ingredient you've come across on your travels?
It was something called Porphyra and it was offered to me by a fisherman on the island of Milos. It is a shell know for many years among fishermen for its unique taste, which is impossible to find in the market.
How do you manage special dietary requirements such as vegetarian, vegan and gluten-free?
This started as a trend but nowadays has become a necessity for many people who are fed up with meat and unhealthy food. Thankfully Mediterranean, and especially Greek cuisines, are among the best in terms of healthy and tasty choices and it's part of our daily menu since everyone can find something to enjoy. Additionally, the food industry now offers chefs many more products from which to create gluten free desserts, breads or any kind of pasta someone could desire.
Are you seeing any trends at the moment – what's on the horizon?
Vegetables and grains are definitely a trend. Fresh, tasty ingredients, healthy and raw dishes have become very popular in the last few years and are here to stay, since people enjoy learning and care a lot more about good nutrition and healthy diets. After all, we are what we eat.
As well as creating beautiful dishes, do you get involved in table decoration?
I'm happy to be working with the same team for a few years now and they are all very experienced. Being part of a team, we all like to share our ideas and thoughts so yes, in a way, I am involved.
Who chooses which wines to stock on board?
The hotel manager is responsible for selecting the wines according to the guests' preferences. When it comes to wine pairings, we always choose the wines together, according to the menu.
What's your view on sustainable sourcing and buying local wherever possible?
Sustainable sourcing and local ingredients are synonymous with freshness and top quality. The bonus is that by buying local and sustainably-sourced food, our children can live on a better planet. Plus, it is helpful for local economies to grow stronger and continue producing.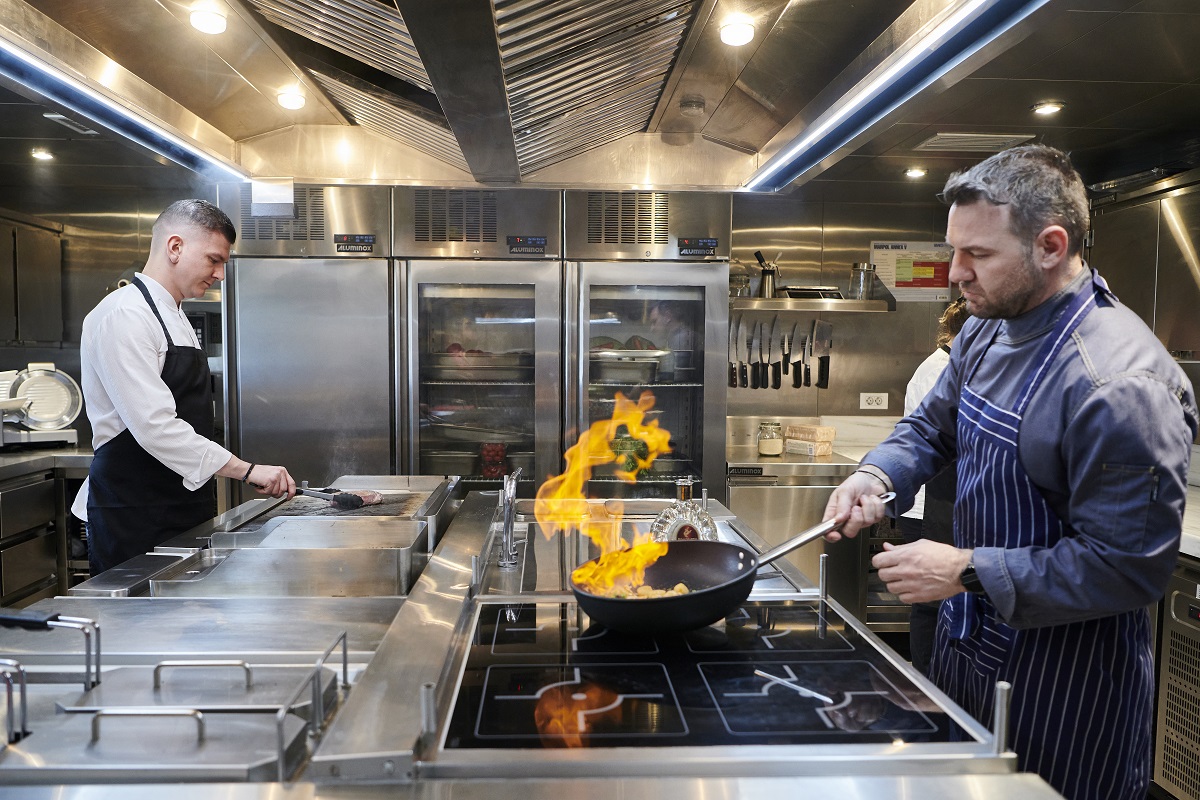 What do you most enjoy about working as a superyacht chef?
It's exciting to cook in a kitchen looking out to a different view every day. I am grateful to get the chance to meet very interesting people, cook for them and surprise them with new tastes, making their holidays a memorable experience.
What have been some of the highlights and best moments while working on board?
I was in the galley preparing dinner when all of the sudden they called me back and I saw the guys had caught a huge tuna. It was my first time making sushi and sashimi with such fresh fish. That was so exciting for me, I will never forget it.
Often guests want to learn how to prepare some of the recipes so we have cooking lessons and even cooking contests, which is something everyone really loves and enjoys. One of the most memorable moments was when I received an e-mail from a guest; she was writing a cookbook and wanted to include some of the recipes she had tried on board. It was very rewarding for me since that had been my first year working on a charter yacht.
What is your future ambition – what would you like to do when you eventually move ashore?
I want to continue improving my skills by learning new things and making people happy. This has been my goal since the beginning of my career. My future ambition is to create my own guesthouse farm, growing my own fruit and vegetables and cooking with local ingredients in the countryside. Lastly, I want to start writing my book.
Sample Menu
Lunch
Spinach pie with feta cheese and fresh herbs
Cold tomato soup
Grilled shrimps with fried rice and mesclun salad
Fried calamari - wasabi mayo
Grilled smoked glazed chicken with vegetables
Homemade yoghurt ice cream served with grape coulis
Dinner
Saint Jacque with summer truffle and green apple celery mousse
Grilled grouper with asparagus and Shimeji mushrooms with lemon olive oil herbs emulsion
Lime tart
Images: Studio Reskos