O'Pari
95m | Golden Yachts | 2020
Alex Skaris
Greek Captain Alex Skaris has been in the charter business for almost 20 years.
Speaking of his role as captain, it is clear that he has a true passion for delivering the ultimate ocean experience. "The challenge in my role is to offer memories that extend beyond the yacht and the destination," he says, "to build a connection with the guests and be part of their memories.
"O'Pari is truly an extraordinary yacht with a grandiose presence of 95m; no matter which port she enters, she makes all heads turn. With amazing interior spaces, an abundance of wellness amenities, a vast choice of outdoor lounging and dining options, she offers a dream vacation. It's an honour being her captain!"
Thinking about setting sail on board O'Pari? Let Captain Alex tell you all about it…
Please tell us a little about your background and how you got into yachting?
I was born in Athens, and having been greatly passionate about the sea from an early age, I became involved with all kinds of water sports. Later, following my graduation from the Maritime Academy of Aspropirgos, I began my career on cruise ships as Bridge Officer. I now have over twelve years' experience in the superyacht industry under my belt.
What are some of the yachts you've worked on?
Before joining O'Pari, which I joined in January 2022, I worked on O'Ceanos, O'Mathilde and O'Ptasia.
How would you describe the owner's vision for the yacht?
The owner is committed to the highest safety standards. This same dedication is applied to maintenance and, of course, to the finesse that characterises the interior and exterior spaces.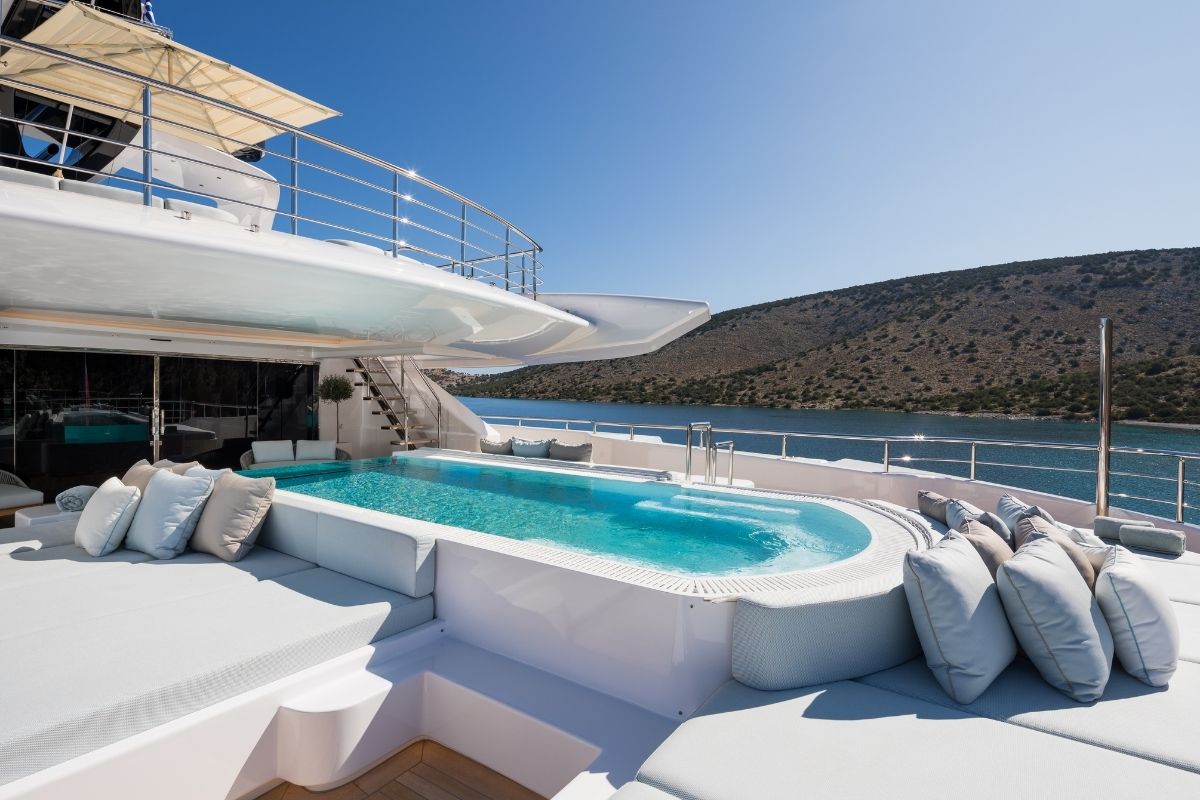 How would you describe the style and personality of the yacht?
The 95m O'Pari is a stunning and powerful yacht which can fulfil every guest's wishes. With amazing interior spaces, an abundance of wellness amenities, a vast choice of outdoor lounging and dining options, she effortlessly becomes the perfect pairing to any dream vacation.
How would you describe the ambiance on board?
I like to maintain a relaxed atmosphere on board which helps guests become truly immersed in the places we are visiting, while enjoying the experience to fullest, in the company of the people they have chosen to surround themselves with.
What's your personal style as captain?
As a captain safety always comes first and this is non-negotiable. The challenge within my role lies in offering guests memories that extend far beyond the yacht and the destination, in forging a connection with our guests and becoming a part of their fond holiday recollections.
What's the best thing about working on this yacht?
I believe it's the exceptional wealth of interior and exterior choices available that make working on this yacht such a pleasure. There are so many options to choose from, guaranteeing that if there is something our guests can dream of, it will come true aboard O'Pari.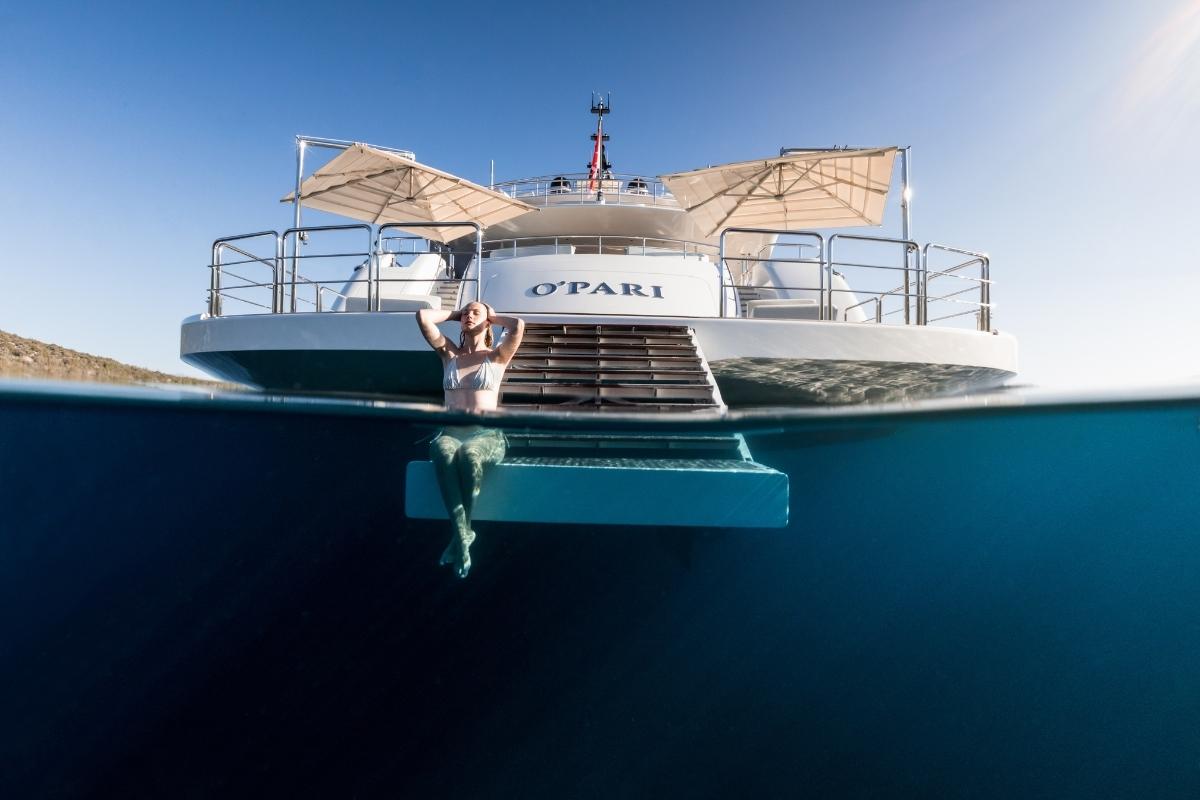 What are some of the standout features of the yacht?
It is a gigantic yacht with an incredible design that can perfectly meet all needs.
Which areas of the yacht do guests most tend to gather on board?
On the sundeck, the upper deck salon and its outdoor areas, the main deck salon and its exterior. But the true hot spot during the day is the Beach House.
Which types of client are most attracted to a charter om board?
Lovers of the sea, and active and adventurous guests who are after experiencing truly unforgettable moments.
What types of experience can you offer charter guests?
I have cruised through the Mediterranean, almost everywhere, so I know where to find the best spots to anchor, where the water is clearest and ideal for snorkelling, or that wonderful beachside family restaurant that guests will enjoy. My crew and I always try to synchronise with our guests' vibe and adapt to the experience they are after and always offering them exceptional service.
I know well how important these moments are for our guests, whether they want to relax, party or enjoy other activities both on board and ashore. The Beach Club, for example, is a totally functional complete wellness and activity centre with a massage room, a dry sauna and a hammam. Alternatively, guests can visit the gym for a workout before enjoying a leisurely morning in the pool with its surrounding sun pads offering stunning views of the anchorage.
How would you describe the style and approach of the crew?
The crew is a very organised and professionally-trained group that always remains friendly and warm. We have cultivated a strong philosophy and forged healthy relationships on board. Our team spirit and positive attitude means we get the work done efficiently, enhancing our guests' experience.
Are there some interesting personalities or talents among the crew?
The success of the charter rests on its key players. Every crew member is a great character, each of whom has been selected for their position after thorough research.
All crew members are well-established and talented, superbly trained and with many interests such as water sports, sailing, playing the guitar, fishing or theatre.
How are the yacht and the crew prepared to accommodate children and teenagers on charter?
Safety is our prime concern at all times. Children and teenagers are never left unattended at any given time, and whether it is a birthday party for the kids or a movie night for the teens, the crew will be there to oversee everything and make it all happen with slick efficiency.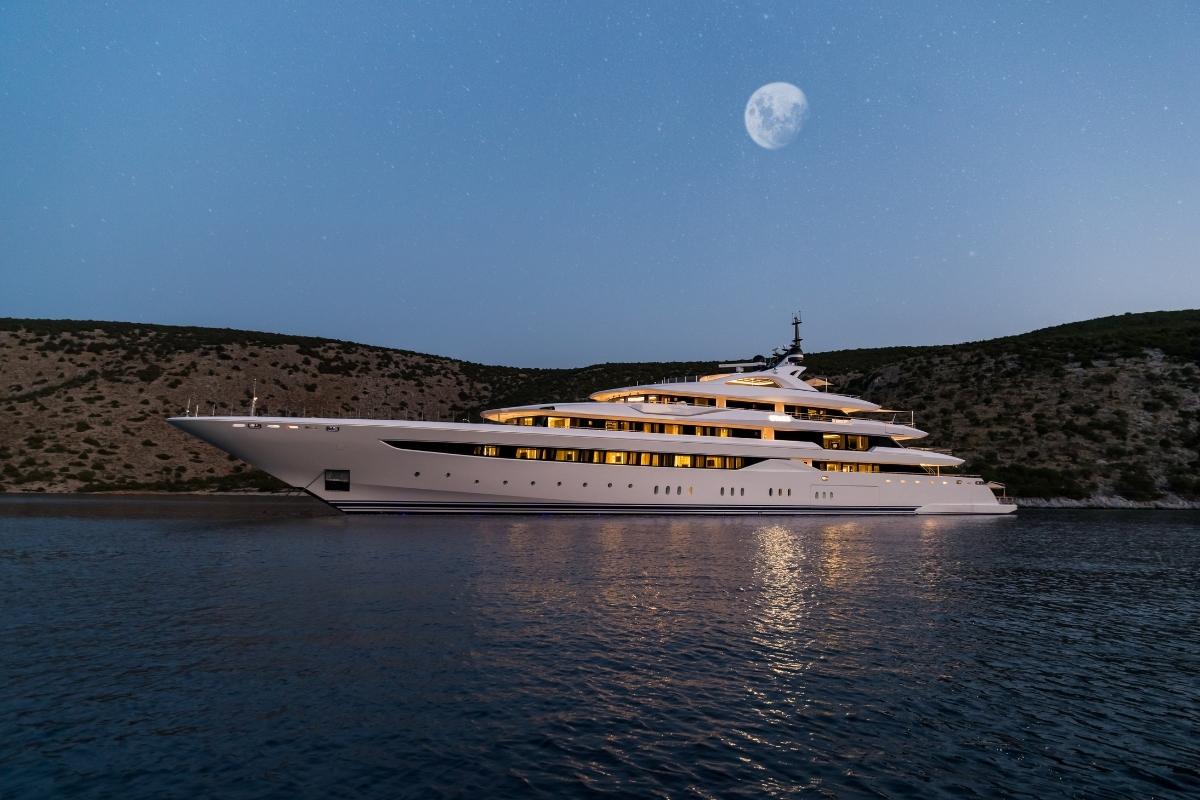 How would you describe the cuisine on board?
With an in-depth look into our guests' preferences (and dietary restrictions), our Chef Takis and the onboard cuisine staff promise to deliver delicious food experiences.
Tell us about the toys and tenders – which toys are the most popular with guests?
She is a fantastic charter yacht for those who are looking to make the most of their days out on the water. We have a Limo tender so guests can arrive ashore in exceptional style, the Patronus and Zodiac tenders are there to help for the transportation of beach equipment, as well as escorting, and our two SeaDoo jet skis and an additional spark jet ski are the cool additions to our toy inventory! Other water sports equipment available on board includes SeaBobs, efoil boards, canoes, paddle and wake boards.
What are your usual cruising grounds?
My usual cruising destinations are between Greece, Turkey, Italy, France and, of course, Croatia's Dalmatian coast.
Which destinations are your personal favourites and why?
In my opinion, Greece, Turkey and Croatia are the best cruising destinations in the world because of the amazing beaches, the activities that one can experience and the wonderful sceneries.
What have been some of the highlights or your favourite memories as captain?
There are so many that it is truly difficult to choose a single one. The 2021 charter season on board O'Ptasia was truly amazing with very happy clients and a satisfied crew.