Firefly
35.2m | Bloemsma & Claasen | 2011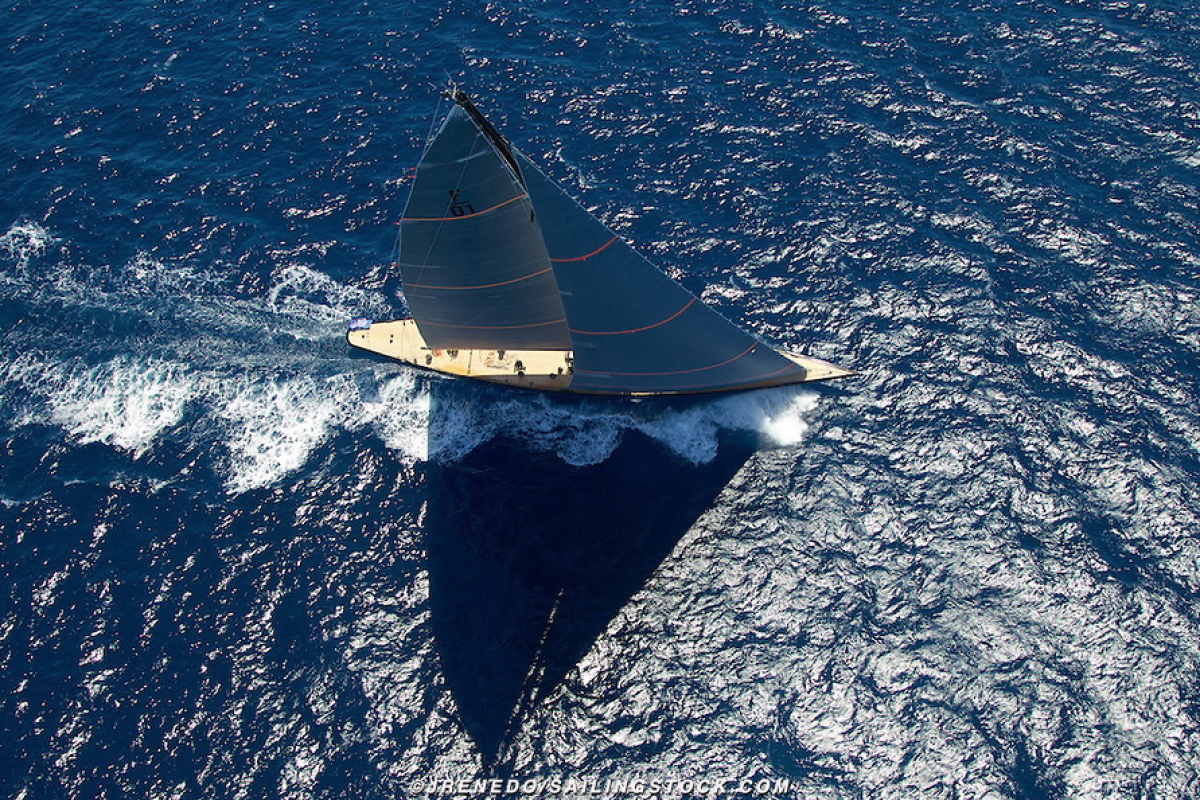 Are you ready to leave everything behind and truly discover the ocean? Graceful and competitive, the charter sailing superyacht Firefly is a proven regatta champion, offering passionate sailors a unique charter experience.
Since her launch in the Netherlands in 2011, the 35.2 metre high-performance sailing yacht has been in a league of her own - literally.
As the first and only F-Class sailing yacht in the world, nothing compares to the experience of spending time at sea on board this elegant speed machine. Ideal for thrilling regatta charters or fun team building days, Firefly exhilarates the senses with her ripping performance and jaw-dropping good looks.
Designed by the Dutch studio of Hoek Design and built by Claasen Shipyards in the Netherlands, Firefly was conceived with a sailing pedigree most serious sailing yachts would die for. Together, the experienced teams have built several of the world's most prestigious racing yachts over the years - one of the most notable products of this collaboration being no other than the J-Class sailing yacht, Lionheart.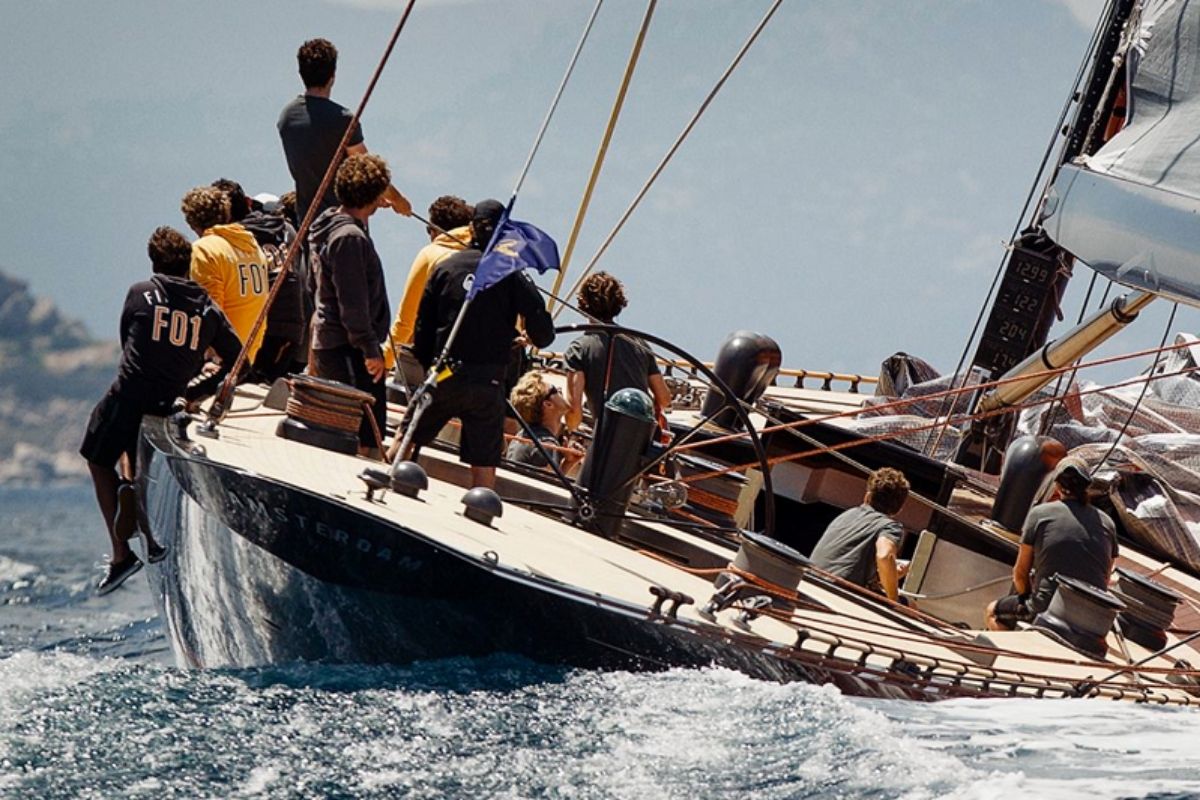 There is a reason that Firefly boasted the best of the sailing world from the word go. Born from the passion and experience of a race-addicted owner, Firefly was purposefully designed for one thing, and one thing only - to win.
Class of Her Own
With the aim to create a replicable design for a uniform racing class, Hoek Design experimented with 15 different designs varying in length, beam and displacement before finally deciding Firefly's ultimate dimensions. And the F-Class was born.
Some yachts are hesitant to sacrifice certain comforts in the pursuit to achieve the optimum racing setup, but not Firefly. This bare, stripped-down speedster is unique in that she has the refined and sleek exterior of a classic sailing yacht and the interior of a hardcore, transoceanic record-breaker. You will not find any master suite, luxury saloon or spa centre here, but that's probably not why you are on board. You are here to find out where your, and Firefly's, limits lie.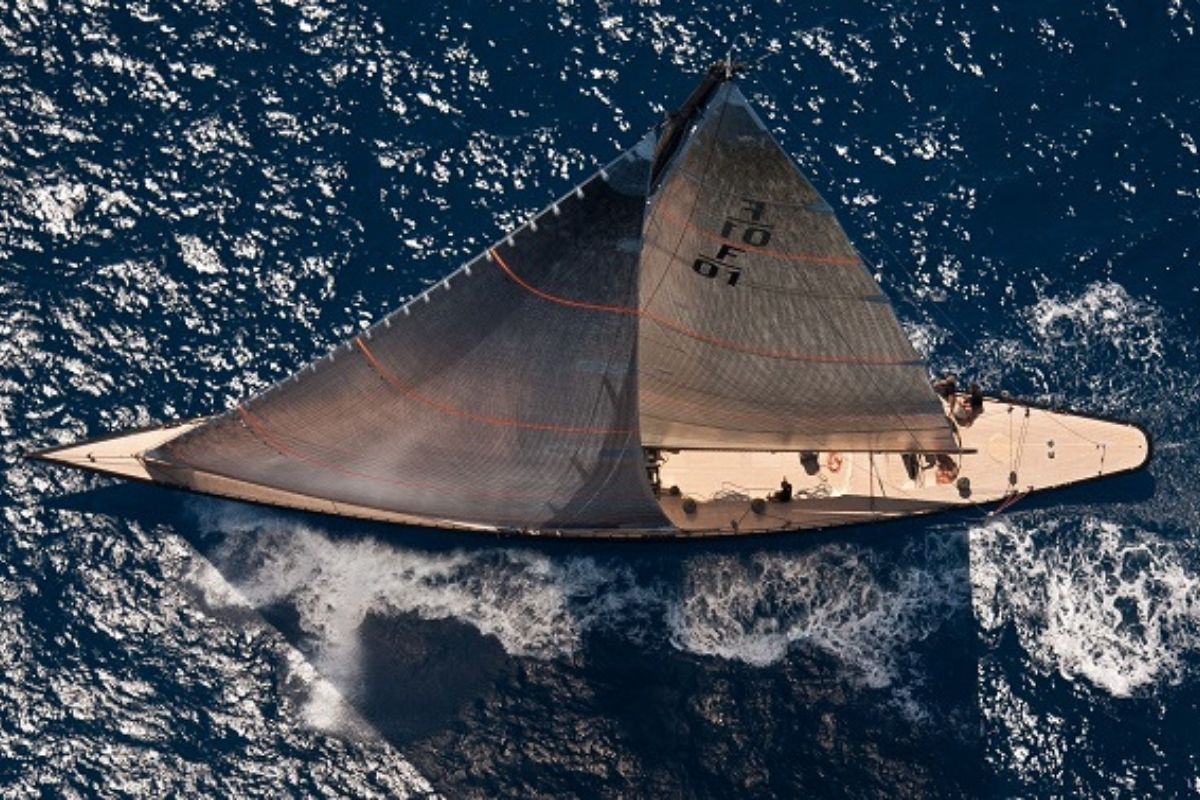 Managing the sailing superyacht since her build, Mark van Gelderen elaborates: "With a minimal interior and a total emphasis on racing, Firefly is the perfect charter yacht for day-sailing and serious racing." Cold drinks and lunch can all be served on board but sleeping is done in bunk beds. "In Sardinia, when racing during the Rolex Maxi Worlds, we had a very light wind race day. With good tactics, sailing well and having a boat that goes well in the light airs, we finished first and well ahead of 'on paper' much faster yachts. The compliments and congratulations from our competitors bought big smiles to all faces. Having built, project-managed and skippered Firefly, I may be biased, but after sailing with all imaginable yachts, she is the most rewarding sailing yacht on the charter market."
Ultimate Racing Superyacht
On a technical note, Firefly is fitted with a T-style fin keel and a 26-tonne lead bulb that balances the forces placed on her composite mast and rigging. With an upwind sail area of 594 square metres and nearly double that when heading downwind, Firefly is perfect for light-wind racing but can handle even the strongest gusts on the course with confidence. Her lightweight alloy hull and carbon high-aspect rudder aims to reduce weight even further. Geared for performance, she features Harken winches and Lemwar deck gear which can easily be handled with a crew of only eight to twelve sailors out on the racetrack. When needed, Firefly can be easily handled by one person alone, making short deliveries and day sailing a breeze.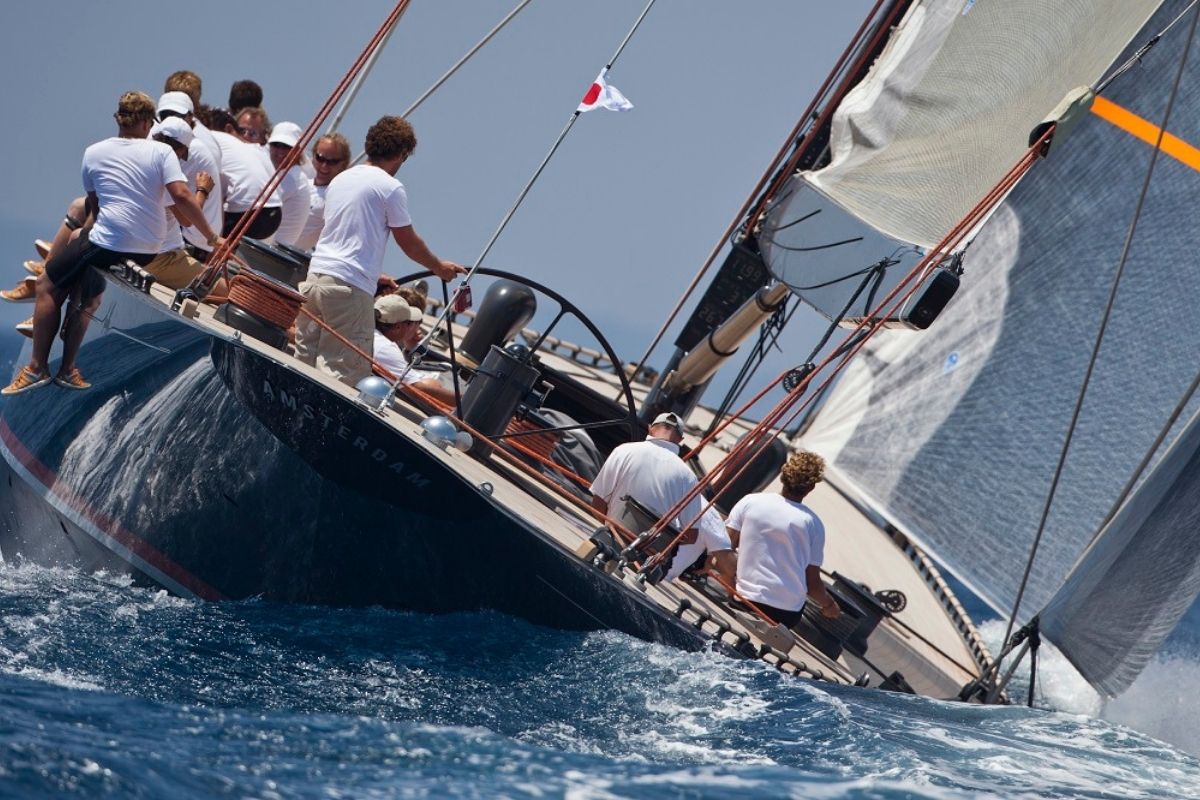 Keeping things simple on deck, the yacht's sleek flush deck is interrupted only by the bare necessities. She has virtually no deckhouse, allowing for optimum manoeuvring space to increase safety on board, while the distinct deck camber is one of the first elements you'll notice. It meets seamlessly with the sheerline where a grabrail provides a firm holding point when Firefly starts to lean and pick up speed.
Aft, the two working cockpits sit adjacent from another. The main cockpit for manoeuvres is forward, and another is found aft where the helmsman takes control with the single large wheel placed on the centreline. Expect to spend a lot of time during your regatta charter here as you get right into the action and help out with trimming lines or support the race crew sitting on the rail.
Head down the companionway and you realise exactly how minimalist Firefly is below deck. Down here you can make out the beautiful inner structure that works to keep her poised and in shape when flying across the racecourse. Apart from a navigation station to starboard and the day galley to port, the interior is practically empty bar a few temporary bunks for those longer crossing voyages. A large deck hatch opens into the forward part of the cabin that makes sail changes a breeze and keep the deck clean and uncluttered for maximum efficiency.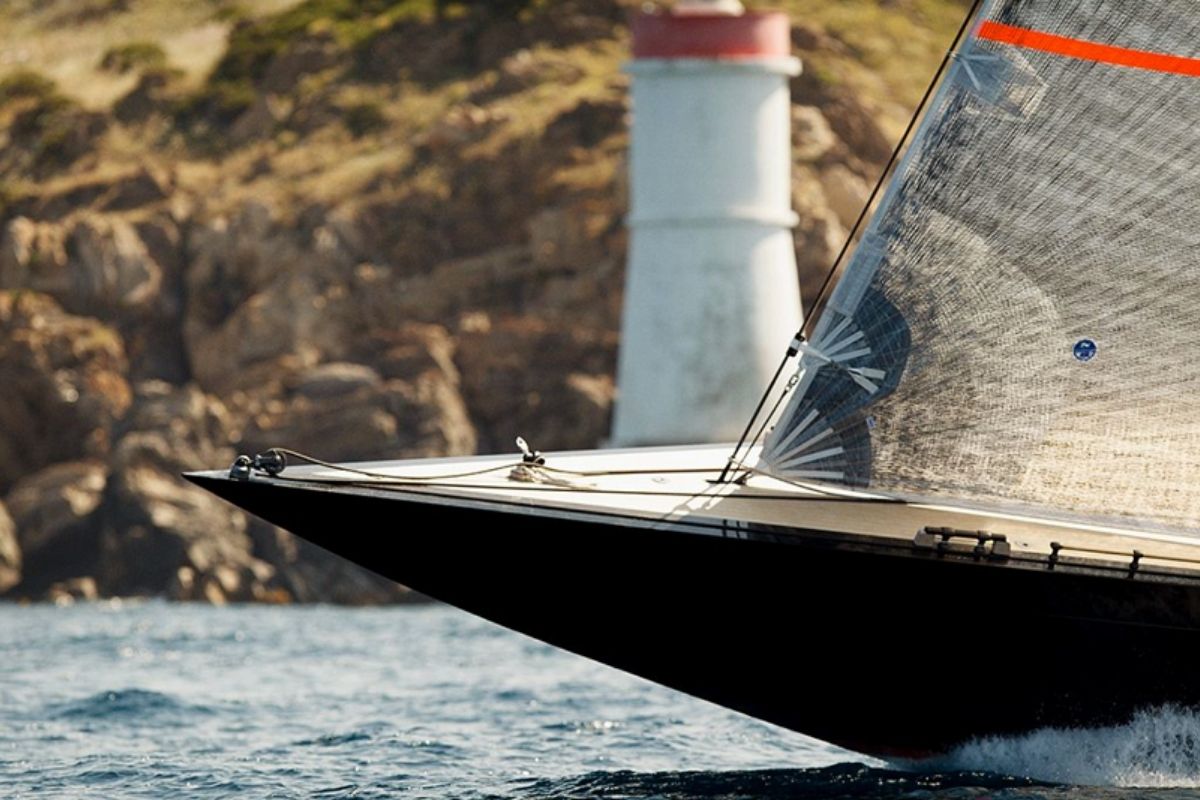 When the wind dies down, Firefly's low-emission six-cylinder Steyr engine kicks in to get you back to port. Down here in the engine room you'll also find a sophisticated water ballast system that can pump up to five tons of water from one side of the hull to the other in under two minutes, assisting with stability and agility when sailing.
Superyacht Regatta Superstar
Having consistently proved her performance capabilities from her maiden season to present day, Firefly has claimed the top spot at many famous regattas including the Loro Piana Superyacht Regatta and Rolex Maxi Cups in Porto Cervo, leaving behind a whole host of A-list regatta regulars. In 2019, she participated in the Loro Piana Superyacht Regatta, Voiles D'Antibes, Superyacht Cup Palma, 50 Year YCCS Anniversary Regatta and the Voiles de St Tropez.
Not only does Firefly stand out with her proceeding reputation as a title-clincher, but she also does so with an element of finesse and elegance that few other charter superyachts can match. Her pure lines, dynamic appearance and signature orange spinnaker set her apart from the rest, leaving spectators and fellow sailors green with envy.
Take a Virtual Tour of Firefly