Explore the Rugged Wilderness of Secluded Scotland
Scotland is the jewel of the British Isles, where you can hike the rugged landscape, spot wildlife species such as golden eagles, otters, hen harriers, red deer and seals, or forage with a naturalist and unearth wild crops before dining in your luxury camp.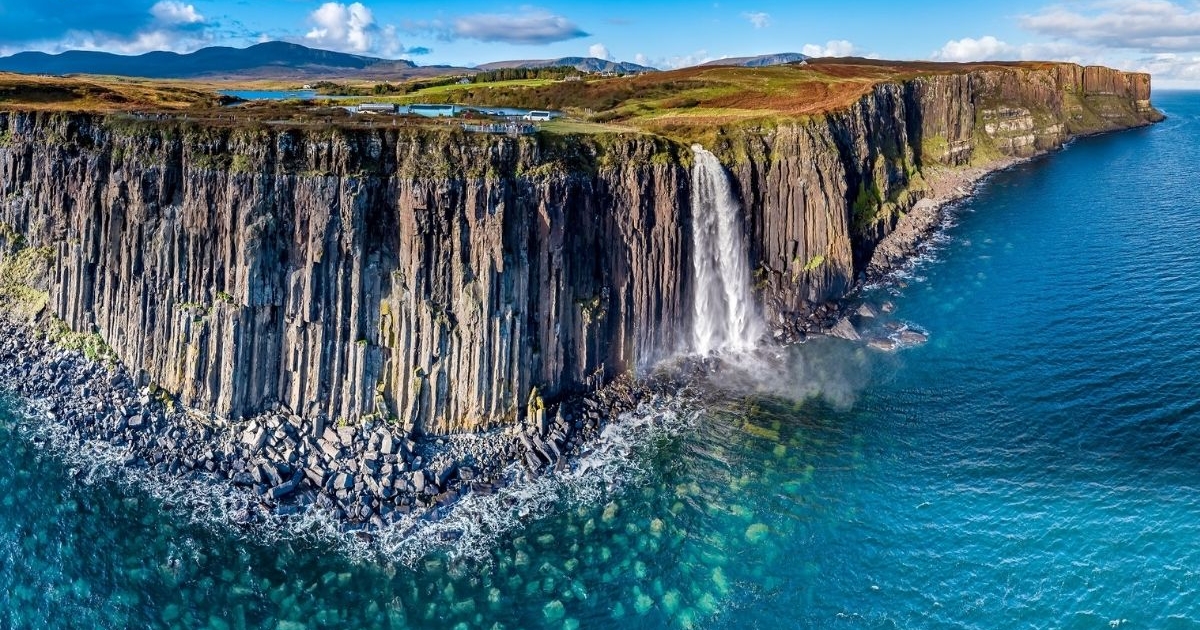 The best time to visit is between April and October when temperatures are higher, and you can enjoy Scotland's stunning landscape for all it has to offer.
Travelling around Scotland by yacht is one of the best ways to experience the diversity of these breathtaking coastal routes and rugged islands, and the team at Pelorus work with a range of yachts perfectly paired with your party size and needs.
What's on the Itinerary?
Begin with a gorgeous welcome lunch as you tender to Fort William, an iconic landmark in Scottish history. Here, you will have the opportunity to mountain bike around the surrounding landscape, kayak through caves or learn about the history of Fort William and the Battle of Inverlochy. Journey to the island of Mull, Known as 'The Gateway To The Isles', tucked in to the west coast of Scotland across a short stretch of water from the rugged Ardnamurchan Peninsula.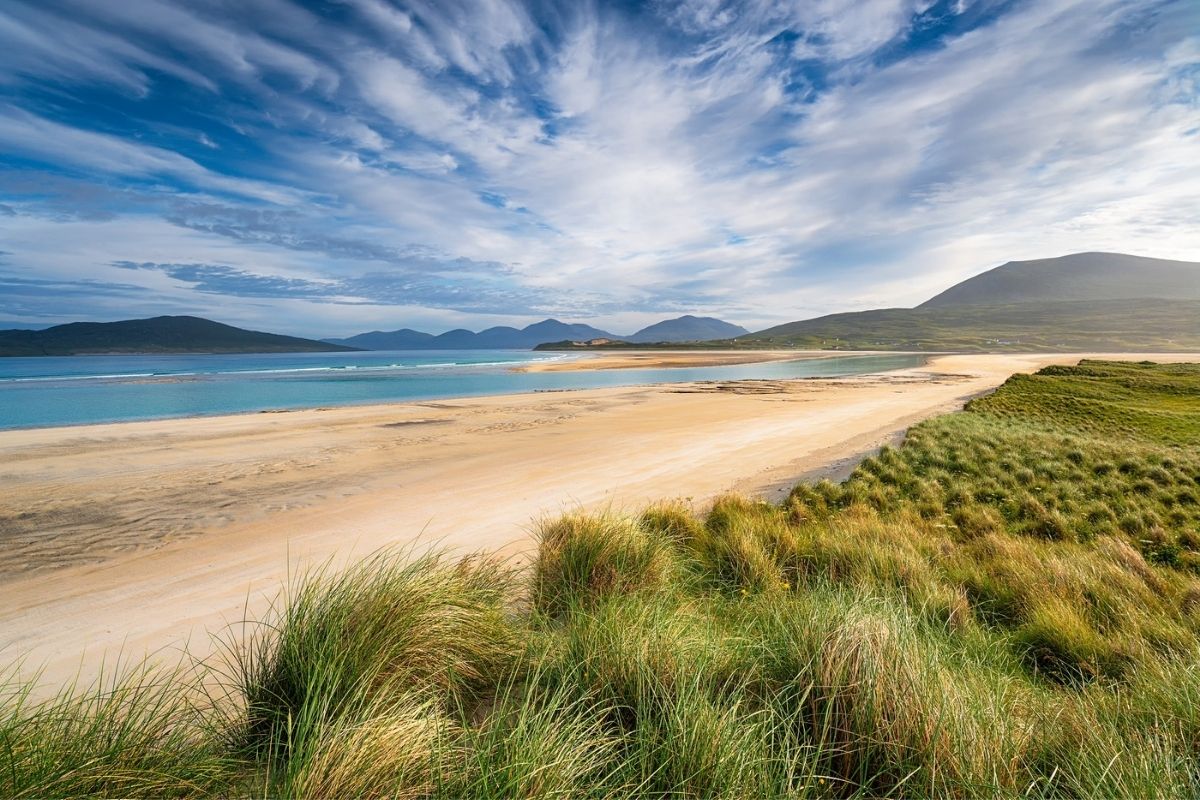 Seize the opportunity to catch sight of the area's sea life, including seabirds, otters, grey seals basking on rocks, and dolphins and porpoises slipping in and out of the water. You may also be lucky enough to catch sight of the sea eagles that nest nearby. Your itinerary will see you encounter the subtle vein of a World War II mica mine running across the face of a mountain, and the routes likely walked by the Jacobites or Vikings.
Join a local naturalist on an otter spotting wild walk. Skye is home to an array of wildlife, including eagles, otters, red deer and seals. Find edible mushrooms, wild garlic and sorrel in the forest, and along the shoreline, delicious seaweeds, mussels and samphire. You'll cook and eat what you find on an open fire there on the shore. When you get back to the vessel, you will be greeted by a local Scottish band, along with a Talisker Whisky Master and dancing instructor. You will experience the thrill of traditional Scottish reeling with innovative whisky cocktails designed especially for you.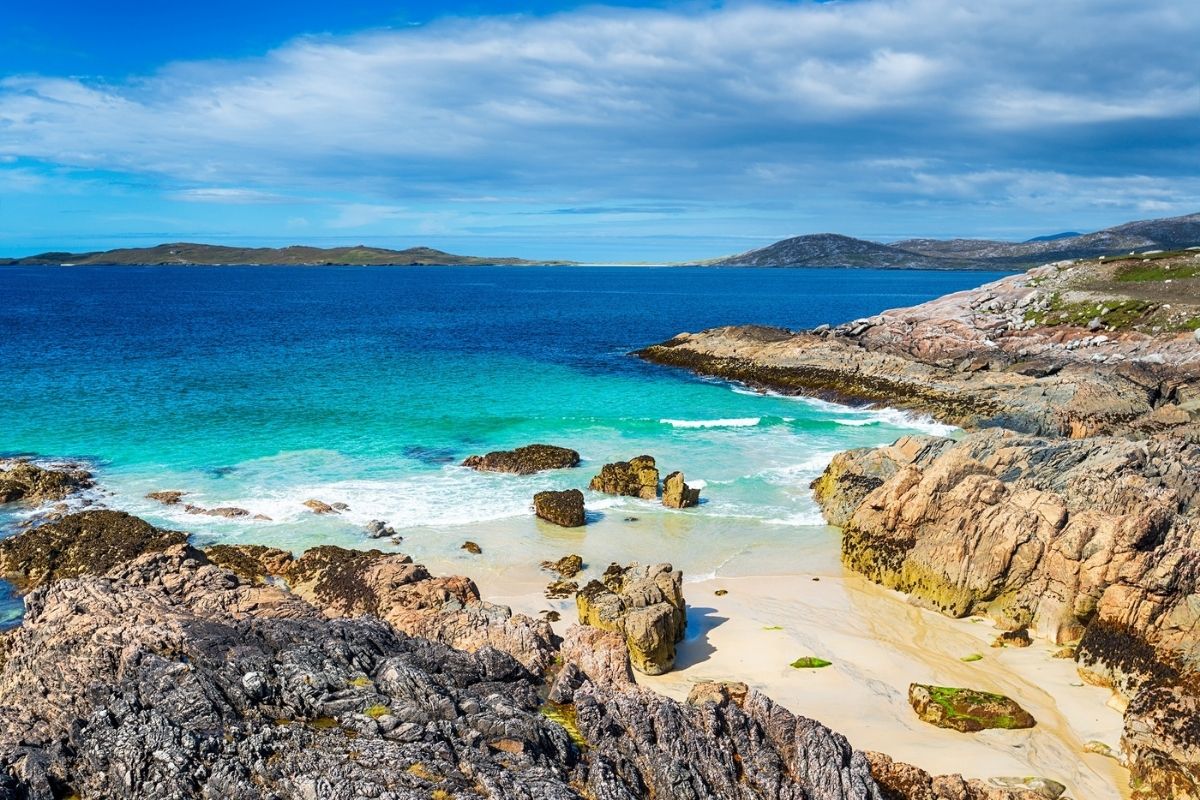 Journey to St Kilda - the most important sea bird breeding station in north west Europe. This dual World Heritage Site has the largest colony of guillemots in the world, the oldest and largest colony of fulmars, the biggest colony of puffins in Britain and over one million birds in total. Head ashore with your naturalist guide and take part in monitoring the colonies health and status. Owned by the National Trust for Scotland, St Kilda was once populated by the unique and hardy Kildians, there is an abandoned village on the island you can visit where the houses are still relatively intact and lots of stories and folklore about life on St Kilda has been preserved.
For your last day in Scotland, join experienced and knowledgeable guides, who will introduce you to coasteering. Climb the rugged sea cliffs and snorkel in the bays of clear crystal water teaming with abundant sea life including seals and dolphins.
Highlights
The Hebrides
Unearth incredible hidden beaches around the Hebrides where the water has a Caribbean tinge.

Moor in sheltered sea lochs to climb rugged mountains, keeping an eye out for deer and eagles along the way

Fly fish for wild Atlantic salmon in the many remote rivers that weave through desolate moorland to the sea.

Explore some of the oldest castles in the world with your personal PELORUS historian.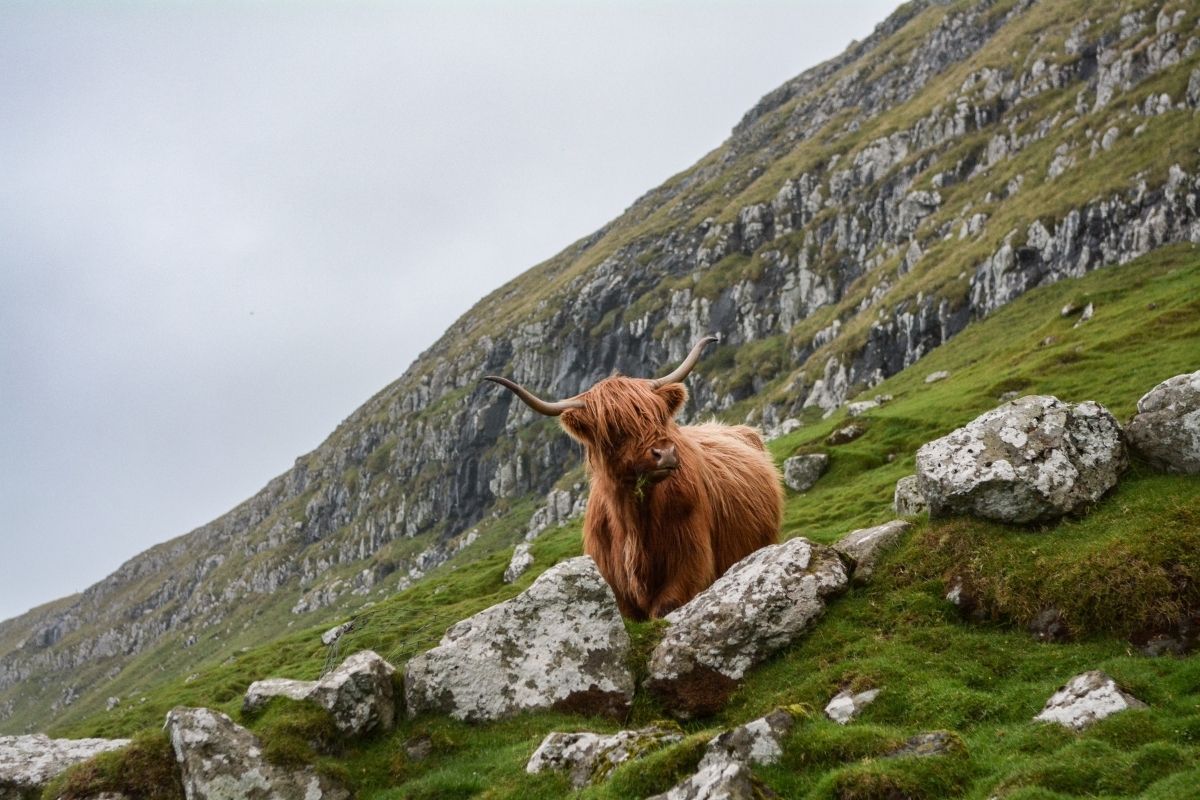 The Isle of Mull
Wake up to stunning scenery, with views over the iconic picture-postcard town of Tobermory.

Sea kayak to hidden coves, enjoy a luxurious lunch in total seclusion, and hike into the hills.

Your yacht's tender will transport you to the Isle of Staffa to explore Fingals Cave, where you can observe hexagonal rock columns formed millions of years ago by volcanic eruptions.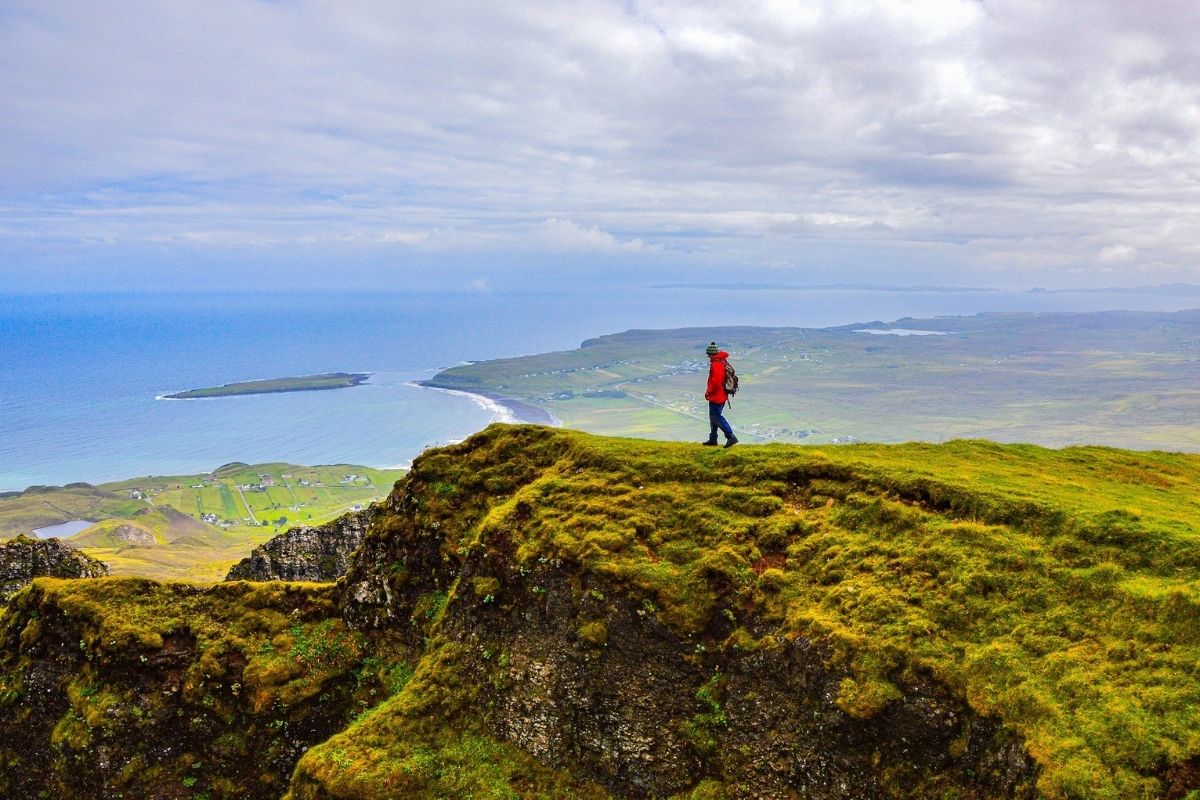 The Isle of Skye
Head out fishing with local guides and even try your hand at lobster potting.

Enjoy a private visit to the Talisker distillery to sample the country's most famous produce.

Forage with wildlife specialists before building a fire and wild cooking with a Michelin starred chef.

Climb a Munro, a mountain over 3000ft; head out with guides to explore by mountain bike or hop into the tender to explore the abundance of remote islands and covers on Skye, where there is a plenty of wildlife.

In the evening, Pelorus will bring a master whisky distiller on board to talk you through the country's most famous export at a specially designed tasting event featuring rare and exquisite drams.

Hike and explore WWII mica mines before enjoying lunch at a private bothy before sea kayaking back to the yacht.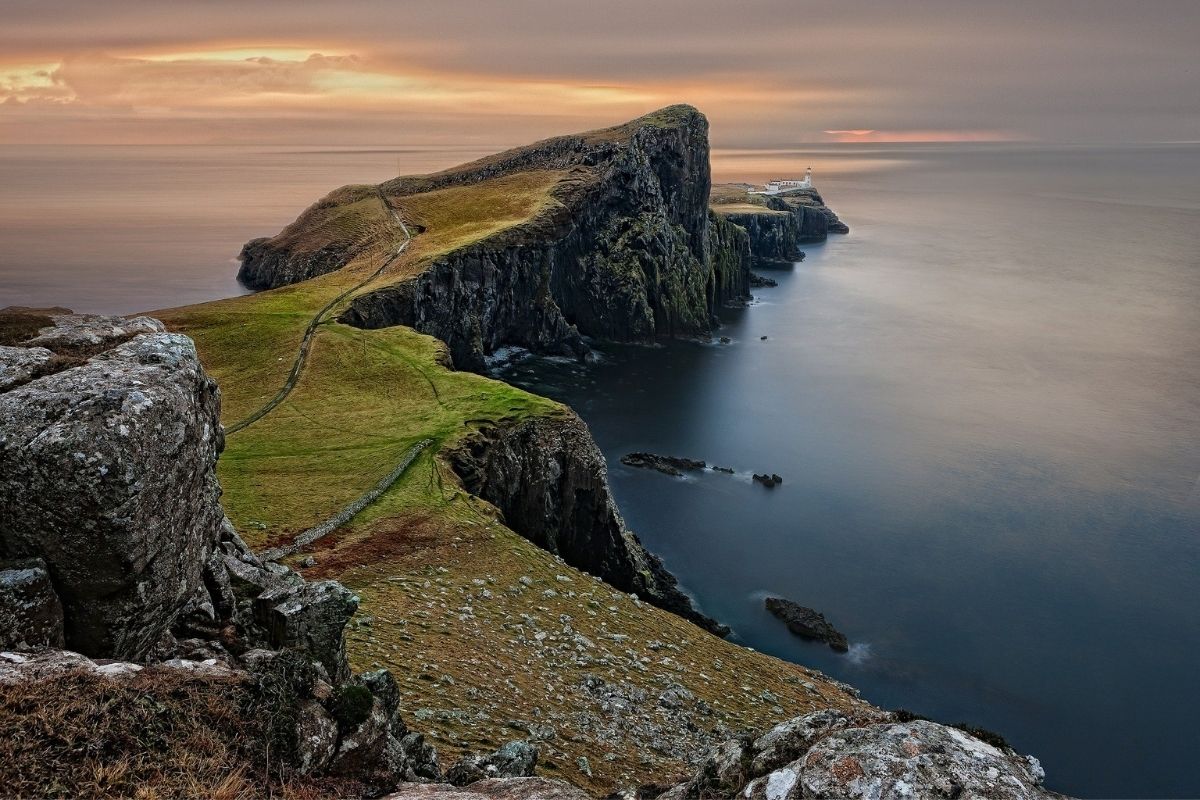 Outer Hebrides, St Kilda
Look out for minke whales and dolphins as you cruise.

You'll have the memorable opportunity to get up close with the gannets that reside there.

Pelorus have negotiated special permissions to access the island by helicopter where you will explore with a specialist naturalist who specialises in its unique biosphere.
Harris
Swim, jump and climb on some of the most rugged sea cliffs, caves and hidden passages on the island, pausing to snorkel in bays where the water is at its clearest.

You can expect to see cold-water corals, crustaceans, an array of fish and, hopefully, marine mammals such as seals and dolphins.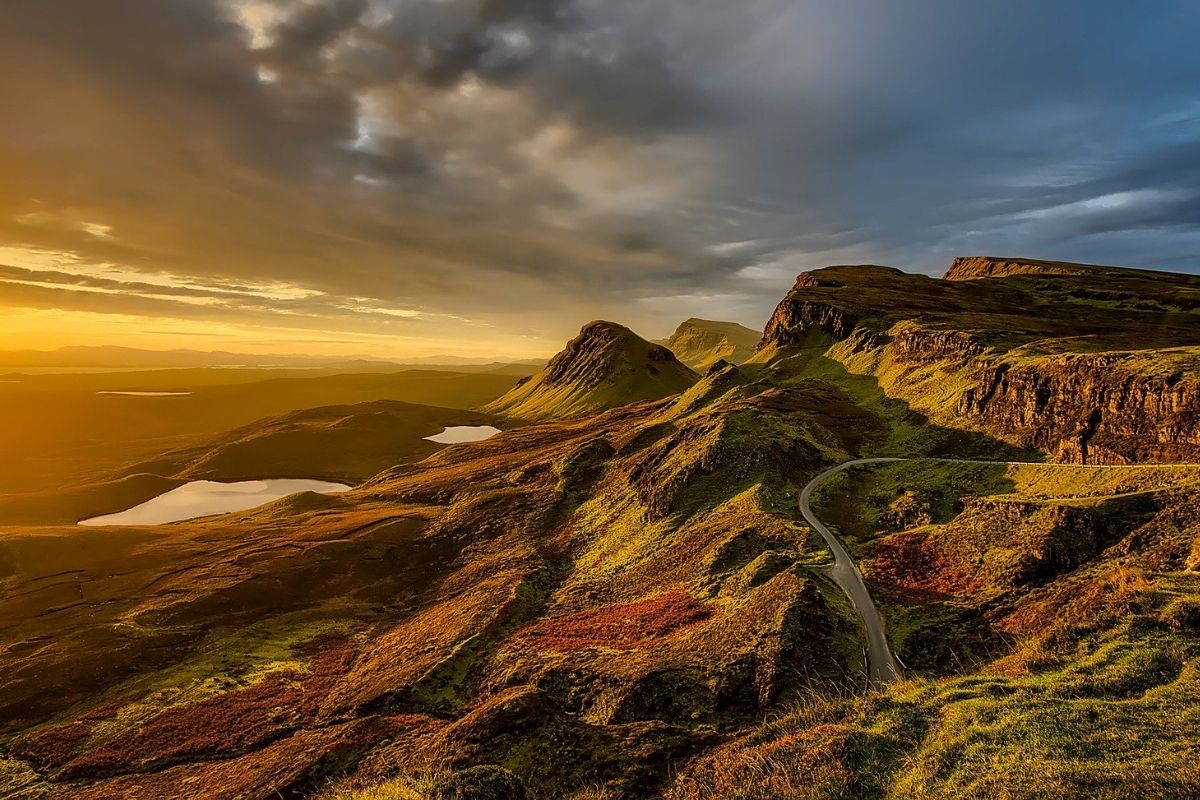 Conservation
Help to set camera traps in osprey nesting areas; a valuable contribution to the ongoing research of these birds of prey.

Carry out productivity and population counts for fulmar, kittiwake, guillemot and razorbills.

Assist in efforts to save Scotland's declining red squirrel population, providing vaccines and habitats.

Help to reinforce Scotland's wild beaver population, relocating them to suitable habitats.

Carry out research into the benefits of letting decommissioned oil rigs remain as they currently stand, providing refuge and habitats for marine life.

Spot killer whales along the shore as they hunt for seals. Identify known individuals and new members of the resident pod.
Images: Shutterstock, Pixabay, Unsplash