Discover Amaala: A Bold Vision for the Red Sea
A 3,300 sqm gigaproject that will serve as a super-luxury wellness tourism destination on the Saudi Arabia Coast, Amaala, which is set for completion in 2028, really is one of a kind and the ultimate stopover for superyachts.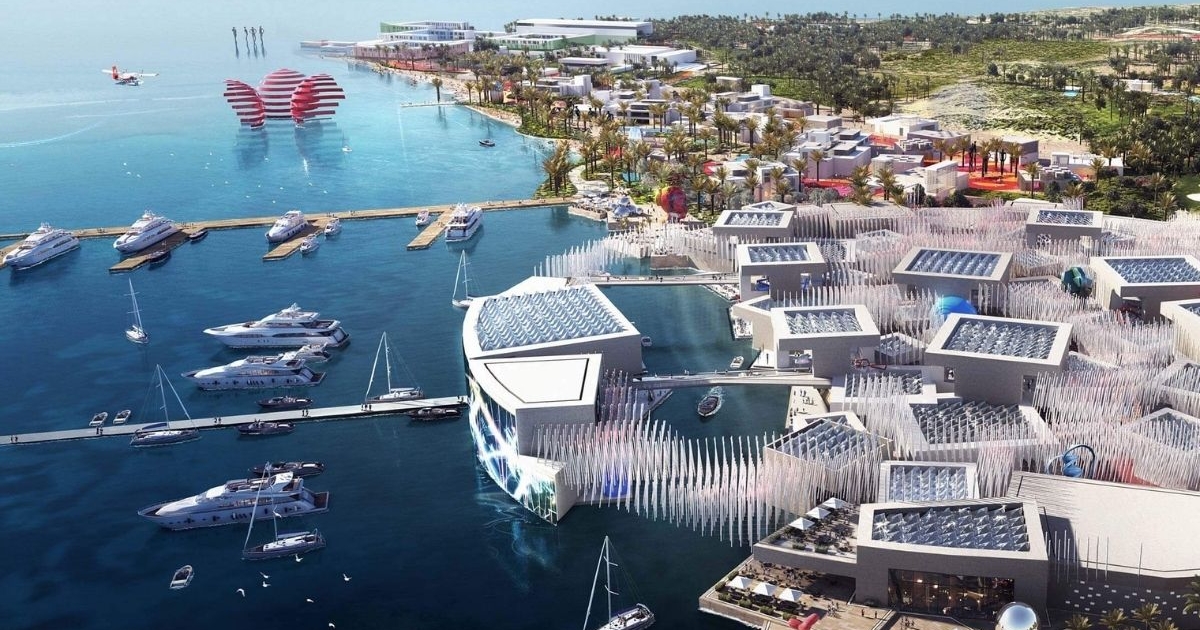 We sat down with CEO Nicholas Naples at the Monaco Yacht Show 2019 to discuss his vision, inspirations, and what the future holds for this spectacular project on the Red Sea.
How did the idea for Amaala come about?
The inspiration for Amaala came from a two sentence mandate that I received from Crown Prince Mohammad a little less than two years ago, in which he stated he would like us to develop one of the best resorts in the world; one that rivals the quality and inspired nature of the Cote D'Azur, yet with a difference.
The Cote D'Azur has this kind of unquantifiable elegance about it - everyone loves it and it attracts people from all around the world. Looking at it from an industry prospective, I'd say the it's the largest, most exciting destination in the world because it has so many aspects that work together. There are all these connected experiences – be it St Tropez, Monaco or Saint-Paul De Vance – that filter all the way down. That was the first question for Amaala - how do we connect a series of experiences that still offer different things?
How does Amaala differentiate from its competitors?
The development is 80km long, with 3,300 sq km of sea front set across three master plans. When we were deciding what the vision for Amaala should be, it was first that, but next we had to think about who the likely customer was. We conducted a global market research project with multiple research firms and came to the conclusion that the targeted market segment would be the high net worth and the ultra-high net worth customer. We then needed to find out what was important to them, to curate a top 10 list from which we took the top five ideals, which were art, culture, sports, wellness and sea experiences, which includes the coral reefs and sustainability.
We built the whole Amaala project around these preferences, so this is actually one of the most customer-centric designed projects in the world. We have the privilege to start from scratch in a place where there is currently nothing and do something totally bespoke and curated to the market. That's what makes Amaala so different and differentiated from every other resort on the planet. I've spent 30 years in the industry and I know the competitive set inside out. What we are doing is definitely unique.
What's also nice is the climate is not as hot as the Saudi desert – it's more of a Mediterranean climate with a 10 month season. July and August are a bit too hot, but the rest of the year is beautiful.
How long has it been in the process?
The initial conversation took place in December 2017 and we launched the project in January 2018. The market research and strategy was completed by the summer and then we started designing the masterplans which we completed by last fall. We've also completed all the site investigation work, environmental impact, ground and engineering assessments, so now we're working on the detailed design of all the assets in phase one, and looking to break ground by end of Q1 in 2020.
It's an aggressive schedule, but when you know what you want and you connect with the world's best architects, designers, master planners, consultants and support people - and we're also building an in-house team of world-class talent - things move quickly. Everyone is inspired by the vision of the project, everyone wants to work on it and every luxury brand wants to be involved. We definitely have the wind on our back.
How would you describe Amaala?
I'd describe it in terms of our vision: at Amaala, we wake up every morning with one mission in mind, and that's to transform the lives of our customers. It's a transformational experience targeting the areas of arts, culture, sports, wellness and the sea and sun as experiences that we will leverage to transform people in their lives.
What can you tell us about the different areas?
In the category of wellness, we explore medical wellness, integrated wellness and aesthetic wellness while working with our practitioners to create meaningful change in peoples' lifestyles. We want to make them healthier, increase their longevity and give them greater awareness around healthy eating. We're building sustainable farms to grow organic produce to serve at the tables in our restaurants while teaching people the life cycle of growing crops and how you harvest them. We want people to understand wholesome cuisine.
This gives us a competitive advantage as we are really standing for something different - something that's transformational, authentic and real. Places like Dubai aren't built on that – they are built on entertainment, leisure and getting things done as quickly as possible. By focusing on sustainability, we are differentiating ourselves in many categories.
However we also know that transformation is very subjective. You could be transformed through a wellness experience but also through a sports experience. As such, we will offer a sports performance clinic where the customer can improve their golf game or become more physically fit. We're also looking at ways to engage with professional sports teams for their spring and fall training, as they will be able to combine that training with everything from physiotherapy to body strengthening. These are all dimensions of wellness and are also transformational, so you can see that we have stayed along that path.
On the arts and culture side, if you're an arts connoisseur, we are offering a very immersive environment. There are opportunities to create art with professional artists, participate in philanthropic events or even to commission an artist to create a bespoke piece for you. We have two artist villages that are molded on the Saint Paul de Vence energy, so there will be a lot of artists in residence - both young and well-known. We'll also have the Contemporary Museum of Art as well as an art institute, a classic museum, a film festival venue, a performing arts venue and more.
I tell a lot of people that this is the last great place on earth that is undiscovered. Even the coral reefs are untouched and unbleached. When you take a destination like this and apply a development mentality, you can create really beautiful environments.
Will there be any residential properties?
Yes, in Triple Bay there are 435 home sites and a total of 900 throughout the entire project. It is very much both indoor and outdoor living, and each villa has about a hectare of land so they are very spacious.
Which is the most high-scale development?
The Island is our most unique and upscale offering. We have a super-luxury resort in the south, a second artist village, 100 luxury home sites in the middle situated within golf courses, and the world's longest art park that will be 6km long. This will be populated with outdoor sculptures and landscape art combined; it's just a stunning creation. There will be another resort on the far edge too, as well as a polo club, country club, tennis gardens and equestrian estates.
We also have some underwater immersive experiences including a marine life museum, an animal rescue safety zone that will have underwater viewing platforms for the coral reefs, as well as holding animals in rehab before they get released into the wild.
I think this could be the highest-end resort in the world.
When is Amaala expected to be completed?
Approximately 2028 for full scale completion. We are looking for all our major projects to be completed by 2030, which is compatible with our Vision 2030 - the entire diversification strategy of the Kingdom. Amaala is one of the pillars of that diversification.
What is the next milestone?
We have several coming up. The first is announcements of all the luxury brands that we will be working with; we'll be announcing them over the next few months. We've entered into agreements with a lot already and come the first quarter of 2020 we will announce our ground breaking date, which will probably be towards the end of Q1. That will be our next really big milestone.
How do you plan to ensure the project stays sustainable?
One practice that determines the sustainability is engineering, such as how we design the project in terms of creating irrigation to support landscapes to ensure waste doesn't run off into the sea, desalination,and construction methods that prevent silt and soils from covering the reefs. Then of course there's the obvious – solar instead of grid. We will be 100% solar and will generate all our own power while giving surplus power back to the community. We'll also sterilise and desalinate all our water so we won't be drawing on the local economy, while creating a very sophisticated waste management and composting programme.
The landscape on which we are building is so unique and healthy that you can understand why we have such a firm sustainability mandate. The last thing we want to do is damage the area, kill it or change it in any way, shape or form. That also goes for the marine environment and the animals that live in it.
During the Monaco Yacht Show 2019, Amaala signed an environmental partnership with the Prince Albert II Foundation - what are you committing to?
This is everything to do with sustainability. With the marine life institute that we are building at Triple Bay we will be combining a research centre with a foundation that will fund initiatives around ocean sustainability. By joining forces with the Prince Albert II Foundation, we'll be engaging in a joint research mandate that includes things like an ocean clean up as well as coral propagation and transplantation. Coral reefs are dying around the world so we're trying to find ways to transplant coral and recreate marine environments. We will also be working on the rehabilitation of damaged or injured sea animals and establishing sustainable yachting practices. Things like that. There is a really important joint mandate in the initial stages of research, but the later stages will take the form of initiatives so we can actually go out and take action.
Due to Saudi laws, will Amaala serve alcohol?
We don't have a practice around alcohol at the moment, however it is my personal view that things are evolving so quickly in the Kingdom that by the time we open, we will be able to serve alcohol or people won't care. I don't think it's a factor because the proposition we are offering is so unique. Your decision to come will not be based on alcohol so if it happens then great; if it doesn't, then it's still great.
What facilities will you provide for yacht owners and charter guests?
One of the key benefits and most important strategies is to design facilities that actually enable the lifestyle of ultra-high net worth customers; those who are yacht owners, private jet owners, and have unique travel needs; those who travel with staff and entourages and, in most cases, are multi-generational. We are building facilities such as ample supply of superyacht moorings, yacht clubs, marine maintenance facilities and retail into our marinas, as well as nearby helicopter parking for getting to and from your yacht that might be out at sea, as well as climate-controlled private jet hangers. We're also building cost-effective crew quarters alongside a very large employee village where our own 20,000 staff will live. Everything we are doing is designed to facilitate with ease the experience for the superyacht owner.
Would you say Saudi has a superyacht industry at the moment, or is this going to kickstart it?
There are a lot of Saudi and GCC nationals who own superyachts, but they don't necessarily moor them in the Middle East as there are not many destinations for them to access. One thing that became clear to us during our market research was that it was vital to build in marinas at destinations all along the Red Sea. It's a very long stretch of water and yacht owners don't really want to cruise for more than two or three hours before they stop for food or to find an overnight place to moor. That's part of the strategy of developing yachting in the Red Sea - to chain link experiences all the way from the north to the south.
Can you tell us about any other partners involved?
I wish I could because it's a spectacular list, but until we sign a mutual agreement of press disclosures, unfortunately I can't name names. However I can say that we have succeeded in engaging the highest, top tier luxury brands from all over the world to participate in Amaala.
What have you learnt from your career so far that applies to this new project?
That today's luxury customer has a very different expectation. They simply want an unstructured, undefined and unprescribed experience - this ultimately means that they want what they want, the way they want it, how they want it and with whom they want it. It's the freedom of choice that makes you luxury. This is the proposition of Amaala – a fully curated, one-to-one experience where it's un-prescribed; we treat every customer like an individual and create their experiences for them one-on-one.
For more information, visit the Amaala website.
Images: Supplied by Amaala